Samsung Galaxy Z Fold 3 & Z Flip 3 hands-on: Writing a new page of foldable history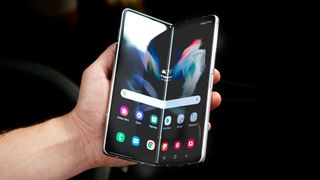 (Image credit: Daniel Bader / Android Central)
After getting our hands on the Galaxy Z Fold 3 and Galaxy Z Flip 3, there's no doubt that these are going to be two of the best Android phones money can buy in 2021. You've likely seen both of these devices appear in leaks over the past few months, and we can happily say that they were all true. Better glass — or, at least, a better screen protector — 120Hz displays, S Pen support on the Z Fold 3, stronger aluminum bodies, significantly better scratch and drop resistance, water resistance, and an improved software experience are the hallmarks of this release.
While some product release cycles radically change perspectives, others refine good ideas in order to make them better ones. Samsung's third-generation foldable phones fit squarely into this second category, and they represent a concerted effort to take Samsung's more novel smartphone ideas and transform them into a fully consumer-ready product. In many ways, 2021 is the year that foldables are finally being built to go mainstream.
They're very nice
Samsung Galaxy Z Fold 3 & Z Flip 3 hands-on: Price and availability
Category
Samsung Galaxy Z Fold 3 5G
Device name
Samsung Galaxy Z Fold 3 5G
Chipset
Snapdragon 888
Memory
12GB
Storage
256GB or 512GB
Rear Camera
12MP, ƒ/1.8, 1.8μm (wide-angle)
12MP, ƒ/2.2, 1.12μm (ultra-wide)
12MP, ƒ/2.4, 1.0μm, 2x optical zoom (telephoto)
Inside Camera
4MP, ƒ/1.8, 2.0μm
Cover Camera
10MP, ƒ/2.2, 1.22μm
Battery
4400mAh
25W Fast Charging
10W Wireless Charging
4.5W Reverse Wireless Charging
Weight
271g
Water and dust resistance
IPX8
Colors
Phantom Black, Phantom Green, Phantom Silver
It would be hard to start a discussion about these phones without bringing with the price. Up until now, Samsung's foldable phones have been out of reach for most customers simply because of their cost. However, that changes significantly with Samsung's third-generation foldables, which drops the price substantially in the Z Flip 3's case and puts it squarely into carrier flagship pricing territory.
At $999, the Z Flip 3 is the same price as the Galaxy S21+ 128GB model. In other words, someone walking into a T-Mobile, AT&T, or Verizon store this year will actually be able to choose between the form factor they prefer rather than having to make a decision solely based on price.
The Z Fold 3 is also seeing a drop in price but not to the level that will likely see the mass adoption rates the Z Flip 3 could. At $1,800, it's still $400 more expensive than a maxed-out iPhone 12 Pro Max. The selling point here, though, is that it's sort of a phone and a tablet in one device, keeping you from having to lug another larger screen around with you. It's also a far more productive device now, thanks to native S Pen support.
Both phones are available for preorder on August 11 from all major retailers and will begin shipping on August 27.
Feel as good as they look
Samsung Galaxy Z Fold 3 & Z Flip 3 hands-on: Displays
Hardware upgrades are always expected with new phones, and Samsung's latest doesn't disappoint. The Galaxy Z Fold 3 and Z Flip 3's displays bring some expected improvements to the table and put them more in line with mainline Galaxy S phones. Beyond that, Samsung finally improved the one real nagging feature about its previous foldable phone displays: the cheap film screen protector.
Both the Z Fold 3 and Z Flip 3 ship with a pre-installed screen protector on top of their foldable displays. But while the screen protector on previous generations of foldables just felt gross and cheap, this new protector is made from a material that feels almost identical to glass in every way.
Category
Samsung Galaxy Z Flip 3 5G
Device name
Samsung Galaxy Z Flip 3 5G
Chipset
Snapdragon 888
Memory
8GB
Storage
128GB or 256GB
Rear Camera
12MP, ƒ/1.8, 1.4μm (wide-angle)
12MP, ƒ/2.2, 1.12μm (ultra-wide)
Inside Camera
10MP, ƒ/2.4, 1.22μm
Battery
4400mAh
25W Fast Charging
10W Wireless Charging
4.5W Reverse Wireless Charging
Weight
183g
Water and dust resistance
IPX8
Colors
Phantom Black, Cream, Green, Lavender, Gray, White, Pink
Samsung achieved this by switching the material to PET (Polyethylene terephthalate), a type of plastic the company says is 80% more durable than the previous material. This new resin improves upon the original in scratch resistance, so you won't have to worry about making a divot with your nail. In the Z Fold 3's case, it's also designed to withstand the force that the S Pen will apply to it. Like the old protector, it's not actually glass, so it won't break if it gets dropped or hit.
The one big downside is that this new screen protector is not user-replaceable in the way that the previous Galaxy Z Fold 2 screen protectors were. That's sure to be a bitter pill for some folks to swallow because, in the event that you do mess up the pre-installed one, you'll have to send it to Samsung for a replacement.
But here's the deal. If I had a choice between the old plastic film type protector and this new PET one, I'm picking the PET one any day of the week. Even if I can't replace it myself, it's significantly better because it just feels like glass. The only thing this protector doesn't improve much is that crease down the middle of both devices. While it does seem to dissipate the line a bit, it's still noticeable from any angle.
When opening the Z Fold 3, you find any obvious cameras taking up screen real estate — a stark contrast to previous generations of Z Folds — and that's because the Z Fold 3 ships with Samsung's first under-display camera. Samsung is doing things a little differently than manufacturers like Vivo and is using a unique pixel pattern over the top of the punch hole camera.
This results in a camera punch-hole that can be seen if you look closely but is often occluded by whatever color is most prevalent around that area of the screen. It's a unique dithered pattern that's more noticeable on white backgrounds than other colors — likely due to the pentile diamond arrangement of the pixels — but still offers a better way to view fullscreen content on that big, beautiful inner screen.
While the Z Fold 2 shipped with a 60Hz outer screen and a larger 120Hz inner screen, both screens are 120Hz on the Z Fold 3. That should make it far more pleasant to switch between screens without one immediately feeling laggy, as the outer screen tended to appear on the Z Fold 2. Likewise, the Z Flip 3's inner screen is also a buttery-smooth 120Hz display, another spec that brings it up to par with the likes of the Galaxy S21+.
The outer screen of the Z Flip 3 might only be 60Hz, but its size makes it infinitely more useful than the tiny thumbnail display of the previous Z Flip models. This new screen is four times larger than the old one, making it possible to use six premade lock screen-style widgets right on that smaller display. That makes it easy to change songs, check your notifications, use Samsung Pay at the register, or toggle quick settings like Wi-Fi and Bluetooth. Your Galaxy Watch's face can also sync with this display in many cases, offering a unique matching look for your day.
A real digital notebook
Samsung Galaxy Z Fold 3 & Z Flip 3 hands-on: S Pen capabilities
The Galaxy Z Fold 3 has S Pen support on that big inner display, and it's nothing short of glorious. There's little doubt that Samsung has been planning S Pen support for the Z Fold since day one, and I'm happy it turned out to be this good. But, like the new and improved screen protector, packing the Galaxy Note's Wacom digitizer inside of a folding display is something Samsung needed time to figure out.
That new Wacom layer takes up the entirety of the large inside screen and makes it feel more like you're actually writing in a notebook than any Galaxy Note device ever could. There's little doubt the Z Fold 3's form factor plays a huge part in achieving the penultimate transition to a fully functioning digital notebook that Samsung's been playing at for years.
The Z Fold 3 is compatible with two models of S Pen: the S Pen Pro — that's the new one that works with the Galaxy S21 Ultra and other Samsung Note-branded products — and the S Pen Fold Edition. While neither of these pens fit inside the body in the way a Galaxy Note series S Pen does, they're both infinitely more comfortable than the smaller S Pens could ever hope to be.
The Fold edition is the smaller of the two S Pens and fits inside a gorgeous leather case Samsung makes for the phone. That holster position is right on the spine of the phone and makes it look and feel just like a notebook with a pen wedged inside of the spiral spine. Samsung also makes separate leather sleeves for both sizes of S Pen, if you'd rather have it that way.
The S Pen Pro is much larger than the Fold Edition and sports a switch that changes compatibility between the "S Pen" and "Z Fold" modes. If you forget to flip the switch, the Fold will remind you as you attempt to write.
Both new S Pens have a retractable tip, a design that pulls the tip into the body of the S Pen in case you push a little too hard. Samsung says this is designed to keep the S Pen from damaging the ultra-thin glass (UTG) on the Z Fold. Thankfully, that new PET screen protector that's preinstalled on the Z Fold 3 feels exactly like glass and, at least for me, felt no different from writing on a Galaxy Note device.
As you might have hoped, you can fold the Z Fold 3 in on itself to any angle and still write notes on both halves of the screen. This makes it possible to take notes while the phone is in Flex Mode and just felt so darned comfortable to use.
Drop it in the sink
Samsung Galaxy Z Fold 3 & Z Flip 3 hands-on: Waterproofing
For the first time ever, Samsung has been able to add a water ingress protection rating to its foldable phones. Among the many changes Samsung made between this generation and the last, this one might be the starkest when it comes to life's most unfortunate events. Both the Galaxy Z Fold 3 and Z Flip 3 sport an IPX8 rating, which means these phones can be safely submerged deeper than 1 meter in freshwater.
Once again, that puts these foldables on par with the Galaxy S21 line in terms of water resistance. Take it to the pool, drop it in a bath, or just wash it off when the need arises. That's real peace of mind that foldables have never had up until now. The bummer here, of course, is a lack of dust ingress protection, something that's always been a concern on foldables since the first generation debuted.
Like the previous few generations, the Z Fold 3 and Z Flip 3's hinges have micro brushes inside that are designed to keep dust and pocket lint out of the folding mechanism, helping to prevent a disastrous outcome. Getting dust in your foldable's hinges could gum up the works and require a repair to get it working again, but reports of this happening in real-world usage have been few and far between.
Accessorize me
Samsung Galaxy Z Fold 3 & Z Flip 3 hands-on: Design changes
Samsung says it built both devices to last — a claim backed up by the addition of stronger bodies built with Armor Aluminum and Gorilla Victus glass. Both of those help keep the phone intact if it were to be dropped. That should help assuage the fears of folks still wondering about durability issues with these foldables.
As many of us are aware, though, dropping a phone often results in some kind of breakage, no matter how strong the metal or glass on the body is. That's why Samsung seems to have finally taken cases seriously with both the Z Fold 3 and Z Flip 3. While some cases for previous generations of Samsung foldables felt like a bit of an afterthought, these new cases were clearly designed with the products from the beginning.
The leather Z Fold 3 case is stunningly gorgeous, with soft edges and that classic leather texture that makes it feel like a proper digital notebook. The Z Flip 3's cases exude some amazing energy and genuinely fit the "fun" feel of the phone. The straps and rings on the cases offer unique ways to grab and hold the phone, no matter what your choice is.
Samsung also swapped out the colorways this time around for more muted tones in some cases, offering up elegant colors like the cream Z Flip 3 or the subtle deep forest green tones of the Phantom Green Z Fold 3. I particularly love that cream Z Flip 3 color as it just jives so well with the dual-tone black display and polished metal frame. It's a stunning design that wouldn't look out of place atop a grand piano.
Samsung thinned out both phones just a bit, further helping them feel like more than just an enthusiast's phone. Surprisingly, Samsung was able to add stereo speakers to the Z Flip 3 — which include Dolby Atmos support — without adding any bulk.
There's no changing the semi-awkward nature of the thinner outer screen on the Z Fold 3 but, to be fair, it's not likely Samsung intended users to spend the majority of their time on this display, anyway. So to encourage more frequent use of that inner screen, a new Samsung Labs feature has been added that lets users resize any app they'd like — including ones that don't officially support Android's multi-window support. That means you can finally binge Netflix while taking notes or messaging friends, all on the same screen at the same time.
Look at this photograph
Samsung Galaxy Z Fold 3 & Z Flip 3 hands-on: Cameras
While Samsung used the Galaxy S20 and S21 to push the boundaries of mobile photography in many ways, the Z Fold 3 and Z Flip 3 are likely to remain about as average as their predecessors. Surprisingly, Samsung has done little to nothing with the camera hardware on either device, leaving the improvements to come from software alone.
In total, the Galaxy Z Flip 3 sports three cameras: one wide-angle and one ultra-wide-angle camera on the outside shell — both featuring 12MP sensors — while the inside camera is a wide-angle 10MP sensor. The Z Fold 3 features the same rear triple-12MP camera setup as the Z Fold 2 — that's one wide, one ultra-wide, and one 2X telephoto lens — but the inner camera has actually seen a bit of a simultaneous upgrade and downgrade.
The Z Fold 3's inner camera — that's the under-display one on the larger screen — is only a 4MP resolution sensor. That's down from 10MP on the Z Fold 2, but it's done for a reason: larger pixels on that sensor. Similar to what HTC did back in the day with the HTC One M7, this 4MP camera utilizes pixels with a 2-micron size, meaning they take in far more light than the old sensor with 1.22-micron pixels could.
That should help the Z Fold 3's low light performance quite a bit — something we'll be testing for the review since our hands-on space was very well lit. The Z Flip 3's inner camera remains unchanged from the previous Z Flip model, sporting that same 10MP sensor with 1.22-micron pixels.
While the hardware hasn't changed much, Samsung took the time to port all those new Galaxy S21 camera software features and added in a few new ones designed specifically for the foldable form factor. You'll find new ways to view photos in collages, auto framing, ways to use the inner and outer displays to take advantage of each device's best cameras, and more. It's not the camera upgrade we're likely hoping for, but, as we've seen from generations of Pixel phones utilizing ancient camera sensors, software improvements can make all the difference in the world.
An epic chapter in the making
Samsung Galaxy Z Fold 3 & Z Flip 3 hands-on: Drawing conclusions
Samsung isn't reinventing the wheel this time around, but they really didn't need to. This release is focused on efficiency and improvements, two things Samsung needed to do in order to begin the mainstream adoption process. While the Z Fold 3 will likely remain a more niche device because of its price, it's hard to scoff at the $200 price break from the Z Fold 2's launch last year. The inclusion of S Pen support also makes it far easier to justify as a business expense — something Samsung is sure to pivot toward at some point in this release cycle.
While it might not have that huge defining S Pen feature, the Galaxy Z Flip 3 will be the star of the show for many people. It's priced within reach and offers an incredibly compelling experience, with a gorgeous 120Hz display, an outer display that's actually useful, and that oh-so-satisfying feeling when you snap it closed. What it lacks in-camera zoom levels will surely be made up in a unique user experience, and that gives Samsung the most important differentiating factor from other premium flagship phones debuting this Fall.
The more affordable foldable
(opens in new tab)
Samsung Galaxy Z Flip 3 5G
Coming out of its shell
The Galaxy Z Flip 3 is priced to make a big impact with improved specs, a sleeker design, water resistance, better displays, and more protection from everyday drops and scratches.
A note-takers dream
(opens in new tab)
Samsung Galaxy Z Fold 3 5G
A phone and a notebook all in one
Samsung is taking its biggest foldable to the next level with S Pen support, stronger glass, water resistance, and improved specs, all at a lower price than before.
Nick started with DOS and NES and uses those fond memories of floppy disks and cartridges to fuel his opinions on modern tech. Whether it's VR, smart home gadgets, or something else that beeps and boops, he's been writing about it since 2011. Reach him on Twitter or Instagram @Gwanatu
Not sure how an $1,800 phone can be considered mainstream. I can afford one, but I'm still not going to spend that much for a phone.

The Fold 3 isn't, but the Flip 3 is certainly priced in a more mainstream bracket.

Is it me or while reading the article others got confused as well on which phone is each sentence about due to similar names of the phones?

That crease on the Fold 3 looks like doo-doo. So much for mainstream!
Spending $1k on a foldable is never going to be "mainstream".
Samsung better wake up and realize "mainstream" is half that price at best.

So...you want them to take a loss from the get go?

I pre ordered both phones and a watch 4 got all 3 for 1800 with trade ins and employee discount also got the s-pen case and two silicone cases not bad I'd say cant wait for aug 27th

Excellent! Trade ins and discounts are the way to go. For $1143.38 after trade in I ordered: Galaxy Z Fold3 5G 512GB (Unlocked)
Galaxy Buds2, Graphite
Galaxy Z Fold3 5G Flip Cover with S Pen, Black
35W Power Adapter Duo Total Savings $1161.77 I know that is still a lot of money and not everyone has the money or the phones they can trade in but I encourage everyone to keep their existing phones in excellent shape and keep their previous phones as well so that in the future they can get an expensive high end phone for cheaper than lesser phones. I can't afford to pay full price but if I plan ahead, I may be able to get the device I want with trade ins, discounts, credits and money saved so that I never have to pay full price. I see it as a recurring financial investment where planning is beneficial.

Fool, you end up paying far more than full price because you never stop buying phones. What a clown.

I'm coming from the Pixel 4XL which I've been holding off on upgrading and debating between the Pixel 6 Xl/Pro (or whatever it's called) and the Fold3. I really want a fold and can justify the cost because you're also getting a tablet, not just a phone. Regarding the crease, from what I've read about the Fold2 (and the Fold3), the crease's visibility is dependent on the lighting being used (really bright light) and the angle you're holding it at. These videos are, understandably, recorded under bright light and so that would make the crease more apparent than it really is if you were holding it in person. I wish I could get a comparison coming from the Pixel 4XL. Will it really feel more responsive/snappy? How will the cameras compare, how does the screen look? My 4XL isn't slow or terrible; and I know if I were to go to the Pixel 6, I would have a very good phone with improvements all over the show; but not sure how the Fold 3 really compares (even though it's a new device and you'd expect it to better). I will definitely be buying the Watch 4 Active! I've been wearing a Fossil Men's Sport for quite awhile now.

The galaxy fold is in a weird space. It has an excellent outer screen. Its big (6.2"), it has a very high refresh rate (120Hz), its full AMOLED, and every app on the phone runs perfectly on it. In other words, the outer screen is as good as any flagship phone main screen. So, what's the point of the big screen inside? Seriously, why would you bother to open the device if everything you need to do on the phone can be done on the outer screen? Sure, I get that watching Netflix on a bigger screen is better and surfing the Web on a bigger browser interface is better. But, is it $1000 more than a regular flagship better? If Samsung have built in trackers or analytics to see how often users unfold their phones, I wouldn't be at all surprised if they find that after a couple of weeks of initial use, the phone gets opened less and less with time.

Two (or more) apps used at the same time is the answer. It may not be for you but it is useful for some. You have to understand that the Fold and Microsoft's Duo are not phones in the traditional sense, they allow you to do a lot more.
Netflix as a single app isn't even that good BTW due to the screen ratio.

For this device.. I would pay $2,000.00 USD for it. As long as it comes with updates for say 3-4 yrs. Ready to trade in my Note 10+ for this !!!

Samsung Galaxy Z Fold 3 5G = ONLY $1800.00
ROTFLMAO!
These will fail. Samsung has made another colossal error right on the tail of the S21 fiasco!

They keep making them, so they must sell. And the S21 was a "fiasco?"

Do you not read? I assume that if you are replying on this site that you are aware that the S21 sales are the worst they've been in the last three years for Samsmug? And I wonder why they're not selling...let's see, overpriced for sure, removal of many hardware features that customers have been demanding for years...and then they removed the charger...making you pay even more for one if you need it? This is not rocket science...this is hubris on the part of Samsmug and they will learn the hard way like so many other companies that the vast, vast majority of people either do not want one of these, or they choke on the price! Very simple really!

I feel kinda bad for the people who have to write these articles because they have to act pumped...they have to promote these fragile overpriced pieces of junk as if they're the best thing ever created in the smart phone universe. We all know if they really told the truth they would be filing for unemployment faster than you could say Sumsmug made a big boo-boo here! SMH
Cannot wait to read how Samsung is offering you one of these if you trade in ANYTHING you can find in your kitchen junk drawer. LOL

No, never. I want a screaming top of the line flat one piece phones every three or four years... Or maybe five now given my Note 20 Ultra. Of I want a tablet, I'll buy a no compromise tablet. Hard pass.
Android Central Newsletter
Get the best of Android Central in in your inbox, every day!
Thank you for signing up to Android Central. You will receive a verification email shortly.
There was a problem. Please refresh the page and try again.