I pre-ordered a Google Pixel 4a because I just want a good, simple phone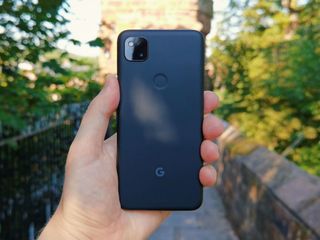 (Image credit: Alex Dobie / Android Central)
Maybe I'm just getting older and having one of those "get off my lawn" moments, but in the intervening years since the iPhone X and Galaxy Note 9 were released and normalized $1,000+ phones, I have become progressively less and less excited about whizbang new features and running on the never-ending upgrade treadmill.
Don't get me wrong, I still absolutely love following this stuff, and I get a rush from reading and writing about it all as much as the next tech geek. But when it comes to my own personal needs and purchasing decisions, I've been doing some thinking and re-evaluating. I've come to the conclusion as I enter middle age that I'm a middle-tier phone kind of guy. And you know what? I'm actually OK with that. This realization has caused me to take action this week and lead me to pre-order the Google Pixel 4a (opens in new tab).
Google Pixel 4a Price-conciousness
At 44 (and a half) years old, I'm starting that stage of life affectionately referred to as "middle age." I've got one kid starting college, another starting high school, a mortgage, three cars, retirement planning, etc. You get the idea. Unlike in my 20s and 30s, my financial obligations have started to get real. Well, in all honestly, they've been getting real for awhile, but I am noticing them now more than ever before.
But it's not just me; lots of people are feeling the financial pinch right now. The global economy has taken a hit due to the current pandemic and ongoing societal issues resurfacing, and more and more people either don't have as much disposable income to spend on super-premium phones. That, and they just can't be bothered to care as much about that kind of stuff right now. You know, what with all the necessary survival coping they're doing.
Not that long ago, if you wanted a phone with a high quality build, good camera(s), an excellent display, and any bonus features like water resistance or NFC, you had to go for the premium models (and I did, with gusto). But this is not the case anymore. Sure, you still often need to make compromises here and there, but by and large, you can find a good, affordable Android phone that might have cost you double, or triple in yesterday's dollars for the same feature set.
Google Pixel 4a Feature-rich
My move to the middle is not all about price; it's about the available feature set as well. Many phones in the $350-$650 range have most, if not all, of the features that I care about anyway. Whether it's the Pixel 4a, the OnePlus Nord (which isn't available in the U.S.), the iPhone SE, or the TCL 10 Pro, there are more than a handful of phones in this price range that I'd happy with as my daily driver.
The Pixel 4a has 6GB of memory and 128GB of storage. It has the legendary Pixel camera system, that while perhaps not quite as good as the Pixel 4 before it, is still among the best Android camera phones available. It has a fast rear-fingerprint sensor that most people love, and it is one of the few phones at any price range that still ships with a 3.5mm headphone jack. You get NFC for contactless Google Pay, and surprisingly capable battery performance for such a "small" phone.
Sure, you don't get all of the fun colors from previous Pixel phones, but you're probably just going to put it in a case anyway. It also doesn't have official water resistance or wireless charging. Still, if you accept that you can't get everything you want at this price, I think those are fair tradeoffs to make.
Google Pixel 4a Meet me in the middle
Intellectually, I understand why phone manufacturers keep pushing up the price of their premium phones. The cost of components has gone up, as has the cost of doing business in these crazy COVID times. Companies want to keep the margins they've become accustomed to, or better yet, to improve them. I get it.
That being said, it's clear that good phones don't have to cost as much as they do now. It's good to see companies like Google, Apple, OnePlus, and Samsung realizing this, and making popular international mid-tier phones available here in the U.S. where I live, or designing bespoke new entries in this price range for a wider international audience.
After reading all of the Pixel 4a reviews and watching all of the great videos covering this new phone, I was among many who declared my interest in and intention to buy a Pixel 4a, and you know what? Google totally called me on it.
Since you said it's all you personally need... Ball's in your court, Jeramy.Since you said it's all you personally need... Ball's in your court, Jeramy.— Made by Google (@madebygoogle) August 4, 2020August 4, 2020
To that, all I can say is "Hey Google. Here you go—swish, dunk, home run, touchdown."
As soon as I receive my Pixel 4a, I'll be looking forward to using it as my primary phone. I also will be eagerly watching this space over the next year to see who else can wow me with a great phone that doesn't break the bank.
What about you? Are you going to be getting a Pixel 4a or similar mid-tier phone device of a flagship for your next phone?
Latest Pixel
(opens in new tab)
An outstanding camera, and then some
The Pixel 3a was hailed as one of the best affordable phones of 2019, and for 2020, we have its successor in the form of the Pixel 4a. The camera is better than ever, performance is plenty fast, the battery is reliable, and there's even a headphone jack. Assuming you're a fan of smaller phones and don't mind the boring design, the Pixel 4a is one of the best deals out there.
Android Central Newsletter
Get instant access to breaking news, the hottest reviews, great deals and helpful tips
Jeramy is the Editor-in-Chief of Android Central. He is proud to help *Keep Austin Weird* and loves hiking in the hill country of central Texas with a breakfast taco in each hand. You can follow him on Twitter at @jeramyutgw.
I'm totally with you here! As a long time Samsung Note user im mighty disappointed by what's been delivered since the 9. Personally I think it was the last Note where price, features, and quality matched each other. So I'm holding on to it for as long as I can. However, I also pre ordered the Pixel 4a. Never been a fan of the Pixels but here I see all the important features for a great price.

This 4a fulfils many consumers needs or wants. Sure it's missing a few premium features but gets the job done admirably. That 📷 competes with many flagships for a very reasonable price, especially for the average consumer. An OLED display 6gigs of ram, 128gb's of storage, stereo speakers, night sight, transcribing and a decent 🔋. This phone proves you don't have to spend a g-whizz to get a very good performer?

You know what would be totally perfect, for my next phone? The 4a with 5G. They could even call it the 4a 5G. Too bad they're not selling one of those...:-(

I'm also curious about the Pixel 4a 5G model as rumor has it will be bigger than the Pixel 4a. My question is will these upcoming phones support mmWave as well as Sub-6 5g with the 765G? I hope they serve the many flavors of 5G as it's a mess right now with compatibility.

I hear you...but I'm less concerned about mmWave than I am about full Sub6 compatibillity...band 2, 4, 66, 41 and 71. The mid-band frequencies are going to provide most of the day to day benefit...the mmWave will be for high-density things like concerts, train stations, etc to add bandwidth, as I understand it. I doubt there's going to be many places where only mmWave is available, and it seems like there are significant desing tradeoffs for including mmWave; Larger phones, worse battery life.

Yeah Sub-6 will be useful as it's pretty much like an upgraded 4g I call it 4.5g. I have Verizon which they are going all in on mmWave and will turn on their low band 5g later this year. We have to wait and see with the specs but 500 to cover all the band flavors would definitely be nice.

why? 5G isn't going to be worth bothering with for another 2+ years. it's rolling out at a snails pace, street by street, not city by city. forget 5G until 2022-2023

That's mmWave 5G your talking about with street by street which yes it's been slow and steady and it has some technical issues. That's where Sub-6 5G comes in play to help overcome those issues and has been rolling out more rapidly than mmWave. I say if you can get a phone that doesn't break your wallet and it comes with the compatibility to access the network then I say that's a good investment. It would be a different conversation if we had to spend 1k on a phone to get 5G but with the upcoming pixels and the price it's more about future proofing for those who hold on to their phones longer.

Figured this out with the 3a series.

The 3a series was a grand slam for google. My 3aXL is the best android phone I've owned and I've owned a lot of them.

I agree with you 100% and I'm not even 30 yet. The price fatigue has gotten to me and I've really stopped caring about high-end phones. I see the MSRP and my interest immediately wanes. I've strongly considered the 4a and SE to replace my P4XL when I sell it, or going back to my OnePlus 6 if I switch to a GSM carrier -- this phone, other than a crappy vibration motor and meh camera, is nearly perfect for me.

Last October I moved from a Pixel 2XL to a Pixel 3a XL. The most important things to me are camera, battery life and a clean OS. Granted the 3a XL is not quite as fast as my 2XL, and there is sometimes a delay after shooting a photo, but I'm OK with it. I've thought about the 4a but just not sure if the screen is big enough. I'm getting older (66) and I like a little larger screen. Will take a look at the Pixel 5 when we have more info, but until then I'm sticking with my 3a XL.

I would take a closer look at the Pixel 4a 5G as it looks to have a bigger screen and battery like the 3a XL. I have the 3a XL and I'm curious to what the phone has to offer as far as improvements.

I have the 3a XL. Seems as if the the 4a offers more storage and that's about it.

Yeah the 4a has better RAM and twice the storage as the 3a. Plus the 4a is using Gorilla Glass 3 as apposed to the weak Dragontrail glass the 3a series used. If the 4a 5g is what the 3a XL was plus improvements then I might eye that as a replacement. So far I'm content with the 3a XL I have.

Yours is a great phone for sure. I'm not at all saying 3a folks need to upgrade though.

I stopped buying high end phones a very long time ago, after realizing that I don't need or use more than half features on them. So, they are now a waste of money for me. I was never a Pixil fan or a fan of any Google phone regardless of timely updates. Not too crazy about going back on screen size but this might be something I'm interested in?

One of the best posts ever written on AC forums! Kudos! I'm the earlier generation than the OP... a real boomer, an independent businessman, who has had the same cell number since 1993. To put it in a nutshell, I've seen it all regarding cell phones since my first foreway into cellular with the old McCaw Cellular, then ATT, then Cellular One, then ATT, and finally since 1999, Bell Atlantic now Verizon. Whew! I can buy a Note 20 Ultra, but I'm thinking of keeping the Note 9 into next year. Sammy should have included the 9's for the list of an additional year of OS Updates. At least they listened, to us, here at AC. I've been on Android since the beginning, the platform is running so well these days! Maybe I'll go to a Pixel, who knows? One thing is for certain... I decided years ago after hearing my first advice from the Motorola dealer who told me my first phone, when my plan was fifty bucks a month for thirty minutes... 'either you control the phone or it controls you'.... I will not chase phones! I will not allow phones to control my life. Of course, YMMV. For now, the Note 9 is still rocking and I'm keeping my powder dry in these crazy, apoplectic times. Stay healthy and safe!

I'm in the same boat.
4a offers everything I need and for the price I can sacrifice a few "nice to haves". Plus I end up breaking the glass on the front and/or back of every phone I've owned in the last 5 years.
Less likely to happen with this one and if it does I can buy a whole new one for close to the cost of repairing a high end $1k+ phone!

Finally!!! One of y'all half brain dead phone-reviewers has finally seen the truth and not pushing all those overpriced smartphones. Hallelujah!!! I have been saying this for the past 4 years!! For what I use smartphones for, I don't need waterproofing, glass on the back, wireless charging...etc. Give me pure Android and a decent processor and ample memory and let's call it a day!! *A bigger battery would have been really nice.

The 4a defiantly covers the basic needs of a smartphone with the added benefit of a top notch camera and updates. I say even the 4a 5g which I'm eyeing is a proper value at 500 with a bigger screen, possibly battery, and added 5G. $1000 to $1500 phones doesn't seems like a proper value especially for Android phones as they depreciate like crazy.

It's good that we have a choice, however. Phones are like everything else, there's a sweet-spot where you don't need anymore. Go above that, and it becomes all about wants. Shoes, food, clothes, etc.

Great response to sum up preferences for this phone and many others. It's great when you find your sweet spot as a consumer.

But the question is, which half was I using?

You used the right one this time my man!!

I totally agree with this article. My previous phone, a Galaxy S9, was my last "high price" phone. Even though I got it at half price by trading in my Galaxy S7, I still considered it pricey back in 2018. It performed great until May of this year, when i jumped ship (I have had various Galaxy models since 2012) and got a OnePlus 7T, also with a good discount after my S9 trade-in. I guess the times of a $1,000+ phones will come to an end rather soon, and many many high end features and specs will keep trickling to mid-range phones.

I agree with you. I'm currently using LG V30 Plus, which was a flagship when I bought it 2.5 years ago. While I still think that at 35, sometimes I could still be a goofball and act like I only care to use the latest and greatest, I have a 2 year old daughter and my focus has mainly shift to gearing towards the future of my family. I find myself reading and watching reviews of mid tier phones now. Same thing with cars. Don't get me wrong, I'm still excited about new flagship techs, but I just don't find myself lusting to own one nowadays. I only need couple things for my daily driver. Good screen, acceptable camera, NFC, good battery life while still maintaining somewhat compact size, and I'm good to go. I don't even care if it's made of plastic/polycarbonate.

That's it. We can't consider this an Android site anymore.
1. Because of the Black Lives Matter protests - and the earlier Occupy Wall Street protests - he feels guilty about being able to afford things that other people can't so he is going to relegate himself to cheap phones. We are getting that a lot on this site lately.
2. Except that this site frequently pushes EXPENSIVE PlayStation consoles, games and gear.
3. Except that this site FREQUENTLY sings the praises of EXPENSIVE iPhones, iPads and MacBook Pros.
4. Why is he JUST NOW DISCOVERING the benefits of less-expensive Android devices? Because THIS SITE HAS BEEN TRASHING LESSER EXPENSIVE ANDROID DEVICES FOR YEARS. "Oh, it stutters a bit. Oh, it will only get two updates. Oh, it doesn't have this feature. Oh, it doesn't have that feature. Oh it works fine BUT JUST DOESN"T FEEL PREMIUM OR WELL-DESIGNED." So what happened?
5. Apple made a mid-range phone in the SE 2, which legitimatized the concept. Then Google - who has explicitly made emulating iPhones a goal and marketing strategy - comes with their follow up.
6. It was only after Apple made cheaper phones OK that we finally began to get articles like "you know what, I never noticed it before but Motorola phones have pretty good software!" and "you know what, Nokia phones get regular updates!" In other words, seeing the merits in less expensive Android phones that 3 billion device buyers - whose average purchase is a $250 phone - have always know.
7. Yet this only extends to phones. Because Apple pulled their cheap iPads that they were forced to come out with when the Nexus 7 and other cheap slates established that market and haven't put out any more since. Because of this we will never hear the merits of a Galaxy Tab A and didn't heear nearly enough about the Lenovo Duet.
8. And ... then there is the timing. Expensive phones are socially irresponsible in the presence of discrimination and poverty - as if those didn't exist when you bought your iPads, AirPods and MacBook Pros or something - is a realization that occurs right when Samsung launches the Galaxy Flip and Fold devices. Shocking, right?
9. In a few weeks, Apple is going to release their lineup of devices that exclusively cost $700 and up. This along with continuing to release Macs that cost twice as much as comparable Windows and Linux PCs. Are we going to hear about how socially irresponsible Apple's lineup of exclusively expensive devices are? And are we going to hear "5G phones aren't necessary because the networks and applications to use them aren't there yet" then? Nope.
10. Add it all up and it is yet another broadside against Android generally and Samsung - the #1 Android representative - specifically. In the guise of promoting Google's "we can make devices that are ALMOST as good as Apple's!" nonsense strategy. I repeat: midrange Android phones - including the many that have been better and cheaper than this Pixel 4A device with its 3140 mh battery and third tier processor - have been "good enough for most people" from the beginning. The problem is that this site used to mostly trash them till now. Go back a few years, for instance, and see the grief that it used to give OnePlus phones. I will grant you, this site gave the Moto X credit but A) the Moto X was basically a flagship phone that Motorola was basically selling at margin hoping to make money on accessories and B) the praise for the Moto X was universal, including the iPhone fans that are currently raving about the Pixel 4A's increasingly successful attempt to emulate devices in their paltform. Bottom line: this. is. not. an. Android. site. anymore. It spends more time trashing and making backhanded "compliments" of Android and ChromeOS devices (or ones that don't go out of their way to emulate iOs and macOS devices) than it does helping people identify good Android and ChromeOS devices to buy.

You seem triggered. You should go back to your pro-Trump 8 Chan safe space.

this site can't help it that apple devices are better than android. then when you add in the ecosystem, iMessage and wearables, it blows android out of the water.
then you have white people protesting being white. idiots.
no one in my fam was EVER a slave owner and i worked for every single thing in my house, so I am not apologizing for being white. nor do i care if they like my phone or not. or the price.
in fact, since I have worked since the age of 14, I have paid my debt. I pay taxes while other sit around and collect welfare while having $250 nikes and $500 beats and a free phone from the gov that I give half my paycheck to. BLM is a racist group that is more racist than the kkk they literally hate whites and want to destroy us like we are infidels. trump 2020

For years I have stayed below the 500 dollar price range of phones. That is where I belong. I cannot fathom paying 1000 dollars for a phone for my level of needs. I am sticking with my 3a because outside of more ram and storage, there is nothing that the 4a has that my 3a don't have. Kudos to Google for continuing the "a" line of phones for the more practical users.

Put mjl minilux on your oneplus and you will be amazed at the pq. The oneplus 6 line has very good imx sensors, the camera software sucks.

I will wait to read "real" end user reviews and complaints. We all know there will be sad, angry, and outraged customers who end up with a lemon. Always happens with EVERY phone! Key here is how many complaints VS the number of endorsements. Sure, it is relatively cheap...but...I still am not going to throw away $350.00 on a plastic **** until real people tell me that this particular **** doesn't stink like many of the previous Pixels did.

I guess the new thing now is to declare your purchase decisions like a badge of armor, " I'm not buying this", or "look how evolved I am because I'm choosing that". And everyone stands around and claps for each other like some sort of recovery group. 🤣 I can't remember that last time anyone gave two squats what phone I had. Only that I could receive their texts or follow them on their platform of choice. Do what makes you happy. But the moment you start acting all high and mighty about it, you make the opposite point you think your making.

i'm already sick of $1000-$1500 phones. specially android phones that get abandoned after 18 months.
pixel 4a is enough. and has a great price

As another commentator said I to am from when cell phones first were Big (as in take a cell phone meant for a car and put it in a bag and call it mobile). I've been there and back a few times. Had the OG iPhone and did the Palm Pre (lordy was that phone ahead of it's time). Anywho, one thing I always did was look for the best price for performance. Now many a time that might be a new flagship. Even then though i'd make sure I was getting value at a good price. Once Apple went set the market to 1K I said NOPE. Have not and will not pay that much for what this is. It's not worth it to me. I found decent mid range about 3 years ago when my Axon 7 decided to suicide itself on the concrete floor of my job. I needed a new phone fast. Just then Nokia came out with the 6.1. Now was it AS fast as my Axon? Nope but not slow a bit. What sold me other than price was build and software and components. All in a package at the time that was under 300.00. Up until recently I was still using it, but because of a Carrier change I was looking to buy the 4a. That though got constantly delayed so I had to bite the bullet. I picked up an Xr from the carrier for a great deal. I've been double pumping for years (previous carrier had free SE). So I was good for the moment. As much as I wanted to get the 4a, i'll hold off for now. That said though if things get better in the US. Come Black Friday i'll be looking for a deal on the 4a for sure.

The only thing holding me off is how well my Pixel 3a performs even after more than a 1 year here. Ordered it last year a few days after it was available to buy.

The only thing this offers is a decent camera at a cheap price. Otherwise, everything else about it sucks. No wireless charging, no IP rating, crappy display, crappy storage options...

I've always bought phones for less than $500. It started with Nexus phones, then I went to LG and just waited for their flagship phones to be discounted (didn't have to wait long). Last year, my family left AT&T and went to Xfinity Mobile and went for the Samsung A50. They has a deal for coming over and we received the phones for $100. It was an amazing deal for really nice phones. They do everything we need and even have better cameras than my old LG G6 and my wife's V20. She just shattered her A50, waiting on the Pixel 4a to release to replace it. Our only wish is the screen to be a bit larger and better quality, but I think it is better than buying another A50 or A51.

My only concern with this phone (well 2 concerns actually) is the smallish screen. I am used to larger screens like I have on the OnePlus 7 Pro. I tried to type in portrait mode on a Galaxy S10e, which is basically the same as the 4a, and it was just too small. And since the 4a and 10e both have an ugly punch hole (yes opposite sides) I like it even less. So, I will have to wait and see what the 4a 5G or the Pixel 5 has to offer for sure.

The Pixel 4a seems like it would be just about right for a lot of people. However, I'm not going to fault people who want something different. My last phone I bought outright was $799.99, and I don't regret it one bit. Almost two years later it still performs on par with my iPhone 11 (bought on a plan), has Pixel-like photos and better-than-iPhone video, studio headphone sound quality, and gaming performance that keeps going after other phones overheat and start stuttering. Still, I know I'll need to replace it eventually, and I'm hoping there will be alternatives that won't cost over 1k.

What phone did you buy for $800 big ones? Was it upper mid-range? Flagship?

Basically paying for a good camera and way too small a screen for me

Moto edge here, didn't get it yet.
Utilizing pixel 3 xl now and it rocks.
Battery is soso, 5G ha,
compared the edge with 4a and took a shot with moto.
had almost 400 in PP so it will cost about 150.
Motorola doesn't do updates like goog. they are saying two years.
I don't keep a phone that long most the time.
But as you say: these are trying times for some.

No water resistance or wireless charging?....pass..

Just swapped my Samsung Galaxy S9+ for a OnePlus Nord for exactly this reason. Cant justify spending the sums of money for the "flagships" any more. My needs were better & bigger screen than S9+ and sufficient storage for music. The Nord so far seems to do that
Android Central Newsletter
Get instant access to breaking news, the hottest reviews, great deals and helpful tips
Thank you for signing up to Android Central. You will receive a verification email shortly.
There was a problem. Please refresh the page and try again.