5 Alexa-enabled devices you need to check out!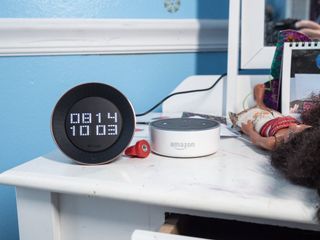 What can you use Amazon Alexa with? What can't you use with it in 2017 actually is the better question to ask. But in addition to being able to use Alexa to control various devices, Alexa also comes baked into any number of products.
That means you won't necessarily need to have an actual Amazon Echo laying around. And while not all of these devices will truly take the place of a full-blown Echo device, they can fit the bill in certain niche circumstances. For instance: I wouldn't strap an Echo Dot to my wrist and try to use it as a watch. That would be silly.
What's not silly are these five products that have Alexa built in and look to get things done just the same.
Martian Victory/Passport Smartwatches
I was an early adopter of smartwatches, having worn most everything Android Wear made available in the early days. I've kinda soured on a watch that I have to charge every day, though.
Martian's Victory watches are kind of intriguing, though. First and foremost is that they look like an analog watch, because they are. But they also have a little text-only display that feeds you some basic notifications. (It's a lot like what I've enjoyed with the Steel HR watch.) And these watches also have microphones, so you can bark orders at Alexa with them.
So yes, It's Alexa on a watch, which is kind of cool if you need that sort of thing. And it's still kind of cool if you don't. Prices range from around $180 to about $230.
Logi ZeroTouch car mounts
These are cool. It's sort of your standard magnetic car mount. There's a suction cup version or an air vent mount, both of which pair with a little metallic disc that you tuck into a case or stick to the back of your phone. (Ugh, but it's gotta work somehow.)
That's the mounting side of things. There's also an app side of things that brings much greater in-depth hands-free options than what your phone might do out of the box. (That's maybe less true for the Android folks now that Android Auto is available on phones, but it's still very true for iPhones.
All in all? A cool little way to use Alexa in your car, at a decent price of about $50.
Eufy Genie
The Eufy Genie isn't quite an Echo Dot. But it's trying real hard, and it still looks pretty good. In fact, I'd say it looks better than the Echo Dot. And at just $30, the price is better than the Echo Dot.
The only thing that gives me any real hesitation here? It's got fewer microphones than the Echo Dot, so it's possible that it won't hear you quite as well as the Echo Dot does.
If that's not something you're going to worry too much about, then have at it! If there's one thing I'd want to do to improve the Echo Dot, it's in the design department. And the Eufy Genie definitely ticks that box.
Ecobee 4
Controlling a smart thermostat with Alexa isn't anything new. You can do that with Nest. You can do that with an Ecobee 3. But what makes the Ecobee 4 so awesome is that you don't actually need another Echo device around to control it. This one has its own built-in microphone and speaker.
That means that you don't need another Echo (or Echo Dot, or whatever) to control it — you just speak to the thermostat itself. And it also means that the Ecobee 4 can do just about everything that the full Echo devices can do. (Short of Alexa Calling, that is.)
If you're looking to get a more connected home without having to take up another outlet with a little Echo Dot, definitely give this a look. It's not inexpensive at about $250, but it's also a very good smart thermostat.
Vobot Smart Radio
This little thing still resides in the bedroom of my youngest daughter, and she's had a surprising amount of fun with it. Vobot isn't what I'd call an Echo Dot replacement — having to press a button to have Alexa listen to you is a nonstarter for me.
But for my kid who's just learning about this stuff? It works just fine. Plus she now has a fun little alarm clock and way to play music in her room, all in a package that costs just $50.
Sign up for Black Friday email alerts!
Get the hottest deals available in your inbox plus news, reviews, opinion, analysis and more from the Android Central team.