Every Oculus Quest game on sale for Cyber Monday — Sale ends soon!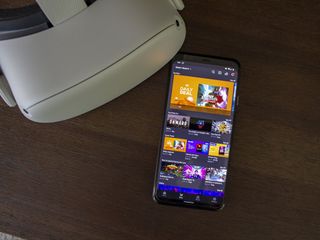 (Image credit: Nick Sutrich / Android Central)
The Oculus Quest 2 is flying off of the shelves for the holidays. If you grabbed one, or if you're rocking the original Oculus Quest, you'll want some games to jump into. While Cyber Monday is over, and the sales on many games are still going. You can check out every single Oculus Quest game that's on sale at the Oculus Store, but we've highlighted the best ones below. You'll have to act quickly because some of the deals end today.
Matrix-esque VR: Superhot VR | $7 off at Oculus
In this game, time only moves as quickly as you do. Will you speed through the levels or take a slow and methodical path to blowing away your enemies? The choice is yours.
Sunny zombies: Arizona Sunshine | $12 off at Oculus
Arizona Sunshine is a VR classic, and many were thrilled when it was announced for the Quest. If you've never played, it's a high action, high scare zombie shooter based in the beautiful Arizona landscape.
Ping pong: Eleven Table Tennis | $4 off at Oculus
Eleven is a table tennis game that focuses on realistic physics. The team behind the game is very active on the game's Discord channel and is focused on improving game physics and realism. We were in the beta for this one, and it feels so real we dove for a ball and hit a table.
Ultron-style death: Robo Recall: Unplugged | $9 off at Oculus
Robo Recall: Unplugged from Epic Games is a bullet storm game with some unique gameplay design. Using it on the Oculus Quest will bring a lot of needed freedom to the game, allowing you to spin 360 degrees to destroy killer robots en masse.
Vertigo inducing: The Climb | $10 off at Oculus
The Climb is already a fan favorite with Rift users, and it will only benefit from the wireless freedom of the Oculus Quest. Having the freedom to move around more should make the game more enjoyable and scarier if, like many, you are afraid of heights.
Zombie mayhem: Death Horizon: Reloaded | $6 off at Oculus
Shoot and blast your way through a research center infested by zombies in this thrilling title. You can choose from a wide range of weapons to use to spray bullets at the zombie hordes.
IDDQD: Journey of the Gods | $9 off at Oculus
Journey of the Gods looks pretty epic. Vast sweeping vistas, a cartoony graphics style, and a mix of combat experiences make this a game to jump into. Plus, you get to go full-on GODMODE, so that should be fun.
Strategic slashing: Ironlights | $6 off at Oculus
Ironlights combines unique melee combat with different classes of warriors. It's easy to learn but hard to master, making it replayable and challenging.
Flow to music: Synth Riders | $7 off at Oculus
This game has you dance and flow to music with both your Oculus Touch Controllers. Rather than swinging blades like in some popular rhythmic games on the Quest, Synth Riders has boxes to strike and long notes to hold with your fists.
Vroom vroom: Mini Motor Racing X | $7 off at Oculus
Race in career and multiplayer modes in this minute racer. You can also play Bumper ball, which is a bit like Rocket League in VR.
I feel like dancing!: Dance Central | $10 off at Oculus
VR is the natural evolution for the Dance Central games. After all, they were some of the first motion control games, so it makes sense for them to go to full-body motion too. The music they have in the game sounds excellent as well.
Bang: AUDICA | $10 off at Oculus
From the makers of Rock Band and Dance Central, this game has you shoot blasters to the rhythm of songs. It includes songs from popular artists and looks great for replayability as you'll aim to raise your score.
Samurai combat: Sairento VR: Untethered | $7 off at Oculus
In Sairento VR, you're a cyber ninja set in a reimagined futuristic Japan. The combat system includes high jumps, slow-motion that's reminiscent of bullet time, and both sword and gun combat.
Bow vs bot: Apex Construct | $7 off at Oculus
In this post-apocalyptic world, you use a bow, arrow, and shield to battle robots. It's a single-player game that mixes solving puzzles with a story in which you're the last human on the planet.
The Oculus Quest 2 is an excellent VR headset, and it's worth picking up right now even if it isn't on sale. If you're debating which version of the Oculus Quest 2 to pick up, our guide comparing the Oculus Quest 2 64GB vs. Oculus Quest 2 256GB can help you out.
If you're shopping for a stocking stuffer or another gift for a VR lover, there are some great Oculus Quest 2 accessories on sale right now.
Android Central Newsletter
Get the best of Android Central in in your inbox, every day!
Thank you for signing up to Android Central. You will receive a verification email shortly.
There was a problem. Please refresh the page and try again.