From the Editor's Desk: Galaxy S20 set to dominate with display, camera and battery prowess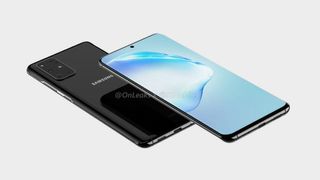 (Image credit: @OnLeaks / 91Mobiles)
Samsung has dominated the Android phone market for the past few years, often seeming to do so effortlessly. In the U.S., Samsung's high-end Android competition is basically nonexistent -- local rival LG is hanging in there, but their product lineup last year was less than stellar. The likes of Motorola and Google are left fighting over table scraps. And in Europe, Samsung benefitted from a reprieve in late 2019 thanks to Huawei's ongoing difficulties with the U.S. government. Without Google Mobile Services support, the Huawei P40 looks unlikely to woo European carriers, to the benefit of Samsung's new models.
However Samsung's real competition doesn't come from Seoul or Shenzhen, but, of course, Cupertino. Apple has enjoyed what can easily be called a bumper year, thanks to the success of the iPhone 11.
That's why there's little sign of complacency from the company in 2020. With its latest round of smartphones, Samsung is focusing on the two areas where there's still plenty of room for growth in modern smartphones: camera and battery. And in addition, Samsung looks set to score a major win over Apple by beating it to a 120Hz display — a smoother display that's an easy selling point when you see it side-by-side with a current-gen iPhone.
A relatively conservative Samsung still managed to deliver two of the best Android phones of 2019: The Galaxy S10+ and Galaxy Note 10+. And while externally, the Galaxy S20 isn't a million miles away from the company's established design language, the phone's innards — and in particular, the specs of the top-tier S20 Ultra — show Samsung bringing some serious heat to its major rival.
Outside of Chinese manufacturers, most of whom don't sell in the U.S., phone buyers are accustomed to 2X optical zoom. Samsung's top-end model promises 5X optical zoom, with up to 100X hybrid digital zoom. Meanwhile the main sensor jumps from 12MP up to a whopping 108MP, allowing pixel binning technology to be used for improved low-light captures. Other bells and whistles like 8K video and ultrawide selfies
And following a year where Apple raised the stakes in terms of smartphone battery life, Samsung's latest models are said to max out at 5,000mAh. Some of that juice is surely intended to power the phone's power-hungry 120Hz panel, but Galaxy S20 owners will also have the choice of staying at 60Hz and enjoying some of the best battery life in any Android flagship.
And so the combination of reduced competition in Europe and a fresh influx of camera, display and battery technology could see Samsung dominate in the first half of 2020.
Samsung's newfound technological prowess has been a long time coming. The Korean firm has almost always offered the best smartphone displays, but in recent years has lagged behind the likes of Huawei and Google in computational photography, and in many countries failed to deliver top-tier battery life. That all changes with the S20 series, which looks likely to bring some of the most competitive Samsung phones in years.
Samsung's latest hardware, if the leaks are to be believed, is ready to leapfrog Apple and leave many Android rivals in the dust. And if the company's software can deliver, the Korean firm will surely solidify its position as the default iPhone alternative in the West.
So could this be the best year ever for Samsung flagships? We already know a great deal thanks to numerous S20 leaks over the past month. But we'll find out for sure when the new phones drop on February 11.
Other odds and ends for a semi-working weekend:
Not surprising to see Huawei walking back an overzealous executive statement on Google Mobile Services. To be blunt, of course Huawei would use GMS if it was able to. Google services support is the difference between carriers being willing to range its products or not — the difference between tens of millions of P40 sales in Europe, or effectively zero. That said, the combative attitude suggests the company isn't holding out much hope for a timely resolution to the current impasse.
The Galaxy Z Flip could wind up being the most compelling foldable phone of 2020. That said, it's also a device which looks set to demonstrate the limitations of its unique form factor. A clamshell device leaves less internal space for a big battery. And the longer lead times required for foldables like this result in less impressive specs than to traditional high-end flagships.
Eventually, sub-6GHz and millimeter wave 5G will work in harmony to give us consistent 5G speeds everywhere. In the early days of 5G, though, I agree with Samuel Contreras that sub-6 makes more sense. It won't give you 1Gbps+ speeds yet, but early European rollouts show that it can deliver consistently faster speeds than LTE over wide areas, something mmWave struggles with.
Finally, we're already rapidly approaching Mobile World Congress 2020. This'll be my ninth MWC, and even though Samsung's going early with its February 11 event in the U.S., there's still plenty of Android goodness to look forward to from the Barcelona-based show.
That's all for now. See you in a few weeks with some post-MWC thoughts!
-Alex
Android Central Newsletter
Get instant access to breaking news, the hottest reviews, great deals and helpful tips
Alex was with Android Central for over a decade, producing written and video content for the site, and served as global Executive Editor from 2016 to 2022.
My big question, will we finally get dual SIM or esim/nano SIM support in the States? Right now it's either Apple(nope), OnePlus (2nd nope) or Google's Pixel. I'd love to get a new Samsung phone, but they refuse to bring dual SIM devices to the States.....when the make them for the rest of the world?!?!

I don't want eSIM ever. I like being able to swap my SIM into any phone without getting my carrier involved. The activation charge is bogus. It costs them nothing, and they only update what device you have in their system. Since the majority of users don't need/want dual SIM slots, I doubt we will see that in anything but the S20 Ultra if any of the models.

120Hz display plus a slight bump in battery life will still kill the battery pretty quickly. There's no need for 120Hz displays on phones. I thought the 90Hz on my OnePlus 7T Pro McLaren was ridiculous and I turned it off. And I doubt the S20s will win over any Apple fans, me included.

It's been confirmed that you can switch it to 60Hz, and I believe it's set to 60 by default. I'd only want to 120 Hz for some games and movies. Otherwise I'll take longer battery life.

Mr Seg, I totally agree with you. 120hz display and 12gb's of ram are overkill. I use the S10+ and the display is wonderful at 60hz. I have 8gb's ram and to me it's alittle much. I don't think there's much difference between 6or 8gb's. Just saying!

I believe the RAM increase is due to the increased megapixel count. Each pixel in an RGB system uses 3 bytes. A pre-processed image can theoretically take up to 324 MB of RAM.

Exynos processor? = NO buy

Get the US model for a Qualcomm chip.

I have mixed feelings about the new S20 lineup. I would prefeer only two models, a big and a smaller one with same camera setup. Similar to Sony Xperia 1 and Xperia 5. Even if you prefeer smaller phones you dont need to compromise with the camera. Apple got the same strategy to. I think 3 models with different camera in all models might be confusing for consumers. I like great cameras but I dont like huge phones. In general I think Samsung often releasing to many variants.

Apple has 3 models. iPhone 11, 11 Pro, and the 11 Pro MAX. The Pro models have the same camera setup, but the 11 is different. I'm ok with options, and with phones not making big advances, withholding features from lower models is an unfortunate marketing strategy. The S20 Ultra is for those that want to be on the bleeding edge of tech, but it's not meant for the average user just like the Note. With that in mind, Samsung only has 2 new models coming out. There's the Flip and Fold, but they're just testing the waters with anyone that has money laying around.

Samsung expect a lot of money for a phone they support with slow updates and have a track record of abandoning support after a could of years. Also the sell the lower grade exynos chip where I live which essentially means poor battery life and slightly worse photos. I was a s10+ user but I won't be upgrading. I'll ride out my s10 and hope google finally sells the pixel in my country otherwise buy an one plus

Samsung has gotten much better with updates. My Note 10+ got Android 10 about 3 1/2 months after release. I'm also getting monthly security updates faster than Google is pushing them to some Pixels. Of course that could all change any day. Consistency with updates is something I'd like to see Samsung do better with.

My S8+ just got a security update. I'd say that's good support for what will soon be 4 model years old.

Your S10+ has gotten one update that brought a significant improvement from what you got in the box; to the camera. Other than that, what, exactly, have you been missing with the two-week-late updates?
Galaxy S devices are meant to compete with iPhones, and at that, they excel.

Better low light, fix motion blur and the camera would be awesome. 120hz would be nice but 90 should be the standard.
And the price is ridiculous.

People are balking at the rumored prices, yet they'll STILL undercut every model from Apple, while offering far more. $1450 for a Promax, or $1400 for an Ultra? Hmmm....
Android Central Newsletter
Get instant access to breaking news, the hottest reviews, great deals and helpful tips
Thank you for signing up to Android Central. You will receive a verification email shortly.
There was a problem. Please refresh the page and try again.