New leak reveals full spec sheet for Galaxy S20, S20+ and S20 Ultra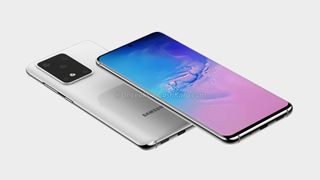 (Image credit: @OnLeaks/CashKaro)
What you need to know
Weeks before Samsung officially unveils its flagships, nearly everything about them has already leaked.
The Galaxy S20, S20+, and S20 Ultra will come in at 6.2", 6.7", and 6.9", respectively.
While all three phones share broadly similar specs, the S20 Ultra does get a few noteworthy upgrades over the other two in the camera department.
There's a lot of excitement in the Android community these days about Samsung's Galaxy S20 series. So much so, in fact, that I fear not much excitement may be left when the company finally reveals the phones on February 11, especially since we know almost everything there is to know about the phones already.
First, there were the leaked renders, which gave us our first glimpse of what Samsung's latest and greatest would look like. These were soon confirmed to be quite accurate via actual hands-on images of the S20+ in the wild. In the backdrop of all this, meanwhile, a flurry of leaks has gradually been outing almost all of the phone's most important features: the 120Hz display, the amount of RAM in each of them, and more. Heck, even the phones' default wallpapers have been leaked at this point.
As if to put a cap on it all, the phones' entire spec sheet was leaked earlier today (via MySmartPrice). They largely confirm what previous leaks have shown about the shared base specs of each phone: an Exynos 990/Snapdragon 865 under the hood, Android 10 with One UI 2.0, 128GB or more of storage, 12+GB of RAM, a 120HZ WQHD+ (3,200 x 1,440p) display, and an IP68 durability rating.
As the phones' sizes grow, there are also small increments to things like battery capacity. The 6.2-inch S20 starts off with a 4,000mAh battery, while its larger siblings come in at 6.7- and 6.9-inches, respectively, with 4,500mAh and 5,000mAh batteries to match.
Where the phones truly differ amongst themselves is in the camera department. The base S20 comes with a quad-camera setup consisting of a 12MP primary shooter, a 64MP telephoto lens, and a 12MP ultrawide camera with support for 3X optical zoom. The S20+ comes with mostly the same set of specs, but with the addition of a ToF sensor into the mix. Both phones have a single 10MP front camera nestled within the Infinity-O display.
Where things get really interesting is the S20 Ultra. As its moniker suggests, Samsung is really turning up the volume on this one. It's not only the sole model with a 512GB storage option but it also boasts a gargantuan 108MP main sensor paired with a 48MP telephone lens. It also gets a much higher megapixel count on the front camera (40MP), with a wider range of view than the S20 and S20+. The ultrawide and ToF offerings on the phone are likely to be the same as the S20+, but this one also boasts an impressive 10X optical zoom in its repertoire, seemingly contradicting the report from just earlier today suggesting otherwise.
I guess that's the only little thing we'll to tune into Samsung's Unpacked event to confirm. Because everything else, we seem to know already.
So only the huge phone gets better cameras....I guess will have to wait for Note 20

120Hz display with a 5,000mAH battery will make whatever bump in battery specs negligible. Hard pass.

You will be able to toggle the 120 off and use 60 megahertz if one wishes

What's the point of purchasing a phone with 120Hz display if you're not going to use it?

Who says no one's going to use it?

I want to upgrade my Galaxy S9+ but I think I'll skip Galaxy phone this year. (because of the shity Exynos prossesor)

So the rumour of them getting the SD 865 was false. I really dislike these long skinny phones. If the formula remains the same with the Note 20 I'll be getting the Note 20 Plus. I get the same processor, better ppi and abump up in battery capacity from my Note 10 Plus. I hope Samsung won't put this same crappy 128 GB base storage in the Note 20s.

Dude read the article. Clearly says: Exynos 990/Snapdragon 865. The Exynos version is typically for Europe. Also what skinny phones? The aspect ratio seems to be 16:20 if I'm not mistaken. Or what phone can you point out is not in a skinny form for example?

Look at the chart. Shows all of them having 128 GB base storage. Rumors previously said only Europe would be getting the Exynos version this year. Samsung for some years have been moving from 16:9 to 18:9 to 18.5:9 to 19.5:9 last year. This year the Galaxy S phones have an aspect ratio of 20:9. How can a phone that is 162mm by 74mm possibly be a 20:16 ratio ???

Dual sim models will also have the Exynos. Pretty easy to find outside of Europe. At least in North America.

The Note 10 & Note 10 + (5G) all have a minimum 256 GB storage as a base, why would you think they would go down on a newer model? Their history is = or greater. Also if you are in certain markets they will have snap dragon processors not their own.

128GB storage is really low. My main phone, an iPhone 11, has 256GB of storage. Since I use storage for apps mainly, microSD is not an option. I only accept 128GB storage on my Galaxy S10e because it is a secondary phone. Overall, I find storage low in the tech industry with frequently no option to even pay for more storage.
My MacBook Pro has a 1TB which is a bare minimum for me. I just ordered a Dell XPS 13 9000 with 1TB SSD to finally solve my Windows laptop storage issue. The 512GB OS SSD on my Windows desktop is frequently full, despite having a total of more than 8TB storage on other internal drives, More on the topic of the Galaxy S20, I really hope I can get one with mmWave 5G in France, Note 10+ and S10 5G weren't available.

How times change. 128GB is low? It was only a few years ago that 128GB was best you could get anywhere, and you paid dearly for it. Typical phones were 32GB, 64GB if you were lucky. Again. This was just a few years ago. LOL. My note 9 has 128GB and I'm perfectly fine with it. Even when I take lots of photos and videos, its plenty to hold it and offload to my PC later on. Never, ever use your mobile device as primary and only copy of pictures and videos. My sister in law years ago splurged on a 256GB iphone. Got it so take and store all her photos of her kid. Worked great. Until she broke her phone. And lost everything. Some was backed up, but not the entire 230GBs worth of stuff. To this day, there are 2 years of her kids life that she has zero photographs of.

Yes I remember struggling with storage when phones were 64GB. I couldn't store more than 2 days of photos and removed even useful apps almost every week. Today, I can keep a little bit more pictures on the devices. Still, I backup everything to the cloud. I'd say around 100GB is used by apps though.

Are you taking a picture every second of the day?

Check the chart displayed in the article. It clearly shows a base version of 128 GB for the 3 variants. Only the Ultra model has a 512 GB alternative. Maybe the 256 GB base storage will only be for Galaxy Note phones... which is fine with me. I only buy Galaxy Note phones.

https://m.gsmarena.com/samsung_galaxy_s20_s20_and_s20_ultra_full_specs_l... This article states that the specs displayed are for countries that don't normally receive the SD version. Eventually well know whether it's only Europe getting the Exynos version this year.

Personally, pretty excited for the Ultra. The camera tech sounds pretty crazy but more so excited for the screen size. Ever since owning the Lumia 1520 I've had a love for huge screen devices. The S10+ screen has started to feel a little small over the year. The Note+ is bigger but almost perfect to me. I feel like a beze-less 7" screen just under would be the perfect media smartphone. The Ultra.. For videos and xCloud gaming it's perfect to me.

It weighs 221g. That's heavy. Especially if you put a rugged case on it. Anything bigger than the Note 10 Plus isn't for me. I'm waiting for the Note 20 Plus.

And you think that phone isn't going to be huge?

I like the spec jump, the 865, cameras, 120hz display bigger batteries but I'm still enjoying my S10+. Almost a year old, still very fast, the cameras & battery have been very good. Plus at 6.4 it's the perfect size for me. I usually upgrade every yr but not this time around. Nah, my S10+ is still serving me very well!

I got the Note 10+ the day it was released and I am going to keep it was long as humanly possible. But these new Galaxy phones do make you drool with these ridiculous specs and that camera.... This is the start of some really crazy phone specs for 2020. I can only imagine what going to be left for the Note 10 successor late this year.

120Hz only works at FHD+ resolution. Considering that this limitation does not exist on the 90Hz displays used by OnePlus 7x series and Pixel 4 series Samsung ought to have just stuck with the 90Hz display and have it enabled all the time. I never use FHD+ since it makes everything look fuzzy. Camera improvements outside of the Ultra version is purely incremental (and minor). Even the Ultra does not do anything particularly radical. People get all excited at the possibility of having 10x optical zoom but many don't understand the impact that lack of proper stabilization has on taking pictures with such high zoom. You pretty much need a tripod to take a proper picture at that level of zoom. Handheld won't cut it.
Android Central Newsletter
Thank you for signing up to Android Central. You will receive a verification email shortly.
There was a problem. Please refresh the page and try again.