New rumor says all three Galaxy S20 models will come with 12GB of RAM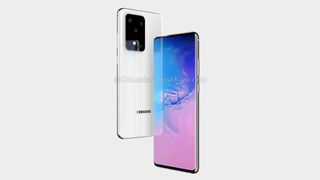 (Image credit: @OnLeaks/CashKaro)
What you need to know
Notable leaker Ice Universe has suggested that all three Galaxy S20 series phones will come with 12GB of RAM as standard.
It remains to be seen if Samsung will offer a 16GB RAM option for the Galaxy S20 Ultra.
The Galaxy S20 series is set to be formally unveiled at Samsung's Unpacked event on February 11 in San Francisco.
Notable leaker and industry insider Ice Universe had recently suggested that all three Galaxy S20 models will come with a 120Hz display. In his latest tweet, the leaker has claimed all Galaxy S20 models will have 12GB of LPDDR5 RAM as standard.
If the information is accurate, it would mean the three Galaxy S20 models will be very similar to each other in terms of the core hardware specs. Last year, Samsung had reserved the 12GB RAM option for the most expensive Galaxy S10+ version with 1TB of storage. The Galaxy S10e, on the other hand, was launched with just 6GB of RAM in the base version.
This year, however, Samsung is said to have dropped the "e" variant and will instead introduce a new "Ultra" variant as the most expensive Galaxy S20 model. The standard Galaxy S20 is expected to come with a 6.2-inch display, while the Plus variant will have a 6.7-inch display. Samsung Galaxy S20 Ultra will have the biggest display of the trio, measuring 6.9-inches diagonally.
What remains to be seen, is if Samsung will offer a 16GB RAM option for the premium Galaxy S20 Ultra model. Smartphones with 16GB of RAM are expected to arrive sometime later this year, although no evidence hinting at the existence of a Galaxy S20 model with more than 12GB of RAM has surfaced so far.
Galaxy S20 Ultra is also expected to be the only model to feature a 108MP primary sensor. Both the Galaxy S20 and S20 Plus are tipped to come with an upgraded 12MP primary sensor with bigger 1.8μm pixel size.
These leaks are getting insane! This is almost like the deluge of leaks when the Galaxy Note 10 and 10+ news happened almost everyday for 2 months. When this phone is released, it's almost going to be anti-climactic.

This happens with every phone now. Let's face it, leaks have become part of the marketing game.

I find it annoying how Samsung saved these for the new S models and not the Note 10. Not gonna upgrade ofc, but just wish they would differentiate the Note and S models more. Or just be done with the Note line entirely.

The note has a pen the rest don't

@scott that not enough as much as it used to be now with the closeness in software for the phones.

For hardcore Note fans though, it is.

The storage will def be a min of 128GB as there's no way they will go lower than previous years. They just better not remove the microsd support... lol

Cause anyone actually needs 12gb of ram..

I can see DeX as a use-case for more RAM...while it wouldn't replace my laptop totally, I can see myself doing Word documents, simple emails/spreadsheets, & multitasking.
Android Central Newsletter
Thank you for signing up to Android Central. You will receive a verification email shortly.
There was a problem. Please refresh the page and try again.