Galaxy S11 may debut as the S20 instead and drop the 'e' variant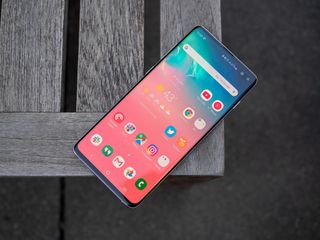 (Image credit: Andrew Martonik / Android Central)
What you need to know
Samsung may be launching its S11 line of devices as the S20.
It may also be dropping the "e" line, shipping the regular S20 as the smallest device.
A larger S20 Ultra is said to be making its debut as Samsung's top-end phone.
Samsung may be changing the naming sequence for its Galaxy-S line of flagships if a new report is to be believed. As per Samsung leaker Ice Universe, the device we've been thinking of as the S11 may actually hit markets as the Samsung Galaxy S20.
While the tweet isn't entirely clear, an additional report from WinFuture supports this interpretation, adding in a report of an even larger S20 Ultra model in addition to the company's regular line-up.
Samsung will also not ship a successor to the excellent S10e. This means that instead of an S11e, an S11, and an S11 Plus, Samsung will be shipping an S20, S20 Plus, and an S20 Ultra. The screen sizes will go up as well, with the S20 starting at 6.2-inches, the Plus at 6.7-inches, and the Ultra at a palm-stretching 6.9-inches.
This isn't the first time Samsung is skipping a generation — just ask the Samsung Galaxy Note 6 users. It is, however, the first time it's skipping over a whole series of numbers. This isn't unique in the Android world, as Huawei did the same for the P10 and Honor 10 devices by skipping right ahead to 20.
For the flagship S-series, Samsung may have chosen to avoid shipping awkward numbers like the S17 or S13, or perhaps it just sees the branding potential in releasing a Galaxy S20 for 2020 and doesn't want to pit an S11 against an iPhone 12. Either way, we'll find out more as we get closer to launch.
Samsung Galaxy S11: News, Leaks, Release Date, Specs, and Rumors!
Get the Android Central Newsletter
Instant access to breaking news, the hottest reviews, great deals and helpful tips.
I've been reading about this for a couple of days. And marketing is very fickel. As long as Samsung communicates this to its customers way before its allegedly does this, it could work. Personally, I think it's silly, but I understand the avoidance of perceived unlucky numbers in a lot of cultures. As long as the company makes good products, that change can work to its advantage. I'm sure Apple could give 2 ham sandwiches about this. Lol

Too bad about potentially losing the E model, it's the one I picked (for the smaller size, flat screen, lower price, etc) and I quite like it. I wonder if they'll possibly merge the Ultra and Note at this point, with the sizes being so similar? Just include a pen with the Ultra and call it a day? I've heard rumors about that happening in 2020 maybe.

"This isn't the first time Samsung is skipping a generation — just ask the Samsung Galaxy Note 6 users."
What are you talking about? There was a note 5 (albeit not everywhere) and a note 7 (albeit withdrawn).

That's literally the point lol, there wasn't a Note 6. You actually quoted the text that answers your question!

Sounds a bit stupid, pointless and confusing. So it's probably true.

Do you think E model users could migrate into regular models down the road? I'd say those regular model screens are too big for some people. I think they should still release sub 6 inch screen models...but who knows what Samsung is thinking. =\

I think the S stands for subway! Too much choice leaves you wondering if you made the right decision or should I have picked something different??? I don't use an iPhone but unlike many people who use android for all it's customisation i just want something that works and does what it says. I've still got Google launcher coz it's simple to use and for some folks less really can be more. Why not just make entry level, midrange and flagships each with a small screen and a large screen version with same specs for each category?

I think it's a great idea. Henceforth the phone name would correspond to the calendar year. Except maybe every ***6 year eg 2026 or 2036.

Well, they probably wouldn't call the 2021 phone the S21, it'd likely be the S30. And why would the 2026 model be any different?

They skipped naming a device the number 6 and called it the Note 7 (after the Note 5). Why ? because in their culture 6 is considered an unlucky number. They'll name it the Galaxy S22. Different decade.... different numbering scheme

But there was the Galaxy S6...

They skipped the Note 6 so the Note-series would match the S-series in naming conventions, not because of luck. The S7 and Note 7 came out in the same year.

I meant to type Galaxy S21

I mean iphone skipped the 9 and release the 10 one year and add a S the next year. So why not let them be lol

Phones are too damn big! And get off my lawn while you're at it....

I don't care what Samsung calls their next generation of phones, but they are completely retarded to abandon the small (sub 6") form factor. Not everyone wants a 6"+ phone. My wife has tiny hands and her phone options are extremely limited.

Sounds like the S10e would be perfect for her. Nicely priced right now as well.

Horrible naming scheme...