Deal: HTC's knocking up to 20% off the U11 and U11+ in the UK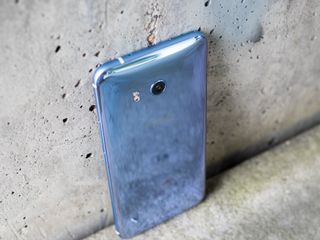 If you're an HTC fan but aren't quite sold on the new U12+, now might be the time to pick up last year's U11 or U11+.
Right now in the United Kingdom, HTC's offering 10% off the U11 and U11+ for all customers — bringing prices down to £359.10 and £539.10, respectively.
That's not a terrible deal, but if you sign up for the free HTC Club, you can score an additional 10% off on top of that to bring your total savings to 20%. Under that scenario, you'd only spend £323.19 for the U11 and £485.19 for the U11+.
The U11 at that price is a pretty good offer, but if you're in the market for a bigger phone, we'd still recommend looking beyond the U11+. While it's a good handset, the newer OnePlus 6 (opens in new tab) costs just a few pounds more at £519.
If you're interested in either the U11 or U11+, HTC says its 10% offer for all customers will be good until supplies last.
See at HTC (opens in new tab)
Joe Maring was a Senior Editor for Android Central between 2017 and 2021. You can reach him on Twitter at @JoeMaring1.
I think the 11 & plus are better than the u12+. At least they have buttons that work properly. I was expecting big things out of the plus, very disappointed with their latest directions. The haptic pressure sensitive buttons that have received terrible reviews and less than stellar battery at 3500mamp. Next the blockchain phone in the one thousand dollar range. Blockchain or Blockheads! There future in the smartphone world looks pretty grimm!

Is there any point in buying any HTC phone let alone the U11+? When HTC are pretty much done as smartphone OEM.

Well, I think the camera upgrade over the Pixel 2 XL would be worth it, as would the better headphones and looks. Oh, almost forgot... Edge Sense is not neutered on the HTC, which is expected because they invented it.

I don't want HTC to go near the Pixel again. Each Pixel (, Pixel and Pixel XL and Pixel 2) they made looked ugly and boring. I'd like to see LG make another Pixel again as the issues over the screen of the Pixel 2 XL are ridiculously overblown and mostly fixed now. For the Pixel to truly succeed, Google must market it better and make it more widely available. The Pixel has been critically acclaimed and I believe it will succeed no matter what the haters say. I'd sooner use an iPhone than a Samsung phone if in the unlikely event that Google gives up on the Pixel.

beno51079 - Well, never thought I'd hear YOU calling the Pixels ugly and boring. But, they were built according to Google's specifications, and look nothing like HTC's iconically good looking designs.
The screen is important, so issues with that are also important. You can't fix blue shift and burn-in problems with software, but I'm glad they were able to fix the lack of vibrancy. If HTC had designed it without having to limit themselves to Googles choices, it would have had a better screen and better audio.

I was talking about the first general Pixels that HTC built and the regular Pixel 2 being boring and ugly with their huge bezels (why didn't HTC use the U11 design?) so yeah, Pixels aren't perfect and the Pixel 2 XL issues are way overblown, yes the blue shift is the in mine but not nearly as bad now, other things than I'm impressed with the display on my Pixel 2 XL, it's the most colour accurate display I've even used, especially in nature but I prefer the way the colours pop more in saturated mode which is why I use it instead.

Ok, that makes sense. I prefer the vivid setting with a couple clicks towards warmer color temperature myself. Some phones display photos in SRGB mode when in the camera app, which is cool.

Didn't HTC manufacture the Pixel phones? Didn't HTC come out with the squeeze function used in the Pixel 2 phones? Have to agree though, there is not much future for HTC now they have let Google into bed with them.

Yes, HTC built the pixel and LG built the pixel xl.
Hopefully Google will get a real manufacturer to build the next pixel. That's the only way it will succeed.
I'd rather have an Amazon Fire phone over the pixel..... lol

beno, I definitely agree with you!

They're scrambling for money again 🙄

The LG G7 is already discounted, and the S9 you can get at deep discounts. Are they scrambling for money again as well, or is it scrambling for money only when HTC offers a discount?
Android Central Newsletter
Get the best of Android Central in in your inbox, every day!
Thank you for signing up to Android Central. You will receive a verification email shortly.
There was a problem. Please refresh the page and try again.