Deal: HTC U11 available for $549 ($100 off) February 1 to 15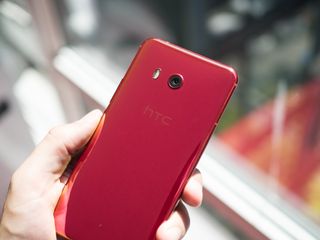 HTC often runs some sort of sale with each major holiday, and just in time for Valentine's Day, the company has announced its latest promotion.
There are two deals to keep an eye on this time around, and the most notable of the two is a $100 discount on the HTC U11. This brings the U11's price down to just $549, and while that's still not technically cheap, it's a more than fair price for one of 2017's most underrated phones. The deal is available on all models of the U11 (including the striking Solar Red option), and if you purchase it through HTC Financing, you'll pay just $23/month for 24 months with a 0% APR.
If you decide to pick up the U11, HTC will also let you buy the Under Armour HealthBox for $99.
The UA HealthBox may not be the newest fitness tracking system on the market, but it includes a fitness tracker, smart scale, and chest-mounted heart-rate monitor. All of the data that these devices collect is synced to the Under Armour Record app, and while the HealthBox was a large pill to swallow at its original price of $399, it's a steal for $99. In addition to the U11, you can also buy it at this price if you also purchase the more affordable U11 Life.
HTC's Valentine's Day sale begins on February 1 at 12:01 AM EST and ends February 15 at 11:59 PM PST.
See at HTC (opens in new tab)
Joe Maring was a Senior Editor for Android Central between 2017 and 2021. You can reach him on Twitter at @JoeMaring1.
AUUUGH what a good deal!!!

It's interesting how this phone has completely faded from attention. It's hard for me to see HTC winning mindshare without the Pixel.

It faded from attention because it had no problems. No software issues, no blue shift or dull colors or screen burn-in issues, better battery life than the S8, better performance than the A11 bionic, great camera that was not half-baked out of the box, perfect touch response, stunning looks, best audio experience out of the box (sorry LG). The U11 would have been in the news more if it was worse.

Wow... the attention for the HTC 10 compared to this phone makes me honestly quite sad! Good memories with the 10. It's a shame that the U11 couldn't carry on that charm.

Wait for the U12 or new round of flagships in the next couple of months. Bad timing now to buy the U11 which is nearing one year landmark. And no I don't think this is a good price with outdated specs and shorter support period going forward.

Does this work with the PS4? If not, why are you writing about it on an Android site?

Lmao at the "deal". I'd get a 5T, 10 times better than this

U11 has an microsd slot and a better camera. Where do you get 10x better from?

Amazon is selling an Amazon certified HTC U11 in black, sliver, and solar red for $379. Just got mine delivered on Tuesday.

Forgot to add...it's Amazon refurbished

I have loved my U11 128gb since I got it even my wife wants it and she has always liked iPhone
She said it was the camera that sold her on it, and that she is tired of iPhone.

Woww.. amazing deal...why so generous..AC will be my valentine

OMG! This gonna be a hot red gift for someone!

Good deal, impressive (but a bit to glossy) phone.

Nice, been eyeballing this phone since I got to borrow one for a week long test. Beautiful device.

I'm still rocking my HTC 10 and I'm really impressed with the quality of the htc devices. This one is probably one of the best piece of tech with reasonable price.

Thank you for giving me the opportunity to win this piece of mobile so precious

Wish I could get this phone in my country.

Oh my goodness, I bought 2 of these last week but in Sapphire Blue. And I paid $50.00 more for each phone. Too bad, so sad I have to send them back.

Thanks for the awesome giveaway

Nice deal...but why buy the 11 when the 11+ is much better and it´s available also?
Cheers

Why doesn't HTC sell their phones in mire countries?

HTC will always have a separate place for themselves in android world. They are one of a kind.

If I don't win the contest I might have to take advantage of this deal.

Nice...Thank you for this oportunity !

We in Africa don't see deals like these.

this is one of the most underrated phone ever!

I wish ill win the contest!

Hope to win the giveaway!

Nice deal! If just I hadnt bought the Pixel 2...Cheers

My daughter could use a new phone :)
Android Central Newsletter
Get the best of Android Central in in your inbox, every day!
Thank you for signing up to Android Central. You will receive a verification email shortly.
There was a problem. Please refresh the page and try again.