Deal: Android One Moto X4 available on Project Fi for $249 ($150 off)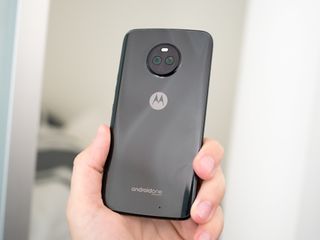 If you're in the market for a solid, mid-range Android phone, it's hard to do much better right now than the Moto X4. The X4 may ditch the customizable nature of past Moto X devices, but it still offers an incredibly well-rounded smartphone experience with a very fair retail price of $399.
We've got no problem recommending the X4 at that price, but if you're on Project Fi, you can now pick it up for a mere $249. That's the lowest price we've seen on the Moto X4 yet, even outdoing the Prime Exclusive variant (opens in new tab) that requires you to sell your lock screen to Amazon ads. Also, for comparison's sake, that makes the Moto X4 the same price as its less powerful Moto G5 Plus sibling.
It's also worth noting that this is the Android One model of the phone, so while you won't have access to Alexa like you do with the regular unlocked version, you do get a more stock-like Android experience with faster software updates.
You will need to activate the phone on Project Fi within 30 days of shipment in order to qualify for the deal, and failing to do so will result in you being charged the full $399. However, since there's no minimum activation time, you could technically buy the X4, activate it for $20, pause or cancel your Project Fi subscription, and the take the phone to another carrier.
If you're interested in this deal, it's available now until February 14 at 11:59 PM PDT.
Joe Maring was a Senior Editor for Android Central between 2017 and 2021. You can reach him on Twitter at @JoeMaring1.
That is a great deal for a great phone.

If you are just after the phone, keep in mind it will take about 3 months to get that $20 back.

Will the Project Fi version of the phone work on Verizon?

It is a pretty decent phone. Got one for the wife under Fi as a backup, largely due to the cross carrier support. There are places T-Mobile or Sprint actually work better than AT&T. Get a case though, the thing is unbelievably slippery.

Does this variant work on Verizon?

Does the Fi variant have 13GB of the 32GB internal storage taken up by the OS, like in the US Unlocked variant?

Aaah, the good old 3/32 while they spit in your eye with the 4/64 available elsewhere. Lol, Nope. 😂

Good deal, thinking of recommending Fi and the X4 to a friend. The promo terms state: "This offer cannot be combined with other offers unless otherwise stated". Anyone know if it can still be used in conjunction with a $20 off referral code?

Thats a really good deal... I wish fi had more/different options.

Well, there are the Nexus 6, 6p, 5, Pixel and Pixel 2 lines. And this. So in all, eight options.

In case anyone was wondering, if you purchased an X4 recently, you can contact Fi support and they will credit your account to reflect this sale price.

how recently? I got mine a few months ago (october) and--no luck. I didn't expect it, but...I am not sure if the project fi version of the phone is worth it--updates have not been very fast.

Not sure if anyone is still reading this thread and I know it seems a silly question since project fi uses T-Mobile... but all the same hoping to confirm... I could get the Moto X4 on Project fi, and then a couple months from now port it over to T-Mobile? Assuming that is the case, do I just need to look to T-Mobile to provide me with a SIM card?
Android Central Newsletter
Get the best of Android Central in in your inbox, every day!
Thank you for signing up to Android Central. You will receive a verification email shortly.
There was a problem. Please refresh the page and try again.