Common Galaxy Note 8 problems and how to fix them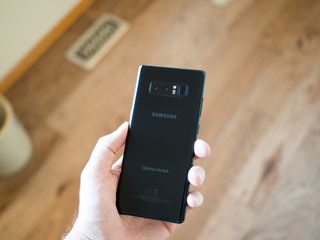 The Galaxy Note 8 has all sorts of power and features to take advantage of it, but that doesn't mean it's impervious to the issues that so many other smartphones have. Bad battery life, issues with radios, running out of storage and the like may hit your Note 8 in some form or fashion over the months and years you have it — but that doesn't mean it has to be that way. You can fix these problems more often than not, so long as you can identify the issues and know the steps to fix them.
And that's what we're here to help you with. If you have issues with your Galaxy Note 8, here's the information you need to hopefully fix them.
Bad battery life
You won't find many smartphone owners who are happy with their battery life. Even a brand new phone with advanced power-saving features and efficient specs like the Note 8 will have issues for heavy users. If you're having problems with battery life, consider these basic tips to help your phone last a little longer.
Use power saving mode: Power saving mode strikes a good balance between keeping your phone usable for its core features but without the background processes or data access that can drain battery rapidly. It's customizable, but by default will lower your screen resolution and brightness as well in order to save what battery capacity you have left.
Look for power-hungry apps: A bad app (or three) could really take down your battery over the course of the day. Go into the Device maintenance settings and look for individual apps using more than a couple percentage points of your battery over the course of your day. If the app is using battery when you're not actively using it, check out its settings to see if you can limit that — or potentially uninstall it if it continues to misbehave.
Turn off unused radios: If you're not actively using Wi-Fi or Bluetooth for a while, you can turn them off to save battery. To get the full effect, To go the extra mile, head into your phone's Settings, Connections, Location, and tap on Improve accuracy — here, you can choose to turn off Wi-Fi and Bluetooth scanning, which by default happen even when the radios are turned "off."
Last resort: A battery pack: No matter what you do, your battery may drain too quickly during the heaviest of days. Consider picking up a battery pack to get you through those critical days without losing your phone. Look for one with Quick Charge 2.0 or 3.0 for the fastest top-ups on the go.
How to fix Galaxy Note 8 battery life problems
Running low on storage
Even with 64GB of internal storage, you're likely to find just as many people complaining about running out of storage as those with bad battery life. If you're hitting errors trying to download files because you've topped out your storage, here are a few things to try.
Delete old apps: In a rush to set up your new phone, you probably installed a lot of apps you don't need anymore. Uninstall them! You can always download them later from the Play Store.
Move data to your SD card: If you have an SD card in your Note 8, you can start to put data on it to save the internal storage for things that can't be moved to a removable card. Media like videos, photos and audio are all great choices for putting on the SD card, and you can even set your camera to store new photos and videos there by default. Most apps can't be moved to the SD card, but it's worth checking if some can to save even more storage.
Use the "Device maintenance" settings: Samsung includes a section of its settings just for managing storage, found under Device maintenance in the main settings. Tap on Storage at the bottom and see which areas look out of the ordinary to you. Chances are the "Clean now" button will offer to save you something, usually consisting of old temporary files or duplicate data.
Choosing how to unlock the phone
Samsung has put us in a tough position with its latest phones, moving the fingerprint sensor high on the back on the phone where it's tougher to reach than ever before. But the fingerprint sensor isn't the only way to keep your phone secure — you have other options, including Samsung's new iris scanner, to choose from. Here's how we rank them in terms of security and simplicity of use:
Best: Fingerprint sensor: Even though it's inconveniently placed, the fingerprint sensor offers the best balance of security and convenience on your phone. Your phone and apps unlock with just a tap, and it's not very easy for an attacker to obtain a fingerprint to use on your phone.
Good, but slower: Pattern lock: A trusty pattern lock is the next-best bet, as it's easy to input but also quite secure. In fact, it's more secure than a four-digit PIN — so the longer you make your pattern, the better.
Oldie but goodie: PIN or passphrase: If you don't like the pattern for whatever reason, keep your phone secured with a PIN or password. The PIN in particular isn't as strong as a longer pattern, but this is better than no security at all.
Secure and unreliable: Iris scanning: Iris scanning, which Samsung lauds as a differentiator, is quite secure — around the same as a fingerprint sensor. The reason why it's down here below the other options is how erratic it can be in recognizing your eyes depending on the angle you hold the phone and the ambient lighting conditions.
Fast and loose: Face recognition: Face recognition is a (very small) step above no security at all. We know it's quite easy to fool with a simple photo of your face, and for that reason it's also very fast to recognize your face in person and unlock your phone.
Built-in goodness: Trusted Location/Device/Voice: Google's built-in "trusted" unlock options keep your Note 8 unlocked so long as it meets one or more criteria like being connected to a Bluetooth device or at a specific(ish) location. As you can expect, there are many potential security issues with this method, and it should only be considered as purely a convenience option and not necessarily a security-focused one.
Best ways to secure and unlock your Galaxy Note 8
Don't like the launcher or icons
A great part of Android is its customization options, and for a lot of people that starts with how they configure their home screen and icons. So if you don't like what your Note 8's home screen launcher or icons look like, you can change them!
To change the launcher, just install one of many great launchers from the Play Store and then set it as your default after you return to the home screen. From there, you can open up a world of possibilities for theming your app icons.
If you want to go a step further, open up Samsung's built-in theme engine. Go into your Settings and find Wallpapers and themes — you can download pre-associated wallpapers, themes and icons all at once, or pick and choose what you want. Applying a different theme can change the entire look of your phone from top to bottom.
Screen is the wrong color temperature
The Note 8 has the best screen Samsung has made to date, but there are many variables that factor into whether or not it looks right to your eyes. Screens can be tuned and tweaked in software, and Samsung gives you a few tools in the settings to change the display so it looks right to you.
Head into Settings, Display and Screen mode to tweak things. Choose between the four different screen mode presets to see which one looks best to you, and beyond that move the slider between "cool" and "warm" to adjust further. You can check the "advanced options" box to change the individual levels of red, green and blue for the smallest changes.
After playing with all of the settings most people will probably come back to just using the defaults, but if something doesn't look right to your eyes you can make a small changes until it does!
Wi-Fi, Bluetooth and GPS problems
Some of the most annoying, yet tough to diagnose, issues on phones relate to Wi-Fi, Bluetooth and GPS. This is mostly because of how much we rely on these features, but also how many variables are involved.
Turn off the radio and turn it back on again: Yes, we know, it's the simplest trick in the book. But sometimes all it takes to get Wi-Fi or Bluetooth to reconnect properly is to turn them off and back on again. Do the same with the device on the other end, if possible, to reset the whole chain.
Forget the network or un-pair the device: Going a step further, you can forget the Wi-Fi network, or un-pair the Bluetooth device, you're having trouble with and try reconnecting from scratch. Sometimes the initial configuration or passcode is incorrect and it keeps trying to connect with a setup that will never complete.
Reset network settings: If you're still having issues, it's best to just reset your network settings and start over. This will clear out all of your preferences for your network and delete saved networks, but it'll be worth it if it solves your problems. Go to Settings, General management and tap Reset — then tap on Reset network settings to flip all of the data back to default.
"GPS" isn't just using satellites: Remember that your phone uses more than just satellites to obtain its location, even though we so often refer to this service as "GPS." By keeping Wi-Fi and your mobile data turned on, your phone will be able to quickly get an idea of where it is in the world before it can get a proper GPS lock from GPS satellites.
How to factory reset the Galaxy Note 8
If you've gone through the typical troubleshooting steps to fix whatever problems you're seeing on your Note 8 and still don't have a resolution, you may have to go a step further. Factory resetting your phone back to its default out-of-box state is the only way to guarantee that it isn't something you did that's causing the problems you're seeing.
After backing up any important data, follow these steps to factory reset your phone.
Open your phone's Settings.
Scroll down and tap on General management.
Tap on Reset at the bottom of the list.
Tap on Factory data reset.
The whole reset process should take several minutes.
After your phone restarts you'll be setting it up again as new. Even though it's a pain to do, sometimes this is your only option to try and get your phone back to running like it should.
Other issues
What are your main issues with the Galaxy Note 8? We'll keep this article updated as new information becomes available! And in the meantime, you can always join the discussion in our Galaxy Note 8 forums!
Andrew was an Executive Editor, U.S. at Android Central between 2012 and 2020.
No problems. Battery life is fine. Not amazing but I use the heck out of my Note and I rarely am out of battery before bedtime. Connects to my erratic wi-fi better than any phone I've ever had (so did the 2 Note 7s I had to return). I don't use bluetooth so have no feedback there. It's a great phone. Far fewer problems than with any other recent phone (LG G3, Pixel Xl).

Wow I have to chime in here . Frist off the battery for me has been stellar not one complaint on that end as good are better then my s8 plus that I still have. Secure opening is with the fast iris scanner that just works in all but direct sunlight . Matter fact it works better in the dark . Anyone that has owned the s8 are note 8 for more then a week know full well how quickly the iris scanner picks up your iris . I haven't had one hint of lag what ever samsumg has done to this over the s8 please do it to the s9 an note 9 an take my money. I can go on an on about this phone but that would take up a lot of space haha .the only beef I had was thst the blue color wasn't available here in the states . No phone is prefect but damn this phone is sooooo close

Stopped ready after battery life

Went back and rechecked, thought this would of been one of the "other" writers, nope. Battery life like others have said is stellar, and my only complaint, the iris scanner. Don't think they could do much else with it, but I'm a glasses wearer, and flat out blind basically without them on so trying to read the prompts to get it to register my irises was nearly impossible. Not near as easy as finding the ill placed fingerprint sensor. And one other thing, can we start calling the phone what it actually is?? Check the back of it, check your registered devices, its the Note8, the Note 8 came out quite a few years ago and was not as cool as the device I use everyday.

Indeed battery runs low fast during the day that I have to recharge twice per day but thats may be because I have a smartwatch paired via bluetooth & I am relatively a heavy user. Although I dnt use wifi & location.. So yes Im somehow annoyed & disappointed by the battery life.. Coming from a previous s7 edge that performed better and have had 2 Note series devices in the past.

I'm half way though the day with Gear 3 and Bluetooth running and only at 80% and been on my phone most of the day. I also have wifi always on and full location on. If you have to recharge TWICE in one day I'd say you either have a rogue app or defective battery.

Was about to say that same thing how's it even possible to have to charge this phone twice a day with normal use . An yes mine is paired to a gear S3 and on my work wifi that's crappy as heck . I'd advise him to use the maintenance app . If that doesn't work get that phone checked out ASAP . I am right now at 75% phone came off the charger at 5 a.m. this morning

Forget about it.... Mine comes off the charger at 3:30am. 6 days a week. I have the Gear S3 Frontier, and Plantronics Voyager Edge bluetooth headset that I talk for 6 hours plus daily. When I get home at 4pm I surf the internet and watch YouTube video and I have not been able to kill the battery by 7-8:00 pm. Just an FYI Samsung has started giving discounts for turning in older phones from the Galaxy S5 and higher. This is great for those wanting to buy this great device.

My wife's Note8 is great on the battery life side of things. Me I I'm using the S8 now and it's amazingl great on battery life and that iris scann is super fast it even picks up while I'm wearing glasses and the fingerprint is always there when you can't or just don't want to use the iris scanner. These phone are far better than the media has led me to believe.

I don't have a single one of those problems.

I'm surprised at this article. I haven't had any issues with my phone but read it just in case I do run into something listed and the article seemed more like click bate than useful. No, I'm not trying to troll. It did surprise me though.

1 charge a day for me and I'm a heavy user. Heck I went from 7:12 am @ 41% to 6:23pm and was at 12% by the time I got home. This was moderate use in power save mode w/charger left home. My lg v30 went from 30% to dead in 2 1/2 hours on power save so I see a BIG difference in note 8 to my liking

I also charge it twice a day, normally charge it around 70% and go to bed with it on 50%. I have the international version. I assume most people here have the USA version with the 835 chipset. I think it may be better on the battery. Great phone, some times device maintenance says photos is using 1% per hour, should you click fix, or will this stop Google photos from Auto backing up your photos? Thanks

I'm having zero problems with my note 8. Battery life is on par with my s7 edge. I swear I Don't understand how people struggle with the finger print sensor or iris scan. I use both in conjunction with my favorite "trusted devices" mode. Always a sinch to unlock, easier than any phone I ever had. Connection and internet speed has been stellar. Best of any phone I have owned. Phone has also yet to have any sort of lag, a first for the Samsung phones I have owned. The phone is outstanding, and worth every penny. I I have one complaint, it's that the phone got slightly thicker. But it's a powerhouse spec wise so I understand why. My Samsung rugged case adds some of that thickness but I still love it. A thinner case would help the pocket fit.

After a solid month of use, the Note 8 is running beautifully, six plus hours of SOT, wifi and LTE reception strong, display set at medium setting and it's crystal clear. Still waiting for notification of Samsung promotion being shipped, but otherwise, the phone and battery life have been rock solid.

Just made me realize that tomorrow I will of had my Note8 for a month. Best phone I've owned, but my OG Moto X holds a place in my heart.

The finger print sensor is in a very inconvenient place. The iris scanner has issues if you have bright ambient lit around you. I'm not sure how it works in low light conditions. I think the storage is a legit issue. The disparity in performance between the internal storage and an SD Card is huge, these days, and other devices come with more internal storage for cheaper prices. With a 128GB phone, the fact that the device has or doesn't have an SD Card is non-factor to me, because I don't need an SD Card at all. I can just use the high performance internal storage for everything. I don't have to worry about app permissions. I don't ever have to worry about whether or not I have enough internal storage for a big game I want to download. It's less management overhead, and it's 1 less volatile storage volume that can go bad at any time and cause my phone to go insane. Specs don't matter. Most apps are designed for lower spec devices because otherwise the majority of Android users won't be able to run the apps at acceptable performance levels. Smartphones have been way overspeed comparative to the requirements of the software they run for the better part of half a decade (or more). 2GB of extra ram isn't really a selling point to me. I would take 4GB RAM and 128GB of internal storage over 6GB RAM and 64GB of internal storage any day.... The base spec package outside of that, is comparable to pretty much every other flagship on the market since they all use the same QC SoC. The camera is really good - it's probably the biggest selling point for the phone, even though the camera software is becoming a little bloated with the "value add" stuff. You don't get a great DAC for superior sound through headphones. The form factor is an issue for some people (too narrow to type on comfortably in portrait orientation, and too tall to use comfortably in landscape orientation). The software is typical Samsung. Awful.

A person with a iPhone as there profile picture who always seem to make there way on to a Samsung post judging the note 8 haha . Hum Im gonna take your opinion at face value an with a grain of salt being that I doult you actually own the note 8....just my observation. FYI the note8 has been b***h slapping the iPhone 8 all over the YouTube (drop the Mike ......)

Yes, the FPS is in a very awkward place, especially if you hold the phone in your left hand, which I do. But I was wondering if the LG/Pixel/Whatever phones would be better, so I placed my finger lower on the phone in the center where those phones have an FPS. It was terrible. I basically have to POKE the phone to hit that spot. I don't know how you guys deal with that. I'm already used to the location of the Samsung FPS. It's still awful, but I can deal with it.

Yeah..... You don't own this phone. Be honest. Spotted a fake when you said the storage was slow from the SD card.

N8ter has a long history of samsung bashing ignore that person opinion of anything Samsung . I think there having a whole lot of iPhone 8 buyers remorse hehe ,but being how good the note 8 is can you blaim them

says the iPhone user that has never even touched a note...

You have no idea what you are talking about.
Go play with your icr*p.

Bad battery life is often caused by doing a Google restore or a Samsung restore on your Note 8. Factory reset, and install the apps again individually. That really makes a huge difference. My Note 8 gets fantastic battery life now. The Samsung Smart Switch restore also broke some features, which worked again after a factory reset. It's kind of lame that SAMSUNG's own Smart Switch restore would screw up a phone, but it did.

Hey Boeatchi, thanks for the advice ill try to factory reset & install apps again individually.. Only concern is the contacts list but i guess ill figure it out via samsung cloud.. Also noticed some of the comments authors only use display at minimum & barely touch their phones at work during the day while I for one do all my readings, research etc over the phone plus bluetooth on for S3 gear.. ill reset & see what happens.

No battery life concerns here either. Not as good as my KeyOne, but quite a bit better than most phones I've had. If I notice that the battery is running down faster than anticipated it is usually because I have the brightness up way too high. This phone has spoiled me with how bright I can have the display and not worry about the battery too much!

Glad to see that most everyone is saying that None of this is an issue. I plan to get the note 8 later this month.
n8ater#ac post doesn't count. he's an iPhone using android hater that just needed to troll a Samsung article.

Just came from a Moto X pure edition so I'm blown away by the battery on my Note8! I charged for about 20 mins while in the car today but it's 10pm and I'm at 49% (8hrs 12min remaining) and I originally took it off the charger at 6am this morning. 3hrs 18min SOT. I watched some videos, took a bunch of pictures to send to my coworker, used the flashlight several times, listened to podcasts in the car while running Waze and Bluetooth. The one thing I did turn off day one was NFC as I don't have any need for it.

The only problem I've experienced with my Note 8 is Auto Brightness doesn't seem to work like previous Samsung devices I've owned. It doesn't adjust to the current environment but rather the time. Being in my car at 7 pm renders the same result as being in my office at the same time.

I'm not having that issue and it adjusts based on conditions. If anything, I find it overcompensates at times and it will go to full brightness even when that's not necessary.

Bogus article. The headline is simply anti Samsung, to discourage buying a Note 8. I've never owned a phone that has been so easy on battery use. There are zero battery issues that I have experienced with my Note 8. What this article is.... Are standard tips to use with any android phone. Android OS easily allows you to disable background data and mobile network use of apps... It is laborious... One app at a time, but it works. Simply, the less processing you allow your phone to do, the longer the battery will last. Storage should not be a problem for anybody who preordered, given they received a 128GB micro SD card. I use iTunes music service. One good tip is in iTunes settings, select SD card as your download storage location.

Was expecting the last thing on the list to be instructions on taking it back. Turning off the always on display is probably the first thing you should do. All it does it chew battery life and cause screen burn, thus a phone feature that has no logical reason or right to exist.

Surprised you don't mention the only real issue, in black it's so symmetrical and with no physical home button and the flush camera (coming from a S7 Edge) I'm constantly picking it up upside down 😁

Put a case on it , it helps hehe 😉😉

I have one VERY major issue. Camera app shows ALL my pics rather than just Camera pics whether it be a screenshot or downloaded pic from anywhere else. Then if I go to Gallery, it does not show all my albums separately. It shows all my pictures lumped together, making it difficult to sort through the various album sources because it will not show all the albums apart. I was able to circumvent this with another app for Gallery management. But, I rather it work properly in the Camera app. Tremendously obnoxious, especially if you have others using your phone or taking pics for you as some in this post do. I've relied on The Gallery app to work as intended for so long, this is a complete bummer to get use to another Gallery app. But good gosh is this Camera thing making me batty! https://us.community.samsung.com/t5/forums/v3_1/forumtopicpage/board-id/...

Use Google photos instead of Samsung gallery.

I appreciate your suggestion, however, Google Photos was the first alternative gallery app of many I tried. I want a gallery app that is simple plain jane, no bs. Even so, switching Galleries only solves one problem. The main problem is that all of my photos are still viewable via camera like everyone says in the url I listed above. There's no reason Camera should be showing Screenshots or downloaded photos.

I find it interesting how so many of these sites and channels say that the battery life is poor despite the opposite being true.
The vast majority of users on all of the forums and comment sections I have frequented say their real-world usage grants excellent battery life. I have had mine for one month today and can say my battery is stellar.
I cannot help but to think that these sites and YouTube channels are all towing some sort of party line. They all say the same things.
The iris scanner works flawlessly for me. Its far more convenient than a pin or pattern. The finger scanner is something one can easily get used to. I find no problem with it except its sort of inconvenient while using a flip cover.
If it makes a difference, I'm using the Snapdragon version from Canada.

They have got to remove the keyboard soft key from the nav bar. It's impossible for me to swipe type with one hand and not get into this button. There are no options to move it or remove it. I have contacted Samsung about this, hopeful it will disappear in the next update. Is anyone else having this problem?

I had an issue with editing the task edge and Samsung Tech Support had me perform a factory reset. A pain but it fixed my problem. I'm a heavy user and was having to recharge during the day. After the factory reset my battery life has been amazing. I can make it all day on a charge even with my FitBit connected by Bluetooth for texts and calls too.

My problem is the screen is easy to scratch in a clean pocket. Never had this issue with all previous phones. Had to call Samsung and argue with them to get a repair issued for free. I am talking small visible scratches and not like what would happen with other phones.

This article is bull crap.
My note8 battery has been great.

Same here, but I have a lot of stuff disabled or uninstalled.

Has to be a Google Pixel pushing fake article. Android competition is cut throat. I'm not surprised by a completely misleading, false article.

No kidding. This article could have been "common phone problems", most of which are not even problems. Nothing in the story is unique to the Note 8. And, like I said in a comment, I want to see their Pixel 2 solution to the common problem of "Running low on storage".

My battery has been a little frustrating. I'm a pretty heavy user but my Note 8 can die pretty regularly around 9:30-10 PM after a day of use. Not the end of the world, but previous Notes lasted all day fine, as well as my iPhone 7 plus. I expected better, but not the end of the world. Not bad battery life, but not quite as good as other "big" phones.

No, prior notes were worse and did less. I had a Note 5.... The 8's battery and performance is far superior.

I can't wait to see your Pixel 2 solution to the common problem "Running low on storage".

SHouldn't you put a wipe cache partition step in there between common maintenance and factory reset?
Android Central Newsletter
Get the best of Android Central in in your inbox, every day!
Thank you for signing up to Android Central. You will receive a verification email shortly.
There was a problem. Please refresh the page and try again.