Boost Moto G getting Android 4.4.4 KitKat update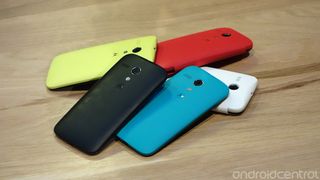 If you're a Boost customer and have been waiting for the Android 4.4.4 KitKat update on your Moto G, your time to shine is now. According to the Motorola website (opens in new tab) and some tips we've received, the update is appearing on devices right now.
Android™ 4.4.4, KitKat® - Android 4.4.4, KitKat, is the latest release of the Android platform. This release includes accuracy improvements to the power profile, several stability, framework and security fixes including update to OpenSSL.
Camera - Pause video recording Added the ability to pause video recording with a convenient pause/resume button on the viewfinder.
Updated Phone dialer - Updated Phone dialer with a new graphical layout and colors to improve consistency and usability.
Enables Motorola Alert Application download - New Motorola Alert application sends periodic alerts with your location to your selected contacts. Now available for download from the Google Play Store.
In order to take the update, your device should be charged to 50 percent, be connected to Wi-Fi and things should go perfectly fine. After your device is updated, it will show as software '210.12.57'. Once you get the update, let us know how it went in the comments or swing on by the Android Central Moto G forums.
Get the Android Central Newsletter
Instant access to breaking news, the hottest reviews, great deals and helpful tips.
My girlfriend will be delighted she loves her little turquoise moto G with flip cover Posted via the Android Central App

Isn't that ironic. I sold mines this past Sunday lol. With T-Mobile now and had no need for it. Posted via...The One

Hey! You sold it! Hopefully, you got some decent coinage for it.

No I didn't lol. It's only like $100 new, I've even heard one guy in my area say he got one for $70 new so I sold mines for $40 including a bugdroid cruzerlite case minus the charger as I bent it by accident. My wife has one but switched to sprint a while back and has a LG G2, I'm gonna probably put hers on Craigslist too. Gas $ or lunch $ is all in really expecting lol. They're so cheap now. I paid $145 new. Talk about a loss Posted via...The One

I know the feeling, trust me, haha. But, at least, you were able to get something for it. Hopefully, in the future, Android handsets will be able to retain their value better and longer.

I got the 4.4.4 update on my S4 last night. Posted via the Android Central App

Um..... So did the Moto G. Posted via Android Central App

It's amazing to me that a Boost Mobile handset gets the latest update before my flagship phone. I hope Moto keeps this up. Posted via Android Central App

Yup Posted via Android Central App

Now could they get the moto x on boost? Posted via Android Central App

good idea. I'd definitely get it if boost started selling the first gen moto x. Posted via the Android Central App

Good guy Moto. Posted via Android Central App (Moto G)

I'd be delighted if they sold the LTE version, Sprint's 3G is like 2G on every other network.

Sprint doesn't sell sprint doesn't sell the moto g 4g lte so Boost won't. It's GSM only Posted via...The One

It would be nice if they sold the first generation moto X or the new 5 inch moto G. She's at home on wifi most of the time so the lack of Lte doesn't matter to her. Either way she is in love with the moto line and rightly so. Posted via the Android Central App

I think they're gonna sell the new moto g 3g only. Give them a few months. If they would have sold the 2013 moto x I would probably still be with boost lol Posted via...The One

Its 11:45pm as I type this..Has anyone with a Moto G on Boost actually gotten this update yet?

I got my update yesterday but my phone didn't alert me, a friend told me it was available so I did a manual check at system updates and it was there. Make sure you're on WIFI if not it will take forever and eat up your Data. Overall a good update 7 out of 10.

Downloading it now about time Posted via Android Central App

I have the moto g on boost and just got the update today. Awesome

I just got the 4.4.4 update and it is working as expected. The phone dialer was a great improvement to me.