Best Travel Phone Chargers in 2023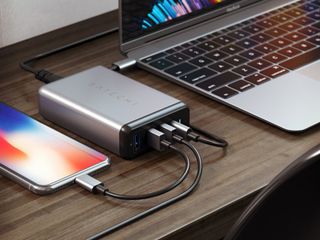 Keeping all of your gadgets charged can be one of the most stressful parts of traveling. Nobody wants to pack half a dozen charging bricks in their bag, and using the same chargers you keep around the house means undoing and redoing your home charging setup every time you go on a trip. Here are some travel-focused chargers that will make your life easier.
Charging bricks are getting more powerful
If all you need to power on your next trip is your phone or tablet, you can easily get by with a simple charging brick. While the one that comes with your device works just fine, the ones listed below offer higher output than what's typically included with a phone, partially thanks to the advent of gallium nitride technology (GaN), which allows for high output charging in significantly smaller chargers compared to silicon.
Compact, high output
RAVPower Pioneer 90W GaN Charger
RAVPower's newest GaN brick is an incredibly compact way to push a whopping 90W of power to your devices. It's certified for both USB-PD 3.0 and Quick Charge standards, and the output can be split evenly between the two USB-C ports so you can even charge two laptops in a pinch.
30W in a tiny package
Anker PowerPort Atom PD 1
The Power Port Atom 1 is roughly the size of a regular phone charging brick but outputs up to 30W with USB Power Delivery, taking full advantage of GaN tech. The plug doesn't fold, but it's small enough to still be easily packable.
Tiny Power Delivery
Aukey Minima 30W Power Delivery Charger
Aukey's GaN charging brick is about as compact as it gets. It pushes 30W over USB-C to your phone, tablet, or even a Nintendo Switch, and despite its small size, the prongs still fold in for easier travel. The small size also means you should be able to plug multiple bricks into a power strip without an issue.
Multi-device chargers are perfect for travel
It's easy to get lost in the seemingly infinite selection of chargers on Amazon, but the bricks listed above should be on your shortlist if you're only looking to charge your phone while you're out. GaN has allowed even tiny charging bricks to deliver loads of power, which is great news since batteries in phones are getting increasingly bigger and more power-hungry.
Best multi-device charger
Satechi 108W USB-C PD Desktop Charger
The Satechi desktop charger is bulky and pricey, but it's a fantastic option for keeping multiple gadgets topped up. The top USB-C port is great for powering laptops with a 90W output, and the second USB-C port works for phones and tablets at 18W. It also features two USB-A ports, each at 2.4A, and while large, it's still small enough to fit in most bags.
Charge in style
Anker PowerPort Atom PD 4
The PowerPort Atom PD 4 is even pricier than Satechi's desktop charger, but it has one distinct advantage: its two USB-C ports can distribute power evenly, allowing you to push 50W through each port. If you're charging devices that charge at different rates, the Atom can also intelligently distribute the power accordingly, so long as the total doesn't exceed 100W.
GaN with USB-A
Aukey Omnia 65W Dual-Port with GANFast
Aukey's GaN charger features both USB-C and -A ports with 45W Power Delivery when both ports are in use. On its own, the USB-C port can output the charger's full 65W speed, which is more than enough to charge most 13-inch laptops, tablets, and other portable devices. It's also slim and light enough to toss into any bag or even a pocket.
Travel adapters are great for international trips
With the advent of travel adapters, you don't need to bring multiple converting plugs with you just to charge multiple devices. Each travel adapter is a relatively small brick with options for various international outlets, along with a few USB-A and Type-C ports so you don't need to pack extra charging bricks.
USB-C and GaN
The Passport GO, currently on Kickstarter, allows you to plug your chargers into virtually any outlet in the world. More importantly, it has three USB-A ports and a USB-C port built-in with 30W Power Delivery, thanks to GaN technology. This means that depending on the power needs of your devices, you could leave your bulky chargers at home.
Rose gold with five ports
Epicka's travel adapter doesn't have gallium nitride tech inside, but it still boasts four USB-A ports, each with 2.4A output, along with a USB-C port on the side that's capable of 3A charging. It's available in several stylish colors, including rose gold (a personal favorite of mine), and supports standards for the EU, U.K., U.S., and Australia.
Permanent fuse
Glamfields Travel Adapter
The Glamfields travel adapter has three USB-A ports rated at 2.4A and a 5V/3A USB-C port. It adapts for use in the EU, U.S., U.K., and Australia, and has an auto-resetting permanent fuse that disconnects automatically when a high current is detected, preventing your chargers from getting fried. The AC port supports up to a whopping 1500W, meaning you'll have absolutely no trouble charging your laptop late at night.
GaN has made it an amazing time to buy a charger
Why you can trust Android Central Our expert reviewers spend hours testing and comparing products and services so you can choose the best for you. Find out more about how we test.
Gallium nitride has been a breakthrough technology when it comes to fitting high-output charging into a small, portable form factor. If you need proof, just look at the RAVPower Pioneer, a small charging brick with enough output to power most laptops. It's a bit pricy for a single-port brick, but it's a heck of a lot more compact than other similarly high output chargers — and if you still want a better deal, there are plenty of cheaper bricks with slightly lower output.
When you're traveling with multiple devices, though, a single-port charging brick often isn't enough, no matter how much output it offers. The portable multi-port chargers listed above are great for powering your laptop, tablet, phone, and accessories all at once; our pick is the Satechi 108W Dual Type-C Travel Charger, which looks sleek and charges four devices at the same time, including two USB-C ports with Power Delivery.
If you're planning a trip to a foreign country, packing the right charger becomes a bit more involved. The plugs are often different from what you're used to, and far too often the solution for many is to buy half a dozen region-specific adapters that convert your plugs into the appropriate shape without doing much else. That's where travel adapters come in — we're big fans of the Epicka Travel Adapter, which incorporates gallium nitride for higher output charging in the same small form factor, and features USB-A and -C ports that allow you to charge multiple devices from a single outlet.
Get the Android Central Newsletter
Instant access to breaking news, the hottest reviews, great deals and helpful tips.
Hayato was a product reviewer and video editor for Android Central.