Best third-party watch bands for Fossil Q Founder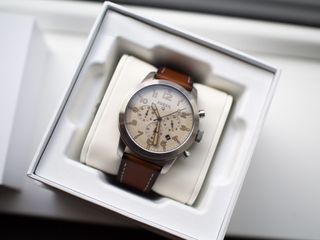 You bought your Fossil Q Founder with pride and you should wear it with pride! When it comes to the strap, you may need more than one. Different straps are good for different occasions.
The great thing about the Fossil Q Founder is it works with almost any 22mm band, and we have rounded up some of the best aftermarket bands for the Fossil Q Founder that we could find.
Leather Bands
Leather bands are great for everyday use. They are durable, stylish, and comfortable, making them ideal to wear for long period of time.
Lucco leather watchband
As far as leather bands go, the Lucco one doesn't look like anything special. It is made out of genuine leather, which means it won't show as much wear and tear as fake leather.
It does have a stitching along the edges of the band to help prevent fraying, and it's the same color as the rest of the band giving you a classic uniform look.
See at Amazon (opens in new tab)
Rerri leather watchband
The selection we chose from Rerri is a little more of a standout piece. It's a genuine leather strap that has high contrast stitching in order to make it really pop. In addition, the clasp on Rerri's band is quite robust and sticks out as well, adding to the band's overall look. Plus, the clasp looks like it could take a beating, which is a plus for something that you wear all the time.
Like all leather, it's slightly water resistant, a little bit of rain or sweat won't hurt it much, but you aren't going to want to go swimming with it, or wear it in the shower for that matter.
See at Amazon (opens in new tab)
Sport bands
Sports bands are typically made out silicone or a similar rubber-like substance which makes them perfect for getting wet. Sweat won't ruin a sports band at all, so you can be as active as you want!
Tech Swiss sports band
Typically, sports bands can be pretty plain looking; however, Tech Swiss's band breaks the mold. It's designed to look like a silicone version of a metal link band, giving it a unique look that most sports bands won't have.
The silicone is waterproof and the band's clasp and pins are made from stainless steel so you shouldn't have any problem getting this thing wet.
The band comes in a little on the thick side, sitting at about five millimeters — you will definitely feel this band on your wrist. If you don't mind the small amount of extra weight, this band could be a great choice.
See at Amazon (opens in new tab)
Marathon
If you want something a little out there, but still functional, this selection from Marathon could be for you.
It's made out of vulcanized rubber, so you know it's as durable as can be. The clasp and pins are also stainless steel so no amount of water should make them rust.
On top of looking a little extra stylish — due to the two lines of detailing — this band also comes infused with vanilla scent. If you have a problem with perfumes or scents at all, it would probably be best to steer clear of this one.
See at Amazon (opens in new tab)
Metal bands
If you are looking for bold style, metal bands are a great way to make your watch stand out in a crowd!
Hadley-Roma Metal expansion band
Hadley-Roma's band is great for people who want a metal band that has a uniformed style and look to it.
The added bonus of the physical vapor deposition (PVD) coating makes this metal band a little more resistant to scratches and minor blemishes.
Unlike a lot of metal bands, this one doesn't have a clasp. It's actually an expansion band, meaning it will stretch to fit your wrist. It's compatible with watches that use 16-22 millimeter bands, making it perfect for your Fossil Q Founder.
See at Amazon (opens in new tab)
Yesoo
Perfect for the minimalist in everyone, the Yesoo metal mesh band is stylish and elegant.
Made out of stainless steel, this band is much thinner than a lot of metal bands that are out there. Thanks to its mesh design, it doesn't have to be as bulky as a typical metal link band would be.
There is also no clasp on this stylish band, instead it actually has a magnetic end that will attach anywhere on the band, making it adjustable to the perfect size every time.
See at Amazon (opens in new tab)
MODE bands
Google released its MODE bands and they might be the most interchangeable watch bands you will ever see..
All you do it remove the original pin that presently in your Fossil Q Founder, then add the MODE pin, slide your MODE band over the pin, and lock it shut. That's it! There's a video on the MODE site that shows you exactly how to connect these bands.
Hadley Roma is currently the only company making them right now and they start around $50. Just remember that when you go to order yours you need the 22 mm band or it won't fit.
Doesn't Fossil make it's own line of affordable bands with quick release pins? (the kind that has a tiny lever that sticks out, like what Samsung has used) That Hadley metal band looks a lot like the original concepts for the Moto 360, pretty nice.

You can easily find third party replacement bands. For example, Boonix Band on Amazon are all quick release type with the tiny lever for easy change. Both real leather or silicone bands are available. Quality is decent.
Android Central Newsletter
Get the best of Android Central in in your inbox, every day!
Thank you for signing up to Android Central. You will receive a verification email shortly.
There was a problem. Please refresh the page and try again.