Best theming widgets for Android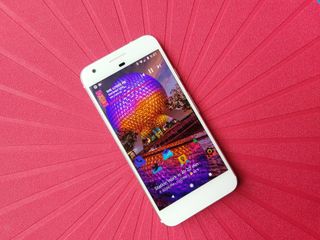 Android has hundreds of thousands of home screen widgets out there for you to try out, from advanced widget creators to those that come with your favorite apps. Some are beautiful, some are extravagant, and some are refined, but above all, they have to work. Widgets have to earn their keep on my home screen, or they'll be deleted and replaced with something I actually use.
Not all apps have customizable widgets, and no matter how good some of those widgets are — like Google Keep — if they don't play well with themes, then I can't count on them when I'm building my home screen.
Another Widget
Why you can trust Android Central Our expert reviewers spend hours testing and comparing products and services so you can choose the best for you. Find out more about how we test.
The Google Pixel 2 brought a few new tricks to its home screen this year, but none have been as popular as the At A Glance widget. This refined, easy-to-see and easy-to-use widget is only available on the Google Pixel, but enterprising developers have begun to mimic it in apps like KWGT and launchers like Action Launcher. The best interpretation of the At A Glance widget so far is hands-down Another Widget (opens in new tab).
Despite the pedestrian name, Another Widget is not just another imitator. Another Widget goes beyond the original by allowing users to customize the text size, text colors, shadows, data shown, and the apps triggered by tapping the calendar and weather portions of the widget. In short, Another Widget is more flexible than the original and available to everyone, not just those who could blow $650 on a new Pixel.
Whether you're trying to make your phone look as Pixel-y as possible or just want an informative widget that doesn't get in the way of a good theme, give Another Widget a try. The app itself is free, but you can support the developer by buying them a coffee, breakfast, or dinner should you appreciate their work.
Download: Another Widget (free, in-app purchases) (opens in new tab)
Calendar Widget Month + Agenda
I'm not going to sugarcoat it: Most calendar widgets are ugly and don't theme particularly well. That said, if you have to have a calendar widget on your home screen beyond a next appointment widget like Another Widget, then Calendar Widget Month + Agenda (opens in new tab) by Milan Sillik is probably going to be your best bet. The widget is easily resizable and adaptable, you can recolor it and change the transparencies to your liking, and you can try it out for free with all features enabled. Free users have a bar at the top of the Agenda advertising the PRO version license, but it's easy to scroll past while you're testing it out.
Using it with 100% transparency allows your calendar events to scroll in and out of your wallpaper seamlessly, and it's easy to turn the transparency back up when using a busier wallpaper. Just don't set the bottom toolbar to Minimalistic, or you won't be able to get back into the widget's settings without clearing the app data.
Download Calendar Widget Month + Agenda (free, $1.99) (opens in new tab)
1Weather
Weather widgets are the most popular widgets on the block, and no matter what weather app you have installed, there's bound to be a widget or two with it, but no weather app has quite the diversity or flexibility of the widgets included with 1Weather (opens in new tab). 1Weather is a weather app designed by OneLouder (opens in new tab), the development team behind popular Reddit app BaconReader (opens in new tab) and Twitter client TweetCaster (opens in new tab), and 1Weather's layout is as easy to use as it is easy to customize.
1Weather's widgets come in all shapes and sizes, and while the icon sets are either black or white, you can set accents for each widget to help the widgets blend or pop against your current themes. 1Weather's widgets are highly adaptable, and I've used them in dozens of themes.
Download 1Weather (Free, in-app purchases) (opens in new tab)
KWGT, king of the widget-makers
When it comes to widgets that fit your theme, sometimes you can't rely on an app to have a widget that fits. Sometimes, you have to make your perfect widget, and when it comes to making your own widget, KWGT is king. KWGT (opens in new tab) — short for Kustom Widget — is a WYSIWYG widget creator, and its basis is quite simple: what you see is what you get. KWGT allows users of all skill levels to build and modify widgets layer by layer, piece by piece so that they get a widget that fits and performs exactly as desired.
Read more: Why KWGT is an essential tool for Android themers
Don't worry, you don't have to build each and every widget from scratch. KWGT Pro enables you to pull in presets — pre-built widgets — from other users and from Kustom packs, packaged KWGT presets and komponents. This means that KWGT widgets are easier the share than they are to build, and themers often share their KWGT presets while showing off their themes in communities like r/androidthemes/.
KWGT is also a good way to introduce yourself to WYSIWYG editors and Kustom's framework before you dive into KLWP — Kustom Live Wallpaper (opens in new tab) — KWGT's beefier big brother.
Download: KWGT (Free, $4.49) (opens in new tab)
Why Zooper isn't here
Once upon a time, Zooper (opens in new tab) was the WYSIWYG widget maker that diehard themers turned to. The UI was a hair easier to pick up on Zooper, but unfortunately, Zooper hasn't been updated since 2015, and it was even briefly removed from Google Play in December. In short, it's outdated, unreliable, and not worth your effort today.
Your turn
If you have widgets that are team players when you theme, sing out in the comments below! We're always on the lookout for a few good widgets.
Read more: the best music widgets for Android
Updated February 2018: This article has been completely overhauled and rewritten to reflect developments and discontinuations in the Android widget space.
Ara Wagoner was a staff writer at Android Central. She themes phones and pokes YouTube Music with a stick. When she's not writing about cases, Chromebooks, or customization, she's wandering around Walt Disney World. If you see her without headphones, RUN. You can follow her on Twitter at @arawagco.
Ooooh, gonna have to try that calendar widget as it looks really good.

My favourite is Chronus. I use Chronus Pro. There are a number of widgets to choose from for date, time, weather, forecast, agenda, stocks etc and all are very customisable.

I'm a fan of "Transparent Clock and Weather"
The app adds several "quick launch" type areas that can be used interactively in the widget. Almost every part displayed like the time, temperature, location, real feel temperature, dew point etc can all have their color set to match any theme and the ability to set the background 100% transparent makes it great for themers.. There is a free version, but a premium version unlocks several cool features.

Between a custom launcher, custom icons, and a live wallpaper I really prefer widgets that provide info without any Material design or anything else of the sort. If you give me a good transparent theme with your widget I will be loyal for a very long time and even dole out a few bucks to shed the ads. I currently use five widgets. The first is the stock Android clock. It's good enough. To go along with time, I use "Calendar Widget Month + Agenda" to display my Google calendars. I prefer to use a smoky, mostly-transparent background with this one, so that I can see the text without it getting lost in my wallpaper. I have my notification bar hidden so I use "Battery Widget Reborn 2017" to display the juice left in my tank. I use "Slider Widget – Volumes" so that I can see my volume levels at a glance (although I use shortcuts for AudioManager Pro to actually change my volume to presets) and I use "Plug In Music Widget" as a home screen music player, so I don't have to open Google Play Music to enjoy some tunes. • Calendar Widget Month + Agenda: https://www.androidcentral.com/e?link=https2F2F... • Battery Widget Reborn 2017: https://www.androidcentral.com/e?link=https2F2F... • Slider Widget - Volumes: https://www.androidcentral.com/e?link=https2F2F... • AudioManager Pro: https://www.androidcentral.com/e?link=https2F2F... • Plug In Music Widget: https://www.androidcentral.com/e?link=https2F2F...

Guys! I'm impressed! To clarify ᎓ usually, I'm not expecting to find something I was completely unaware of in articles like this, simply because I'm something of a customization junkie, i.e. I'm one of these weirdos who, after installing a new app, unfailingly goes to its settings and examines, well, *all* of them ( lol ) before actually running the app for the first time. But ᎓   ❝
    If you haven't enabled Labs in
    Nova Settings, Open Nova
    Settings and long-press the
    volume down key.
                 ❞ How did you even know that? 😃 Guess that's the type of thing that gets communicated by word of mouth ( i.e. internet ) because, so far as I can tell, it isn't documented anywhere within the launcher itself, unless I completely missed it. Anyway, good job people.👍🏻
Android Central Newsletter
Thank you for signing up to Android Central. You will receive a verification email shortly.
There was a problem. Please refresh the page and try again.