Best prepaid cell phones 2022
OnePlus and Motorola offer plenty of power for most people with the battery capacity to keep going all day.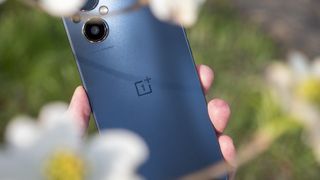 (Image credit: Nicholas Sutrich / Android Central)
Just about any unlocked phone can be used with a prepaid carrier, as long as it supports the bands for the underlying carrier. That means you can buy one of the most expensive phones on the market and use it with a prepaid carrier. But if you're looking to get the best value for money, these Android phones under $350 are the right place to start. The OnePlus Nord N20 has all of the right features with fast hardware, good cameras, and support for sub-6 5G.
These are the best phones for prepaid carriers under $350
Why you can trust Android Central Our expert reviewers spend hours testing and comparing products and services so you can choose the best for you. Find out more about how we test.
The best overall phone for prepaid carriers
Reasons to buy
+
Beautiful AMOLED display
+
Excellent cameras
+
5G support
+
Great build quality
Reasons to avoid
-
No promised OS updates beyond Android 12
-
Only available at T-Mobile and Metro by T-Mobile
The OnePlus Nord N20 5G feels like a return to form for OnePlus with hardware specs that exceed expectations for the price. Build quality also feels strong, with an attractive utilitarian design that makes it look like it costs more than it really does. The AMOLED display may only be 60Hz, but with a high 1080x2400 resolution, it looks sharp and vibrant.
The Snapdragon 695 CPU feels like the perfect fit, with enough power to keep things running smoothly, and the efficiency to make the 4,500mAh battery lasts all day with ease. Like Google's low-cost Pixels, the N20 reminds us that a cheap phone can still have excellent cameras with its 64MP main shooter, 2MP macro camera, and 2MP monochrome sensor. We were thoroughly impressed by the photos in our Nord N20 review.
Even if you're a proficient phone photographer who can put a battery through its paces, you can top up the battery in a snap with support for 33W charging with a charger in the box. Beyond that, this phone ships with Android 11 with the promise of an Android 12 release down the road, to keep it feeling modern for a bit longer. It supports sub-6 5G on T-Mobile's network which includes the vast majority of its coverage including the faster band 41.
Great performance with stylus input
Reasons to buy
+
The large 6.8-inch display runs at 120Hz
+
Snappy Qualcomm Snapdragon 695 CPU
+
Large 5,000mAh battery
+
Good image quality from the 50MP main camera
Reasons to avoid
-
Only on major OS update planned
-
Slow charging
-
Unimpressive selfie camera
Motorola has been one of the big supporters of 5G, with a handful of affordable 5G phones giving users the latest network tech without needing to buy a flagship phone. As we saw in our Moto G Stylus 5G review, this phone has impressive performance thanks to its Snapdragon 695 CPU from Qualcomm. This extra power is helpful for showing off the Stylus 5G's large 6.8-inch LCD with a responsive 120Hz refresh rate. Don't forget you can control this screen with the included stylus.
Motorola has included a large 5,000mAh battery which should keep most users humming along all day without needing to find a charger. Even so, it's worth noting that charging speeds on this phone are far from impressive with the underwhelming 10W charger in the box.
The 50MP main camera on the back isn't going to win any awards next to a flagship phone. Still, considering its price, it's a good package that can deliver some vibrant images, even in challenging lighting conditions. This praise, however, does not extend to the selfie camera, which was underwhelming in most situations. Overall, this is a good phone for someone looking for 5G compatibility, solid battery life, and a large responsive display.
Nokia G50
The best budget software experience
Reasons to buy
+
Massive 5,000mAh battery
+
Clean Android software
+
Large display with tight bezels
+
Wi-Fi 6 and 5G supported
+
Two years of OS updates
+
Three years of monthly security updates
Reasons to avoid
-
Limited 5G band support
-
Low-resolution display
It's nice that Nokia doesn't get carried away with changes to Android and opts to stick much closer to a stock experience. The G50 is powered by the Snapdragon 480 and while it isn't going to top any benchmarks, it has enough power to handle most Android apps with ease and can even do a bit of gaming if you keep your expectations in check. This CPU also sips power making the 5,000mAh battery that easily lasts all day, though the 18W charger means you'll need a bit of patience getting it up to 100%.
This phone will have Android 11 out of the box but can and should be upgraded to Android 12 first thing. Nokia sticks to a clean build of Android and that's a good thing. Nokia is also promising two years of OS updates and three years of security monthly security updates. We're not fans of the pre-installed apps on the phone, but for the price, it's not too much work to remove them.
This phone supports 5G with decent sub-6 band support, including n71, n5, n66, n41, and n78. This means that you'll get access to nationwide 5G on the major U.S. carriers with support for T-Mobile's faster 5G speeds. Wi-Fi 6 is also included unlike some other phones with this CPU.
A cheap 5G alternative
Reasons to buy
+
Premium feel
+
Large 90Hz display
+
High-resolution 1080x2400 IPS panel
+
Solid T-Mobile 5G support
+
Android 12 update available
+
Massive 5,000mAh batter
Reasons to avoid
-
No more OS updates expected
-
No wireless charging
The OnePlus Nord N200 5G is a lot of phone for the price with solid specs, good build quality, and a massive battery. Even in our in-depth Nord N200 review, its Snapdragon 480 CPU performed admirably. The large 6.49-inch, 1080x2400 IPS display refreshes at 90Hz making this phone feel even nicer to use. It only comes with 64GB of storage but with one of the best microSD cards, there's plenty of room to grow.
This phone comes with Android 11 out of the box, but you can immediately update it to Android 12. While we don't expect this phone's OS to be upgraded further, it will get three years of security updates so you can keep using it with confidence. And while you don't get pure Android, Oxygen OS is clean and fast enough for most people to be quite happy.
One clear sacrifice is the cameras. The main 13MP sensor failed to impress in our Nord N200 5G review with anything less than brightly lit scenes. Even so, images are serviceable as long as you're not nurturing a social media career from your phone. That's not to say it doesn't have the endurance with a massive 5,000mAh battery easily getting even heavy users to the end of the day. It still would have been nice to see faster charging than the included 18W brick can deliver.
TCL Stylus 5G
The best value phone with a stylus
Reasons to buy
+
Large 6.81-inch display
+
Solid MediaTek Dimensity 700 5G chipset
+
Built-in stylus included
+
Good camera in most lighting
+
Two years of security updates
The TCL Stylus 5G isn't a Galaxy Note replacement, and with a price that's about a quarter of Samsung's flagships, it shouldn't be expected to be. Even so, our Stylus 5G review found the stylus to be underwhelming outside of solid handwriting recognition. The problem is that the phone doesn't treat writing with the stylus or a finger any differently. If you're just looking for something to make precision input a little easier, it's still nice to have stored in the bottom of the phone.
The screen is fairly massive at 6.81 inches, with a high 1080x2460 resolution and a 60Hz refresh rate. The main 50MP camera isn't anything special but still produces solid images as long as you have good lighting. The MediaTek Dimensity 700 5G platform with the MT6833 should have no problem with most apps, although in our TCL Stylus 5G review, we found some games would not work at all.
This version of the phone is designed for T-Mobile and is available for the carrier in a postpaid and prepaid variant, as well as at Metro by T-Mobile. Unlike the international version, this phone has full support for T-Mobile's 5G network, including bands n71and n41. The Dimensity 700 platform is also compatible with 5G carrier aggregation.
Samsung Galaxy A13 5G
The best for security
Reasons to buy
+
5G support with mid-band
+
Large 5,000mAh battery
+
Two OS updates and four years of security updates
+
Solid performance
The Samsung Galaxy A13 5G doesn't hit the mark on every spec, starting with a disappointing display rocking an old-fashioned PLS TFT LCD panel at just 720x1600 resolution. Luckily, this is where most of the harsh criticism ends. This phone is powered by the same MediaTek Dimensity 700 chipset found in other phones at this price range, so it will have enough power for most Android apps outside of 3D games.
It comes with a large 5,000mAh battery though its 15W charging speed is a bit lacking. The A13 5G's main 50MP camera can take some decent images in good lighting but will struggle in low light conditions.
Where this phone starts to make up some ground is in software. Samsung has promised two OS updates for this device so an Android 13 update should eventually make it to the phone. Perhaps more important is the four years of security updates and the Knox security platform. Samsung Knox security can keep sensitive information safe with multi-layered security in the event of theft or loss. This cheap phone punches above its weight in software and performance and can be a great pairing for a prepaid carrier.
Buy it unlocked to try out a new carrier whenever you want
More and more people are looking to leave contracts behind, especially if they know how to switch carriers, and prepaid carriers offer a lot of value. In fact, most of the best cheap Android phones will work on just about any prepaid carrier. Most of these phones here will work on any carrier with LTE, but 5G compatibility can be a bit less predictable. Even so, the software has gotten a big boost on cheap phones, thanks to more manufacturers committing to multiple years of updates.
Overall, the OnePlus Nord N20 5G delivers the best overall experience with very little meaningful compromise. While it will only work on T-Mobile's network and must be purchased through its official prepaid brands, it's still an incredible value. This phone supports 5G on T-Mobile's fastest bands and the Snapdragon 695 shames other phones at this price. While it won't get OS updates beyond Android 12, three years of security updates mean you can keep using it with confidence.