The Galaxy A53 5G is faster than its predecessor, has a larger battery, takes better photos, and will get more software updates than any other mid-range phone. It doesn't have a 3.5mm jack or a charger in the box, but the upside is that it costs $450 — $50 less than the A52. This is the mid-range phone to beat right now.
For
Vibrant 120Hz AMOLED screen
Decent hardware
64MP camera takes good photos
Battery lasts over a day
Four guaranteed Android OS updates
IP67 dust and water resistance
Against
No 3.5mm jack
No Wi-Fi 6 connectivity
Not designed for intensive gaming
No bundled charger
Samsung is increasingly focusing on the Galaxy A series, and for good reason. The series accounted for nearly two-thirds of Samsung's global sales last year, and that number is only set to increase as more and more customers shift to affordable 5G-enabled phones.
The Galaxy A52 stood out for its value, long-term software updates, and reliable hardware, and Samsung is building on that in 2022 with the Galaxy A53. The phone doesn't differ too much from its predecessor, with Samsung instead focusing on a few areas. The key changes include a larger 5000mAh battery that lasts well over a day, updated internal hardware that's more energy-efficient, and the promise of longer updates.
That said, it misses out in a few areas: there's no 3.5mm jack or a bundled charger this time. Samsung is instead betting on the $450 price point — $50 less than its predecessor — as a key selling point, so let's see what the Galaxy A53 has to offer, and if you should consider the phone if you're looking for an upgrade in 2022.
Samsung Galaxy A53 5G: Pricing and availability
Samsung unveiled the Galaxy A53 5G on March 17, and the phone is now up for pre-order in global markets. Unlike last year — where we had 4G and 5G versions of the Galaxy A52 — the Galaxy A53 is available in a single option globally, and it comes with 5G connectivity as standard.
The Galaxy A53 costs $450 in the U.S. and £399 ($525) in the U.K., with pre-orders in both regions netting a free Galaxy Buds Live. Samsung has trade-in offers in North America and the U.K. that go up to $205 for trading in your current phone. The Galaxy A53 will hit store shelves starting April 1.
Over in India, the Galaxy A53 is available in two configurations, with the 6GB/128GB model debuting at ₹34,499 ($452) and the 8GB/128GB version coming in at ₹35,999 ($472). While that's on par with what the phone retails for in the U.S., it is considerably costlier than the ₹26,499 ($348) that the A52 debuted at last year. However, the A52 was a 4G-only device, and the A53 has the requisite 5G bands for India.
Samsung Galaxy A53 5G: Design
Last year, Samsung introduced a new design aesthetic on the Galaxy A52 that included a rectangular chassis with flat sides and pastel colors. This year, the Korean brand isn't making any broad changes, with the Galaxy A53 retaining the same design albeit with a few tweaks.
The sides are now fully flat with no curves at the front or back, and the camera island has a seamless design that looks like it's emerging naturally from the chassis. While it isn't as dramatic as the Find X5 Pro, it looks good nevertheless.
Samsung is once again offering a polycarbonate back with a matte finish that feels great to touch, and it has an added bonus of preventing smudges.
The key design change is around the mid-frame, where Samsung is going with a glossy finish decked out in chrome. The Galaxy A52 also had the same finish, but the sides were coated the same color as the back, giving the design a more cohesive look.
Image 1 of 6
The chrome sides make the Galaxy A53 look a little tacky, but my biggest issue with the design is the flat sides; I'm not a fan of this aesthetic, and the lack of any curves means the A53 isn't as comfortable to hold and use even though it is 0.3mm thinner than the A52. You'll definitely want to invest in a case if you're interested in the A53.
Other than that, the basics are unchanged here; you'll find the power and volume buttons on the right, and there's a SIM card tray that holds either two SIM cards or a SIM alongside a microSD card.
The buttons and SIM tray are made out of recycled post-consumer materials, and they're not as tactile as the ones on the A52.
Samsung Galaxy A53 5G: Screen
There really isn't a whole lot to talk about with the screen. The Galaxy A53 has the same 6.5-inch AMOLED screen as last year's A52 5G, and it goes up to 120Hz. The max brightness is also unchanged at 800 nits, and it gets sufficiently bright outdoors that it wasn't an issue for me. And covering the screen is a layer of Gorilla Glass 5.
While the screen misses out on some of the niceties that you'll find on the Galaxy S22 Ultra — like HDR10+ and dynamic scaling — it excels at the basics. You get vibrant colors, the 120Hz mode is enabled out of the box, you can tweak the color balance to your tastes, the always-on mode has a lot of configurability, and you get schedulable dark mode.
With the A53 featuring a thinner chassis, there's no 3.5mm jack on the device. That said, you get decent stereo sound, and that makes watching videos and playing games a little more immersive.
Samsung Galaxy A53 5G: Performance
While Samsung is using Qualcomm-based hardware in more parts of the world this year, that's limited to the Galaxy S22 series. In an interesting move, the Galaxy A53 comes with the Exynos 1280 as the default option globally, including in North America.
The Exynos 1280 includes two Cortex A78 cores that hit 2.40GHz alongside six Cortex A55 cores at 2.0GHz and a Mali-G68. It is a 5nm part, and the node shrink over last year's 8nm Snapdragon 720G/750G means the A53 is that much more efficient. Add in a bigger 5000mAh battery, and you'll see noticeable gains in day-to-day use.
| Category | Samsung Galaxy A53 5G |
| --- | --- |
| Operating system | Android 12 |
| | One UI 4.1 |
| Display | 6.5-inch 120Hz AMOLED |
| | 2400x1080 (20:9) |
| | Gorilla Glass 5 |
| Chipset | Exynos 1280 |
| | 2 x 2.40GHz Cortex A78 |
| | 6 x 2.0GHz Cortex A55 |
| | Mali-G68, 5nm |
| RAM | 6GB/8GB |
| Storage | 128GB/256GB |
| MicroSD slot | Yes |
| Rear camera 1 | 64MP f/1.8 |
| | 0.8um pixels, PDAF, OIS |
| | 4K at 30fps |
| Rear camera 2 | 12MP f/2.2 wide-angle |
| | 1.12um pixels, 123-degree FoV |
| Rear camera 3 | 5MP f/2.4 macro |
| Rear camera 4 | 5MP f/2.4 portrait |
| Front camera | 32MP f/2.2 |
| | Fixed focus |
| | 4K at 30fps |
| Connectivity | 5G Sub-6, Wi-Fi ac |
| | Bluetooth 5.1, NFC |
| Audio | USB-C, stereo speakers |
| Battery | 5000mAh |
| Charging | USB-C 2.0 |
| | 25W wired charging |
| Water resistance | IP67 |
| Security | In-display reader (optical) |
| Colors | Black, White, Blue |
| Dimensions | 159.6 x 74.8 x 8.1mm 189g |
| Price | $450 (U.S.), £399 (UK), ₹34,499 (India) |
I don't give a lot of weight to synthetic benchmark scores, but given that the Exynos 1280 is an unknown quantity, I put the Galaxy A53 to the test.
I pitted the A53 against the Galaxy A52 to get an overview of how the hardware has evolved over the course of a year, and the Nord 2 to get a sense of how it holds up for gaming. The Dimensity 1200-powered Nord 2 is one of the best mid-range phones for gaming, so it makes sense to take a look at how the Galaxy A53 fares in this regard.
| Category | Galaxy A52 | Galaxy A53 | OnePlus Nord 2 |
| --- | --- | --- | --- |
| CrossMark (Overall) | 438 | 510 | 645 |
| Productivity | 452 | 551 | 653 |
| Creativity | 437 | 472 | 664 |
| Responsiveness | 400 | 533 | 570 |
| Geekbench 5.1 (single-core) | 559 | 743 | 803 |
| Geekbench 5.1 (multi-core) | 1703 | 1929 | 2405 |
| 3DMark Wild Life (score) | 1044 | 2335 | 4227 |
| 3DMark Wild Life (FPS) | 6.25 | 14.02 | 25.3 |
| 3DMark Wild Life Extreme (score) | 316 | 642 | 1294 |
| 3DMark Wild Life Extreme (FPS) | 1.9 | 3.8 | 7.75 |
Right off the bat, it's evident that the Galaxy A53 is significantly more powerful than its predecessor. By using a similar set of Arm cores as the Dimensity 1200 (albeit clocked lower), the A53 is able to hold its own against the Nord 2.
The Mali-G68 GPU also fares well against the A52, with the A53 delivering a 2x increase across the board. It's still not quite on par with the Nord 2, but that's because the Dimensity 1200 is a gaming powerhouse. For context, the Pixel 5a — the Galaxy A53's immediate rival — scores lower in all 3DMark tests.
As for real-world usage, the Exynos 1280 holds its own for most daily tasks, including Chrome browsing, scrolling through Twitter and Instagram, and playing the occasional game. However, this isn't a chipset built for intensive gaming, and that's noticeable in games like Call of Duty: Mobile or PUBG Mobile. Both games go down to medium settings, and there is an occasional jitter while playing.
Furthermore, there is an infinitesimal lag when navigating the UI, particularly when launching or closing an app — it's almost as if the chipset can't keep up with the 120Hz panel. Of course, this could just be a case of Samsung not optimizing the Exynos 1280 for the screen, and given the potential of the hardware, the A53 isn't as fluid as it should be.
The Galaxy A53 comes with 6GB of RAM with 128GB of storage as standard, and you'll also find a version with 8GB of RAM and 128GB of storage in select global markets.
With Samsung essentially reusing most of the same parts as last year, the phone misses out on Wi-Fi 6 connectivity. You get Bluetooth 5.1, NFC, and the usual set of sensors, but for a mid-range phone in 2022 to not have Wi-Fi 6 is a glaring omission.
Samsung offers Sub-6 5G connectivity for the global variants of the Galaxy A53, with 5G bands changing based on the region. The rest of the features are unchanged from last year; you get an optical in-screen reader that's accurate (if a bit slow at times), and the vibration motor is quite good for this category. It doesn't quite manage to deliver detailed feedback like the one on the Galaxy S22 Ultra, but it is a decent option nonetheless.
Samsung Galaxy A53 5G: Battery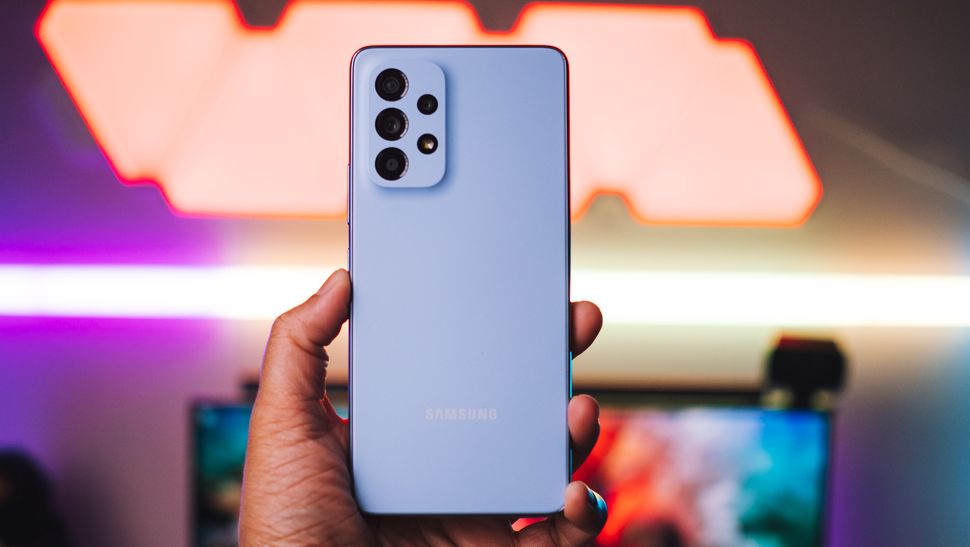 As for the battery, the 5000mAh unit ensures the Galaxy A53 lasts over a day e