Best Free Games for Oculus Go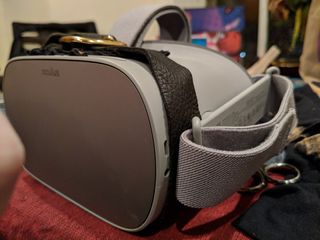 They say you get what you pay for, but that isn't always the case. Oculus Go has some great content to play without having to spend a penny.
From scaring the pants off you and your friends to fishing on a virtual lake, here are the best free games to play on your Oculus Go.
Bait!
Why you can trust Android Central Our expert reviewers spend hours testing and comparing products and services so you can choose the best for you. Find out more about how we test.
Not every VR game needs to be a slash-'em-up or shooting game. Bait! lets you relax by a virtual lake and go fishing. It's relatively basic but if you just want to sit on your sofa and zone out while fishing, it's a great free game to try out.
The game has just enough context to make it more than just fishing. Your goal is to catch rare fish from four different lakes to help preserve them.
Temple Run VR
Temple Run has earned a good reputation on smartphones, and you can enjoy the runner in VR as well. You can dodge and jump over obstacles and avoid enemies, in this case, monkeys, to work your way towards a high score.
Endless runners are a throwback to old-school platformers and can be both frustrating and enjoyable at the same time.
Face your Fears
Reviews that mention almost breaking hardware are usually bad, but in the case of Face Your Fears, it's trying to scare you into jumping out of your seat.
You can "enjoy" getting scared by ghosts and robots in environments that range from creepy to frightening.
Jurassic World: Blue
Jurassic World: Blue is an interactive cinematic experience that places you on the island from the famous film. You walk around as Blue and trying to survive the impending eruption of a volcano that will destroy the island.
It's not a very long experience, but it gives you a glimpse of what could be the future of films in VR.
Shooting Showdown 2
Taking a different approach to shooting games, Shooting Showdown 2 has you aim your gun by tilting your head and using your controller to fire. You can shoot targets this way at a firing range at targets ranging from balloons to killer robots.
Filler
Project Rampage: VR
Who doesn't want to be a gigantic gorilla that gets to destroy cities? Project Rampage: VR lets you play as George, Ralph, or Lizzie and gives you the change to destroy Paris or Chicago.
You can also create new genetically mutated monsters to increase the city destruction.
Conflict0: Shattered
Set in a recently located nation, Conflict0: Shattered has you infiltrate a base using a high-powered gun or an energy sword. These are the primary weapons of your war robot that you sit inside as you fight enemies and strive to eliminate your target.
What are your favorites?
What are your favorite free games on the Oculus Go? Let us know in the comments below.
Updated October 2018: This article was updated to include Conflict0: Shattered to make sure that you can enjoy all the best free games on your Oculus Go.
Get the Android Central Newsletter
Instant access to breaking news, the hottest reviews, great deals and helpful tips.