Best cheap phone to buy while you wait for a Note 7 replacement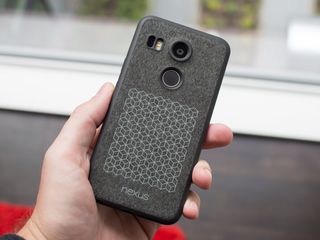 You're looking at your Galaxy Note 7 wondering whether you should return it. (You should.) If you do, but don't want to buy a replacement right now, why not buy a cheap(ish) Android phone to tide you over?
Moto G4 w/ Amazon Lockscreen offers
Why you can trust Android Central Our expert reviewers spend hours testing and comparing products and services so you can choose the best for you. Find out more about how we test.
OK, don't dismiss this outright. Amazon and Motorola have teamed up to provide a discounted Moto G4 — my favorite low-cost Android phone right now — by inserting some ads on its lock screen, just like its Special Offers Kindles.
Once you unlock the phone, though, this is the same Moto G4 you will know and love, including the unblemished Android 6.0.1 Marshmallow software, speedy internals, great camera, and superb Moto Display implementation. If you're looking to tide yourself over until your Note 7 replacement arrives, this unlocked phone, which will work on AT&T, Verizon, T-Mobile, and Sprint, is a great choice.
See at Amazon (opens in new tab)
Nexus 5X
The Nexus 5X running Android 7.0 Nougat is one of the best Android phones you can buy. Our own Jerry Hildenbrand told me on episode 302 of the AC Podcast that the Nexus 5X with the latest software runs better than the more-expensive Nexus 6P, and while I wouldn't go that far, it's still a huge endorsement. And you can find the Nexus 5X on eBay and many other places for under $200!
See at Amazon (opens in new tab)
More: Best phones to buy if you're returning your Galaxy Note 7
Samsung Galaxy S5
I know, I know, the Galaxy S5 is over two years-old. But here's the thing: the phone is still really great, with an awesome screen, a removable battery, a microSD slot, water resistance, and Android 6.0.1 Marshmallow. And it's pretty easy to find for under $200 on Amazon, which means that once your Note 7 gets delivered into your greedy hands after this whole debacle is over, you can gift it to your son, daughter, husband, wife, friend, or enemy, and they'll be really happy with it. My brother, who I call Clumsy Ricky, still uses a Galaxy S5, and he's thrown this thing around for two straight years and it's still going strong.
See at Amazon (opens in new tab)
Your suggestion?
What other great, low-cost devices are out there as you're waiting for the Note 7 debacle to pass?
Android Central Newsletter
Get instant access to breaking news, the hottest reviews, great deals and helpful tips
Daniel Bader was a former Android Central Editor-in-Chief and Executive Editor for iMore and Windows Central.
Or just grab some old crap and activate it while the big phone is sent back. Try to endure the third world conditions until then.

Why do you want to be so cruel? Lol

Just grab a Moto G4 Plus and be done with it.

I think that's a great suggestion. It's a decent phone.

Doesn't everyone have a Nexus 5 in a drawer somewhere?

+1. My N6 is running better on nougat then it ever did on marshmallow. The camera is still marginally awful though... When it will even open.

Running my N4 till the N7 comes back. Finally playing around with Nova launcher....

Dtek50! Monthly security updates plus more!

I picked up a BLU R1 HD from Amazon for $50 for my brother. I immediately rooted it, unlocked its bootloader, installed TWRP and flashed the stock Android on it (removing the ads). It took less than an hour but afterwards I had an impressive phone. My brother uses it daily and he actually likes it. So I picked up another one, did the same thing to it, and I keep that in my desk as my emergency spare/backup phone. For $50 you can't go wrong and it does all the basics. My brother even plays Clash of Clans and Pokemon Go on his Blu R1 HD and it handles it without any issue. GPS Navigation ,Bluetooth music, web browsing, email, facebook, etc. That's why I keep one in my desk for a backup in case my Nexus 6P ever is unavailable.

Dang I had to look that up. For $10 more ($60) you can double the storage and ram to 16 GB and 2GB. That's a crazy deal. I might get one of these just for a backup and something to play around with

When you say you flashed stock, what exactly do you mean? Cyanogenmod, or were you able to get the original on it from Blu?

How did you root it??? I've been trying to root my Gionee M5 Mini for a long time now and it seems impossible to root

I understood that one can wait until your local T-Mobile has replacements then turn it in.

these phones are kinda of expensive considering you're only gonna use them for a week or 2. I'd just get a blu R1. Posted via the Android Central App

Even $200 isn't exactly cheap, since for all intents and purposes you'd likely only be using it for a couple of months. Which would be paying $100/mo for a temporary device. I'd sooner look for a loaner if I didn't already have a box/drawer full of unused smartphones.

I would actually opt for the Blu R1 HD over the Moto g4. I had both and had weird overheating issues with the g4 that I don't have on the R1. Plus $50/60 is way better than $150 when is a phone you don't plan to use full time.

I was going to suggest picking up a cheap, used smartphone on swappa.com, but after reading about the Blu R1, I would suggest that!

You really think I'll pay $200.00 for a damn phone with an AD lock screen? STFU
Has to be the DUMBEST idea/choice ever.

Wow thats crazy,you'd think after that 50 dollar phone or whatever it is,having a phone with ads,especially a Moto G would be like 100 for a 16gb model.

Galaxy s5 is still surprisingly solid after the 6.0 update. I wouldn't suggest it over other old phones you could buy though. I bought my Nexus 6 for 200 and I think it's much better than the 5x.

or maybe wait until the Note 7 replacement in a week. THe chances of your phone exploding or melting is probably less than 1%.

One of those old flip phone joints though. Just talk and T9 text.lol

I picked up a a Nextbit Robin when it was on sale for $200. It is an amazing phone for that price.

I recently bought the zte Zmax pro for $40 with port in and one month service. Very good phone especially considering the price. 6" fHD display with 2.5d glass, s617, 3400mah battery, 2gb ram, 32gb internal, fingerprint scanner. I like it better than my moto g4 plus.

Moto E. $99 bucks on Amazon. I bought one while waiting for my LG G4 to be replaced and was pretty impressed. Instead of selling it when my G4 came I decided to keep it as a spare.

I bought a Moto E brand new at Family Dollar for $29 and love it. Great phone for a cheap price I mean $ 29 !

I know I love my Nexus 5X. I don't care if the line's name is changing. It's still supported by Google, and after that there is endless amounts of ROMs for Nexus devices on XDA.

Exactly, it's like a new phone on Nougat. Don't plan on getting rid of my 5x until it is no longer supported.

Sounds awesome! Mine hasn't got Nougat yet, but should any day soon. I got it on my Nexus 9 and love it, though. I think it's a great phone for it's price range.

This is why I keep my OnePlus One in a drawer. But thankfully the S7 escaped this plague haha

BlackBerry DTEK50. Same chip as G4 with better build quality, unmatched security, great speakers, screen and Nexus like security updates.

Will use my Note7 till replacement. I am being careful

Stop with this "gift it" nonsense. Just GIVE the phone to your child, mother, sister, etc.

ZTE Axon 7. I'll really quite surprised that you did not recommend it as one of the budget phones.

I have a Galaxy J7 and I'm damn happy with it!
Android Central Newsletter
Get instant access to breaking news, the hottest reviews, great deals and helpful tips
Thank you for signing up to Android Central. You will receive a verification email shortly.
There was a problem. Please refresh the page and try again.