Best Bluetooth Headphones for Oculus Go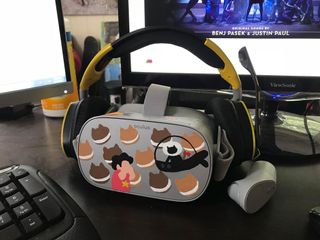 VICSOME True Wireless (opens in new tab) are currently the best headphones you're going to find for your Oculus Go. From the noise-canceling abilities to their ability to seem like they're not even there, these are the perfect fit for the best immersive experience for your virtual reality adventures.
VICSOME True Wireless Earbuds
Why the Visome headphones?
Why you can trust Android Central Our expert reviewers spend hours testing and comparing products and services so you can choose the best for you. Find out more about how we test.
Whenever we play VR we want to feel, see, and interact with as little of the real world as we can. Visome delivers this effect by being small enough that you'll completely forget that they're there. Besides, the noise-canceling alone is enough to sell me. One of my biggest problems when getting into horror games in VR is always still being able to hear my roommates chatting and cutitng all that extra noise out will only let me get into the game more.
Why would you want Bluetooth headphones for your VR headset?
When using your VR headset, the biggest problem you'll encounter is immersion, whether it's hearing the world around you to accidentally bumping your knee on a coffee table. Every little thing we do to help that truly makes a difference. So, while you can move your furniture to make more room for walking around, you can also upgrade your sound options to better improve your gaming sessions.
Outside of using these headphones for your VR sessions, they also come in handy in your everyday life as well. Bluetooth headphones are perfect for taking your morning train, plugging in to tune out, or even daily runs. The more comfortable and durable they are, the more uses you can get out of them. However, buying Bluetooth headphones can be an investment, so you want to make sure you get the best option for you.
While wireless earbuds are the most comfortable for some, others might prefer over-the-ear. Regardless of your preference, there's a set of headphones for you. Use them with your Oculus Go, your phone, computer, and more!
Alternatives to the Visome headphones
If the Visome headphones aren't for you, you can always check out the Mpow H5 Bluetooth Headphones or the Hussar Magicbuds. The Mpow H5 is my go-to pick for actual headphones instead of earbuds, and the Hussar Magicbuds will surely form to anyone's budget. So, whether you have a different preference, or don't want to spend as much, I've got a few options for you.
Mpow H5 Bluetooth Headphones
The best over-the-ear option
Comfortable
Noise canceling
Almost like they're not there
Fast charging
Long lasting battery life
Built-in microphones
Pieces are small and could easily be lost
Charging is a hassle if you lose the device
These over-the-ear headphones are also noise-canceling and made of comfortable protein fibers to not only be comfortable, but durable. If you're more of a fan of headphones instead of earbuds, these are the choice for you. I've even used these headphones while watching ASMR videos on YouTube while trying to sleep. Trust me, if they're comfortable enough to sleep in they're perfectly fine for VR games and experiences.
Hussar Magicbuds
Save your money with a semi-wired option
Bottom line
The VICSOME True Wireless (opens in new tab) is the best choice. The price isn't too crazy and, for their intended purpose of VR, they're virtually undetectable. The$60 price tag doesn't just get you a great pair of earbuds for your Oculus Go, but also one for your everyday use. That's really what we're looking for when we're getting new technology anyway, right? Making sure they have multiple uses and get us the most bang for our buck. Any of the options above would be a great choice, but earbuds will always be my number one.
Credits — The team that worked on this guide
Essa Kidwell is a writer for Windows Central, iMore and Android Central. She's an avid PC, PlayStation, Nintendo Switch, Virtual Reality, and Xbox gamer. Outside of her love of technology, she runs Zombie Apocolypse LARPs (Live Action Roleplay) for Dystopia Rising by creating and running game content. You can follow her on Twitter @OriginalSluggo.
Tom Westrick is a U.S.-based freelancer. He's been poking and prodding at Android phones since 2011, and covering various topics for Android Central since 2017. He can often be found with multiple laptops in his backpack and a cup of iced tea in his hand. Follow him on Twitter: @TomWestrick1.
Essa Kidwell is an expert in all things VR and mobile devices who can always be found with an Oculus Go, a Pixel 2, and an iPhone 7+. They've been taking things apart just to put them back together for quite some time. If you've got a troubleshooting issue with any of your tech, they're the one you want to go to! Find them on Twitter @OriginalSluggo or Instagram @CosmeticChronus.
Android Central Newsletter
Thank you for signing up to Android Central. You will receive a verification email shortly.
There was a problem. Please refresh the page and try again.