Best Android Apps for March 2014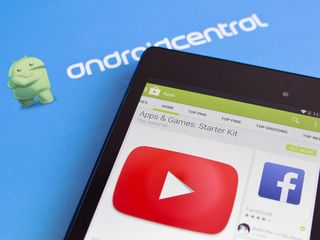 We've got the best social, utility, and customization apps for Android launched in the last 30 days right here
In our ongoing quest to bring y'all the bestest the Google Play Store has to offer, we're going to start rounding up our favorite Android releases every month.
Often these round-ups will include big releases that you might have missed throughout Android Central news stories or our picks of the week, but we'll try to dig up some hidden gems for you too. We've already rounded up the month's games, if you're looking for more.
For March 2014, we've got a nice spread of apps. A bit of learning, a bit personalization, and a bit of social to check out. Go ahead and dive in!
Facets
I regularly get comments from folks asking where I get the awesome wallpapers for some of my hero photos. I've stayed quiet because it's as close to being an exclusive fashionista as I can bring myself to be, but now that the artist has his own app out, complete with Muzei support, he deserves a big shout-out. Facets for Android showcases 365 high-res wallpapers by Australian artist Justin Maller. He's been churning out one every day for a year, each in a signature 3D style. The bulk of them are abstract, but he's got quite a few excellent pieces of animals, objects, and people. You can sort through the collection based on filters for mood, concept, and the month the image was released. It's worth giving this guy a buck for these excellent wallpapers, and if you find something particularly striking, be sure to order a print from within the app.
Link Bubble
Link Bubble is a surprisingly simple but useful app that loads up web pages in the background, so you aren't constantly bounced around with redirections or pulled away from what you're currently reading. When you click a link, a Facebook Chat Head style bubble pops up on the side, showing the loading progress. When it's done, it's automatically opened, or you can move that bubble to a Pocket icon to read it later. The free version lets you open three tabs at a time from one app, while the premium version works with all apps and has unlimited tab support. If you spend a lot of time reading web content on your phone, this will make your life much, much better.
Coursera
Coursera launched a full-fledged, totally free video education app on Android this month. You can catch lectures from proper educational institutions on a wide range of topics, including computer sciences, humanities, engineering, and everything in between. Courses are broken up into multiple lectures, users take interactive quizzes, and ultimately learn something new. Assignments are peer-reviewed, but you're mostly on the honor system when it comes to whether or not you cheat to complete them. Ultimately, this is a fantastic way to learn on your own time without dropping a ton of cash.
Timehop
Timehop is an interesting little social app that lets you see what you were up to on your social networks in years past. It pulls updates from Facebook, Twitter, Foursquare, and Instagram from exactly one, two, and three years ago to the day. It's a simple premise, but a nice way to get a casual, daily dose of nostalgia, assuming you're active on these social networks.
Fiverr
Fiverr is a service that's been around for awhile as a matchmaker between those looking to do odd jobs and those willing to pay them. Originally, these were micro-tasks valued at five bucks each, but the service has since expanded to include bigger payouts. The recently-launched Android app allows users to stay in touch with their employers, post jobs, find gigs, and get important notifications. If you're looking to make some quick money on the side, or need a small job done fast, Fiverr's a good place to start.
Milk Music is also worth checking out if you're in the U.S. That's about it for March's Android apps, but be sure to leave a comment with your favorite new releases from the last 30 days.
Get the Android Central Newsletter
Instant access to breaking news, the hottest reviews, great deals and helpful tips.
Simon has been covering mobile since before the first iPhone came out. After producing news articles, podcasts, review videos, and everything in between, he's now helping industry partners get the word about their latest products. Get in touch with him at simon@futurenet.com.