The best Android apps and games of the week: Spider-Man Unlimited and more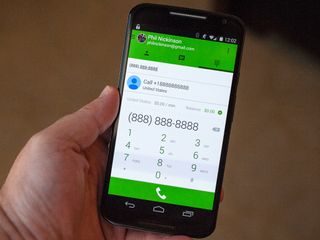 We had a great week full of new Android apps, even among all of the iPhone 6 hubbub. We've got an old-school RPG this week, an unexpected game from Cisco, and an awesome app from Comedy Central with support for full episodes.
We've got five new games and five new apps for your consideration, and as always, we're eager to hear what you've been able to dig up in the Google Play Store. If you're ready to get downloading, here are our picks from this week.
Lego Star Wars Yoda 2
Why you can trust Android Central Our expert reviewers spend hours testing and comparing products and services so you can choose the best for you. Find out more about how we test.
Lego's adorable Star Wars games keep on trucking with the latest iteration. Players pick the Light Side or the Dark Side and dig into a variety of game types, including zooming around in familiar spacecraft like the land speeder and B-wing, blasting your way on foot in the trenches of Hoth, and free-falling through the midst of blaster firefights.
It doesn't really matter if you're a Lego fan, Star Wars fan, or you're a kid at heart; Lego Star Wars Yoda 2 offers a little something for everyone. Be sure to check out the first Lego Star Wars game (opens in new tab) for more.
Ice
Ice is a minimalist strategy game along the same vein as Eufloria (opens in new tab). Players conquer planets with a fleet, generate more troops from those planets, and move on to take over neighbors. You'll need to be smart about consolidating troops to defensive positions as enemy fleets move to your strongholds. Up to five armies can be active on the sprawling networked battlefield, which can make for some really epic battles. Though the game is free, a single in-app purchase unlocks bigger worlds and gets rid of ads.
Net Invaders
You don't really think of Cisco when you think of tower defense games, but they've made one free with no in-app purchases that will tickle any networking pros out there. In Net Invaders, players set up defensive towers to prevent trojans, spyware, worms, and other malicious software from finding their way to your precious data. Progress through various infrastructure types, like mobile workforces and data centers, to take on bigger and badder challenges.
Though it's easy to interpret Net Invaders as simply pushing Cisco products, the gameplay is pretty good, and the premise isn't one you'll see often. Even if you aren't into networking, Net Invaders might teach you a thing or two about security.
Dragon Quest
The original Dragon Quest game has been ported by Square Enix to Android, much to the delight of old-school gamers. Unlike the mobile adaptation of Dragon Quest VIII (opens in new tab), you'll bump into very little remastering here. All of the original sprites and sound effects are here to take you on a classic RPG journey,
For gamers looking for a dose of nostalgia, Dragon Quest for Android is a no-brainer.
Spider-Man Unlimited
Spider-Man Unlimited is an endless runner featuring Marvel's famous web-slinger. Players have to chase down members of the nefarious Sinister Six while swiping to avoid incoming obstacles, take down goons, and gather power-ups. Over time, you gather up other Spider-Men from parallel universes, each with their own signature looks and in-game bonuses. An energy mechanic is in place, limiting how many runs you can make in one sitting, plus in-app purchases are available for accelerated progress.
Comic fans will definitely appreciate the snappy one-liners and wide variety of characters in Spider-Man Unlimited.
123D Catch
123D catch allows users to dynamically build 3D models simply by taking photos of an object or scene at various angles. Data from images are shot up to the cloud and processed there. It's easy to think of this Autodesk app as a convex Photo Sphere, or a poor man's Project Tango. Models can be exported into a wide variety of editor-friendly formats, or shared out to the 123D Catch comunity, viewed through the paired web service, and shot out to a 3D printer, if you want to get the object recreated.
Hangouts Dialer
Hangouts Dialer brings together your texting, instant messaging, voicemail, voice calling, and video calling. It ties in with your Google Voice number, so you can make calls over your local Wi-Fi network all across Canada and the U.S. for free. You'll need Hangouts proper (opens in new tab) installed in addition to the Dialer to get the full functionality offered here, but in the end, it's totally worth it.
Comedy Central
Comedy Central has launched a new app to catch up on great shows like Key & Peele, the Colbert Report, and @Midnight. Full episodes are viewable with no cable service required. There's no Chromecast support just yet, but it's on the way. You may bump into some region restrictions, but in the U.S. you should be fin.e
Comedy Central pumps out some seriously high quality shows, and it's most definitely worth grabbing their app to keep watching.
Sup
Sup is an interesting little social networking app that allows friends to view live video feeds through one-anothers' cameras for 10 seconds at a time. After a request is accepted, the viewer gets to send rough directions, like look left, move forward, or shoot a selfie. "Likes" can sent when you see something cool, and once the ten seconds are up, nothing is saved.
Sup is a really neat idea and could be lots of fun for keeping in touch with friends who are away somewhere interesting.
Ultralingua Bookshelf
Ultralingua Bookshelf is the alpha and omega of dictionary apps. It acts as a storefront for just about every kind of word reference you might need. There are over 35 dictionaries available, including Collins and other big names, with full selections available offline. You can find antonyms, definitions across multiple dictionaries, translations, conjugations, pronunciation guides, and just about everything else you could possibly want.
Real word geeks will find themselves using Ultralingua Bookshelf often.
Your favorite new Android apps and games?
Have there been any new releases in the Google Play Store that you're really into? Drop a comment and let us know!
Get the Android Central Newsletter
Instant access to breaking news, the hottest reviews, great deals and helpful tips.
Simon has been covering mobile since before the first iPhone came out. After producing news articles, podcasts, review videos, and everything in between, he's now helping industry partners get the word about their latest products. Get in touch with him at simon@futurenet.com.
Destiny app. Posted via Android Central App

Good...dictionary pack n game....Sup Posted via the Android Central App

Ice reminds me of Galcon. Posted via the Android Central App

BTW, MAMC Is free on Amazon app store Posted via Android Central App

Really good and nice graphic is Red Bull Air Race The Game -- Developer »Red Bull« HTC Desire S»HTC Desire HD»HTC One S»HTC M8 (Naked)

Comedy central app looks amazing Posted via the Android Central App

There's plenty of remastering in the Dragon Quest port. Those are sprites from the SNES version. Not the NES. But it looks like they're using the NES translation and not the updated one from the GBC port. Posted via Android Central App

Textra just got a major overhaul and is an awesome, lightweight SMS app with Material Design. Definitely worth a FREE, no-ads look, and I'm just a happy user. Posted via Android Central App

Thanks for this. I couldn't stand the way it use to look, too plain. Time to give it another shot although Hangouts looks awesome now. Posted via Android Central App

Ice is great Posted via LG Optimus G or LG G Pad 8.3

Heads up you can make Wi-Fi calls on Hangouts without a GV #! Posted via Android Central App

It's not clear at all whether people outside north america can use Hangouts to make voice/video phone calls; all we hear about is Google Voice but nobody outside the U.S. and Canada knows about it. Posted via Android Central App

I am having a terrible time with the new Hangouts Dialer. The audio is terrible and I cannot hear but every few words that the other person is saying. Is anyone else having this issue? It does the same thing on both LTE and WiFi. I have a Verizon LG G2 stock rooted running 4.4.2. Any help would be great.

Same here, but, I can here my wife just fine but i sound cartoonish to her, everyother word missing. Posted via Android Central App

What phone/network are you using?

Tried to use Hangouts dialer, had to upgrade to hangouts 2.3. Hangouts 2.3 is not compatible with Nexus 5. Huh?

I installed the required Hangouts 2.3 on my Nexus 5 just fine. just FYI. (Canada)

I uninstalled it with Titanium, still got an incompatible device error from Play store so I just found the APK and side loaded. Working great now.

Ugh. I just can't read the articles here anymore. I will not hit next to see the next item on the list. Please just post them to one page. This format sucks.

They are posted on one page.

I'm wondering why anyone would use Sup and require their friends to use the app too when Hangouts is more readily available and would work just fine. I don't get it.