Best accessories for Samsung Gear S2 and Gear S2 Classic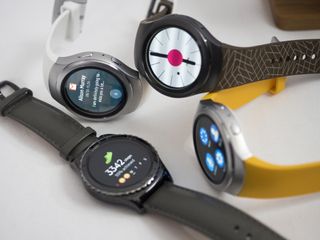 Your Samsung Gear S2 deserves some stellar accessories. From unique bands to carrying cases, we've found the essential accessories that you're going to want to get your hands on.
Watch bands
Why you can trust Android Central Our expert reviewers spend hours testing and comparing products and services so you can choose the best for you. Find out more about how we test.
One watch band is never enough. Get one for every occasion or try out as many different materials as you can. Just keep in mind that watch bands are made to fit either the Samsung Gear S2 or the Samsung Gear S2 Classic.
Samsung Gear S2 bands
V-MORO rubber watch band
To give your Samsung Gear S2 a sporty look and feel, have a look at the bands from V-MORO. With seven solid colors and patterns to choose from, there's a band to match every look and mood.
The elastomer rubber is softer and more pliable than standard silicone bands and won't irritate or rub uncomfortably on your wrist. Wear it to the gym or with your favorite casual clothes for a fun look any day.
See at Amazon (opens in new tab)
Casetify
For band patterns you won't find anywhere else, look no further than Casetify. Known for their original artwork, the brand has crafted five bands for the Samsung Gear S2 that are sporty, fun, and stand out from the crowd. Pictured here is the Woodland Camouflage pattern.
You can order your bands in small or large sizes, so pay attention to the sizing chart that accompanies each pattern before your make a purchase. They ship for free worldwide and make a fantastic gift for a friend or a treat for yourself.
See at Casetify (opens in new tab)
Samsung Gear S2 Classic bands
eLander stainless steel band
The classic look of stainless steel links pairs perfectly with the Samsung Gear S2 Classic and this band from eLander is a standout example. It's available in silver, but the stainless steel black is equally beautiful.
It comes with a toolkit for removing extra links and fits virtually any wrist. The clasp locks securely so your watch won't jostle around on your wrist and it's an excellent dressed-up alternative to the standard leather band, at a reasonable price.
See at Amazon (opens in new tab)
Casetify
Coming soon to Casetify's online store is the collection of bands for the Samsung Gear S2 Classic. Samsung's official site has been teasing them for some time now and it looks like they're going to be worth the wait.
The patterns are fun, unique, and tailored specifically for the Gear S2 Classic. Five vibrant patterns are on deck; pictured here is the Diamond White pattern. Get on their mailing list for a notification when the bands are ready to order.
See at Casetify (opens in new tab)
If these don't catch your fancy, check out more of our favorites in our roundup of the best watch bands for the Samsung Gear S2 Classic.
Screen protectors
You didn't spend your hard-earned money on your Samsung Gear S2 or Gear S2 Classic to get the face all scratched up. Put a screen protector on it!
Spigen tempered glass screen protector
Spigen is known for creating products that fit well and protect your gear. Their tempered glass screen protector fits both the Samsung Gear S2 and Gear S2 Classic and helps to stop your watch face from scratching, cracking, and overexposure to the elements.
It comes with easy-to-install wings so that you don't get gunk or fingerprints on the underside of the screen protector. The edges won't lift up on you and the tempered glass is incredibly thin, maintaining the touch sensitivity of the screen.
See at Amazon (opens in new tab)
Skinomi TechSkin screen protector
An alternative to tempered glass comes from Skinomi SkinTech. It still protects against incidental scratches and daily wear but is thinner than tempered glass and designed to be replaced if or when necessary, which is OK, since you'll receive six for the price of one.
The edges of the screen protector won't roll up and the TPU is UV-resitant, which means won't yellow over time. It remains virtually invisible to keep the original clarity of the screen as it should be.
See at Amazon (opens in new tab)
Charging docks
Get something nice to hold your watch while it charges. A charging dock keeps in in sight and displayed for bragging purposes, and wireless charging docks mean there's no need to tediously plug in your Gear S2 or Gear S2 Classic every night.
Samsung Wireless Charger Dock
Samsung offers their own white or black charger dock (opens in new tab) for the Samsung Gear S2 and Gear S2 Classic. If you're feeling brand-loyal and want to stick to the product line, it's a well-reviewed charger for the price.
The cradle holds the watch securely on any flat surface, like your office desk, coffee table, or nightstand and it doesn't obstruct your view of the watch face, allowing you to show off the band you're currently using.
See at Amazon (opens in new tab)
Henoda charging cradle
Take your pick of five colors when you buy a charging cradle from Henoda. It's small, lightweight, and made of soft rubber that will be easy on your Samsung Gear S2 or Gear S2 Classic.
The non-slip base will keep the charger in place on any flat surface, and if you already have a charger or cradle that you use at home, the Henoda is a great alternative for travel or to keep at your desk.
See at Amazon (opens in new tab)
Bluetooth headphones
On your morning commute, your daily jog, or just around the house, Bluetooth headphones come in awfully handy when you're wearing your Samsung Gear S2 or Gear S2 Classic.
Samsung Level U Pro Bluetooth headphones
Treat yourself to the Level U Pro headphones from Samsung. Available in black, blue, purple or bronze, they are well-designed and pair perfectly with the Samsung Gear S2 and Gear S2 Classic.
The joints are flexible and the headphones is lightweight and comfortable, as well as sweat and water-resistant, so a long run or a quick dash out into the rain won't do any harm. The battery life has up to nine hours of talk or play time, which is more than enough to get you through the day with vivid, concert-quality sound.
See at Amazon (opens in new tab)
SoundPEATS QY7 Bluetooth headphones
Choose from 10 color combinations with headphones from SoundPEATS. Designed for active users, they fit snugly but comfortably in-ear and won't move, no matter how much you do.
Eight hours of talk or play time means you won't be searching for a way to charge them throughout your work day or your workout and the sweat-resistant material won't get sticky or uncomfortable. No matter how active you get, the Bluetooth connection won't waver.
See at Amazon (opens in new tab)
Carrying case
Your watch won't always be on your wrist. A carrying case will give you a safe place to put it when you're not wearing it.
BSI black leather case
Compact and lightweight, this leather case from BSI will protect your Samsung Gear S2 or Gear S2 Classic when you need a safe place to store it. The outer case is a hard shell that can handle being tossed into your gym bag, carry-on, or suitcase.
The inner case is lined with soft fabric, so your watch won't be damaged when you're on the go and there's even room in the middle of the case to coil up and store a charging cable, so you don't have to rummage around the bottom of a bag to find it when you need it.
See at Amazon (opens in new tab)
CASEBUDi watch travel case
How about a case made of ballistic nylon? They exist, they're inexpensive, and they do the job well. CASEBUDi makes travel cases for watches of all sizes and the Samsung Gear S2 and Gear S2 Classic will fit nicely.
The soft interior cushions your watch when the case gets tossed around in your bag, and the zipper and case come with a one-year warranty, so if the case is damaged in the process of protecting your watch, you can get a replacement easily.
See at Amazon (opens in new tab)
Found your favorites?
Have you come across some excellent accessories for the Samsung Gear S2 or Gear S2 Classic? Let us know in the comments below and tell us why they're the best of the best!
Android Central Newsletter
Get instant access to breaking news, the hottest reviews, great deals and helpful tips
Marc Lagace was an Apps and Games Editor at Android Central between 2016 and 2020. You can reach out to him on Twitter [@spacelagace.
Overall great list, but I'm having a hard time wrapping my head around the concept of a carrying case for a watch.

Have the black stainless band from Amazon. Works and looks great and use it for all pictures of our watch faces. Can check photos out here on Instagram: https://Instagram.com/infinitywatchfaces Posted via the Android Central App

Advertise much for yourself? It's not on all photos and clearly your comment was more about bait clicking to see the watch faces you sell.

I just got the V-Moro band in gray. The original band broke and I got this to replace it. The color is slightly different than the original but the band is super soft and stretchy. Not bad for the money. I world recommend it if someone asked. I just ordered the Spigen screen protector after reading this though. I had a different brand from Amazon but it just cracked. Posted via the Android Central App

WHERE'S SAMSUNG PAY!?! Posted via the Android Central App

Samsung never bothered to make Samsung Pay available on the Gear S2 as promised. They promised availability in Q1 and then in the first half of 2016 and it hasn't happened yet and I'm not expecting anything like a useful version to appear on the S2 at all. Not after hints that we'll have to wait for the S3 to see a full featured version of Samsung Pay on a smartwatch. For me, the killer app for my 4G Gear S2 Classic was the long promised by the end of Q1 Samsung Pay. Samsung Pay on the phone just isn't all that handy, if I have to fish out my phone I may as well just pull out my wallet. Swiping my watch would much-much handier. I can buy message delivery watches and Fitbit's for a small fraction of the price of my SM-R735t Gear S2 classic so as far as I'm concerned Samsung dropped the ball and failed its customers.

Just got my Gear S2 classic on Friday. Loving these posts about it the last couple days. Keep them coming! Posted via the Android Central App

I have a Gear S2 waiting on my porch right now. This last hour of work has been TORTURE!!!

No mention of the watch strap adapter? Posted via the Android Central App

Because it is only available in a few countries , and I haven't seen them online anywhere to order.

This is a really nice roundup, but what's missing are watch bands for T-Mobile's SM-R735t version of the Gear S2 Classic. All or almost all of watchbands are for SM-R732 non-3G/4G S2 Classics and specifically state that they will not fit the 3G and 4G watches. The Q&A section for the eLander that you linked hints that this one might fit, but since the Amazon page is for several styles and only promises to fit the SM-R732 it's hard to say if this one will work. It would be really nice if you could do a follow-up with some options for the SM-R732t. Thanks!

I have the tmobile classic. Every "standard" 20mm band has fit with no issues.

The leather S2 Classic band is $19.99 at Best Buy, $40 off the normal $59.99 price. I picked up a brown one today.

isn't the watch itself already an accessory for my phone?

Yeah but wouldn't you want an accessory for your accessory? You can even get a case or extra charger for the wireless headphones and then have an accessory for your accessory's accessory.

How do you guys like your S2? Do you find it useful?
I wore the lg urbane for almost a year but finally sold it...I found limited use, hated having to charge yet another device daily and Google Voice did not work (most times it would say that it was offline). Posted via the Android Central App

I like the notification feature of the Gear S2 because it's handy to see who's calling me or texting without my phone out of my pocket. But you can get that same feature plus 3-4 days of battery life from a $30 Martian Notifier. What the 3G and 4G versions of the S2 bring to the table is that they are themselves a smartphone. If I forget my phone at home I still have access to my messages and still have the ability to make emergency calls directly from my watch. Battery life sucks when you use it as a phone but it's a nice security blanket feature.

I like mine so far, but I've only been using it for 1 full day. Mine isn't the 3g so I need my phone for it to work properly. I'm not sure the added cost is worth the slight chance that I might need to make a phone call on my phone, so that wasn't a big deal for me. However, I've had to get used to using the native Samsung apps again so that the email and text apps work properly on the watch. That's not a huge deal, but if you're somebody who absolutely has to use Textra or Inbox (for example) that might be a deal breaker. S Voice on the watch has worked very well so far, I used it to send a text message to my wife while I was driving (using a device while driving can get you a ticket here in California).

What's with all these recycled articles? Is AC broke? Is everyone fired?

"wireless charging docks mean there's no need to tediously plug in your Gear S2 or Gear S2 Classic every night" Yeah, plugging a Micro USB plug directly into my Gear S2 Watch is something I'd love to stop doing...
Android Central Newsletter
Get instant access to breaking news, the hottest reviews, great deals and helpful tips
Thank you for signing up to Android Central. You will receive a verification email shortly.
There was a problem. Please refresh the page and try again.