Aukey's $14 USB Outlet has a built-in night light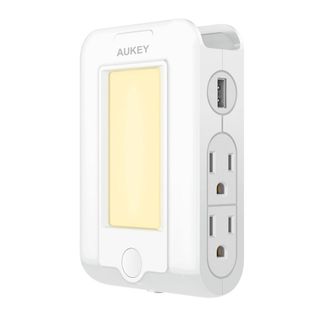 Getting up in the middle of the night can be perilous. Why not put your bedside AC outlet to better use? This Aukey USB Outlet (opens in new tab) has a built-in night light to help prevent stubbed toes and 3AM cursing, and today you can drop it from $19.99 down to just $13.99 when you apply coupon code PSZBPLEG during checkout at Amazon. That's a match of the best price we've shared for it. You'll need to either spend at least $25 or use Amazon Prime (opens in new tab) to skip any shipping fees.
(opens in new tab)
Get in on a match of the best deal we've shared for this item, which has great reviews and tons of features. Charge up your gear using various AC and USB ports, and prevent stubbed toes thanks to the built-in night light.
This well-rated charging station (opens in new tab) turns a single standard outlet into four AC outlets and two USB ports. That means you'll be able to charge your phone, power your TV, top off your smartwatch, and still have room left over. The additional AC outlets are nice too since this gadget will cover the whole wall plate. Each USB port is capable of charging your devices at a total output of 2.1A. There are 300 Joules of protection to guard connected gear from surges and spikes as well.
The convenience doesn't end there, though, as this charging station also features a built-in night light. It will automatically glow with a soft yellow light from dusk to dawn or whenever ambient light is needed. Not only will you be able to make your way to the bathroom in the middle of the night with ease, but that function also illuminates the wall outlet so you can see it more clearly. The light has a power button that allows you to turn it off completely, too. Finally, the station has a phone holder built right in so you can rest your device on top of it instead of on the floor or some other precarious place.
For more bedside lighting, check out this discounted color-changing Aukey table lamp.
Louryn saves money on everything she buys (which is a lot.) In between waiting for Amazon deliveries, she pines for the next Elder Scrolls installment and checks Reddit for gaming rumors. She also loves Hearthstone, makeup, and beer. Find her on Twitter: @lourynstrampe
Android Central Newsletter
Thank you for signing up to Android Central. You will receive a verification email shortly.
There was a problem. Please refresh the page and try again.