Ara's Favorite Tech of 2017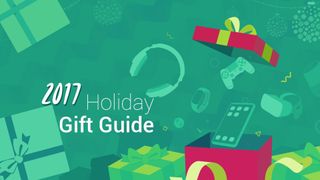 Ara's Favorite Tech of 2017
It's been a year with a lot of fun tech in it, but the amount that's passed through my hands is relatively small compared to my colleagues. So many new phones and an explosion of smart home devices have meant that there's never a moment technology is not touching our lives. There are some new toys that have grown near and dear to my heart, and I'm here to share them with you.
Samsung Galaxy S8
I miss carrying this phone every day. I miss its tall home screen while I'm browsing Twitter or typing out articles at the bar. I miss its gentle curves as it sat in my pocket. I miss its remarkable camera and whip-quick responsiveness … the GS8 wormed its way into my heart for the two months the SIM card in it worked, and if I could carrier unlock it, it's what I'd be rocking each and every day. It made my themes look better and helped me get more done.
$729 Buy now (opens in new tab)
Samsung LevelOn Pro
I've been on the Bluetooth bandwagon for years, but usually settled for cheaper, more compact models that can easily hang around my neck. This year, I was given a nibble of posher, active noise canceling headphones, and I AM NEVER GOING BACK. The Samsung LevelOn Pros fit beautifully, block plenty of noise even without ANC turned on, and the touchpad controls are heaven. Being able to smoothly shift the volume up for a section you need blasting or down during the commercials on a broadcast is addictive and I miss it terribly when I return to my compact headphones, mashing the volume buttons like a Neanderthal.
$167 Buy Now (opens in new tab)
TicHome Mini
Ever since I laid hands on a Google Home, I've had one desire: I want a battery powered model so I can take it from room to room without having to reboot and re-cast whatever I was listening to. Enter the TicHome Mini, which is about the size of a Google Home Mini, with a single down-facing speaker, four easy-to-spot and use buttons for volume, commands, and power/muting. The battery lasts about 6 hours away from a charger, but that's fine, because it still needs your home's Wi-Fi so you won't be going too far with it. It uses the same Micro-USB that most Android peripherals still use, so you won't be hunting down a proprietary charger like the original Google Home uses. If you've got a kid who'll want to bring Google into a pillow fort for Disney storytelling or bring it to their bedroom for help during homework, then a TicHome Mini should be great, and the IPX6 splash resistance means that it should hopefully stand up to a rough and tumble household.
$99 Buy Now (opens in new tab)
Movies Anywhere
I've been a fan of Disney Movies Anywhere since it came to Android years ago, and this year came the next big jump for the service: getting other studios on board. Enter Movies Anywhere, which drops the Disney name and adds four other major studios. If you still buy movies — and I know that club is shrinking — the first thing you should do if you think you want to buy one is go check the Movies Anywhere app to see if it's supported. If it is, you can now comparison shop between the four digital stores and any stores selling DVD/Digital combo packs and see who had the best deal. If it's not supported, buy a different movie.
Disney Emoji Blitz
I don't have the time or the console/proper PC to invest in more hard-core gaming, but I confess that in the last year and a half, I have developed a slight addiction to a mobile game that should surprise absolutely no one: Disney Emoji Blitz. It's a match-three game that uses Disney character emoji rather than gems or candy as the pieces. Even better, every emoji you unlock in the game is added to the Emoji Blitz Keyboard you can use to share Disney Emoji with your friends and family online. I'll be the first to admit the Emoji Blitz keyboard needs some work, especially in regards to the thousands of object emoji that have been unlocked over 18 months of gameplay and item challenges. Speaking of challenges, Disney Emoji Blitz has increased the frequency and variety of the challenges it presents, going from about one a month to about one a week. In a year, there's only been one bad event, and there have been dozens of new and useful emoji added, including expansions for Little Mermaid and the current Frozen expansion event.
Phonster X
Pockets on women's jeans are becoming increasingly incompatible with modern smartphones, and while there may be less conspicuous holster options out there, the Phonster X sets a statement while comfortably holding your phone, wallet, keys, and maybe some mints or pepper spray. There are basically two models of shoulder phone holsters on the market: the LD West and the Phonster X. The LD West has the straps snap directly to the elastic holster straps. The Phoster X features four loops on the underside of each pouch, which are looped through the snap-secured non-elastic backstraps. By having non-elastic straps, the Phonster X doesn't bounce around quite so much while jogging or dancing, and the swiveling loops on the pouches help the holster lie better against your body. They're not for everyone, but they are for me. Fewer people mess with a girl wearing a holster, even if it's not packing a gun.
$109 Buy Now
Ara Wagoner was a staff writer at Android Central. She themes phones and pokes YouTube Music with a stick. When she's not writing about cases, Chromebooks, or customization, she's wandering around Walt Disney World. If you see her without headphones, RUN. You can follow her on Twitter at @arawagco.
The Buy Now link of the Phonster takes you to a malicious web page. Please update or remove.

It does direct to Phonster's store. Seems they have a bad ad on their mobile site.
Android Central Newsletter
Get the best of Android Central in in your inbox, every day!
Thank you for signing up to Android Central. You will receive a verification email shortly.
There was a problem. Please refresh the page and try again.