Not all power strips are made equally, and many of them are made without one thing that would make them much more efficient: USB ports. There are some great options you can find on Amazon that now include them, such as Anker's PowerPort Strip 3 with 3 USB Ports. It's on sale today for just $18.99 there, saving you $7 off its regular cost. This is the first time it's been available this affordably, too.
More Power To Ya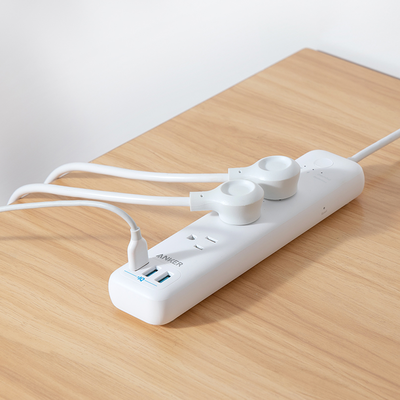 Anker PowerPort Strip 3 surge protector with 3 USB Ports
Anker's PowerPort Strip 3 is made with the future in mind. Quit buying outdated power strips and pick up one that lets you plug USB charging cables directly into it instead.
$18.99 $25.99 $7 off
With three AC outlets and three USB charging ports, you'll be able to power up to six devices at once from a single wall outlet. The AC outlets are spaced apart to allow for bulky plugs to fit beside each other, while the USB ports feature PowerIQ to provide an optimized charge per device at a maximum output of 18W total for the three ports combined. Along with advanced surge and overload protection, this power strip also features a fire-resistant casing and a safety switch to keep you and your connected devices safe. It has a 5-foot power cable and comes with an 18-month warranty.
Though this product is still new, early reviews are pretty great.
We may earn a commission for purchases using our links. Learn more.