Android 8.0 Oreo coming to Galaxy S6 series and Note 5 on T-Mobile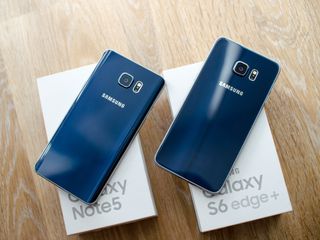 Samsung and software updates go together like oil and water. The company's been infamous for years in regards to the speed and longevity at which it updates its existing hardware, so it's a pleasant surprise to see that the entire Galaxy S6 series and Galaxy Note 5 will, in fact, be updated to Android 8.0 Oreo.
If you head to T-Mobile's support site, you can see that the Galaxy S6 (opens in new tab), S6 edge (opens in new tab), S6 edge+ (opens in new tab), and Note 5 (opens in new tab) all show that their current software phase is complete for "Version 8.0 Oreo." This means that T-Mobile and Samsung have both agreed to support Oreo for these devices, and considering that the S6 and S6 edge will be three years old this April, that's pretty incredible.
It's unclear at this time if other carriers in the U.S. will follow in T-Mobile's footsteps, and there's also no word as to when Oreo will start to roll out to the above devices.
Even with those uncertainties in mind, this is still exciting news. Galaxy S6 and Note 5 owners, who's pumped?
Joe Maring was a Senior Editor for Android Central between 2017 and 2021. You can reach him on Twitter at @JoeMaring1.
Will my S8 get Android Q then???🤔

My Note 5 will finally get 8.0! Very exciting!

Wow, you still have a Note 5? That's awesome.

I still use a Note 4 haha

I used a T-Mobile Note 4 until last spring, when a security update they sent me screwed it up. I went through 4 replacement phones and gave up. The phones started shutting down randomly, and I had to pull the battery to restart. They'll probably kill my Note 5 soon to make me buy a new phone.

Its a great phone. Still one of my favorite. If it was water resistant, i would still be using it.

Part me of wants to pick up a Note 5 as a spare phone now with this news. :-)

I don't see it here. https://support.t-mobile.com/community/phones-tablets-devices/software-u.... Can you verify this?

Are you guys high? When has OS support longevity been an issue on Samsung phones?
Samsung has provided OS updates for their flagships for 2 years since the Galaxy S3 came out in 2012. Updates may be slow but consistency/longevity has never been a problem. Before you guys reply with more fake news, I've owned the S3, S4 and Note 4 which all recieved OS update for 2 years.

I DID see it; what boggles me is that the Galaxy S7 and S7 edge are missing their respective pages. Why update the S6/S6+, Note6, and even Note5 but kick the S7/S7edge to the sidewalk?

Shhhh. Don't pop their pixel bubble!

Yeah. My Galaxy S4 on Sprint received about 3 years worth of updates, too. Wayyyyy long ago it was worse, but there's worse companies. My old Motorola Photon 4G never got off of Gingerbread. Ever. Never got one update beyond one a month after launch.

KitKat never arrived for the international S3 though.

Have to disagree on Samsung's consisity regarding updates. The Note3 had only 1 OS update. The monthly security updates were really inconsistent. I had a Note3. It felt like Samsung abandoned the phone, even though they sold 10 million phones in the 1st 2 months. The current Note flagship has yet to see Oreo

Note 3, seriously? You're lucky that thing still holds a charge.

You don't need luck when you have a removable battery

That's true. But no replaceable battery in the world going to mask the lag and jank on an older Samsung device lol

Didn't it get Lollipop though? Come to think of it, it should have gotten a 5.1 update because as far as I know, 5.0.2 broke a lot of stuff. A big shame that it is left on a broken build

It got 2 OS updates based on this link; https://m.gsmarena.com/samsung_galaxy_note_3-ampp-5665.php.
Which should workout to 2 years of updates.

My 64 GB Note 5 works perfectly fine on 7.0...Convince me why I should want 8.0!

You don't need convincing. Oreo has many small features that I've been using on my s8 that are great, it's got a new security feature that tells you when an app is accessing microphone or camera and when a certain app is using too much battery. Along with that Samsung made many tweaks to Samsung ui that made it less intrusive and more battery efficient.

This has been rumored for awhile, nice to get confirmation. I wonder if it'll push Google to support the first gen Pixel phones for an extra year. Or are they going to let Samsung beat them to the punch with three years of OS updates?

Most likely this is because they have used the Exynos chips instead of the Snapdragon in the S6 and Note 5 series. But, who knows, we will wait and see in the S7's next year with Android P.

And still not on Note8? What the?

Good job. I am impressed. Here is my P9 still not sure if it's getting Oreo because of the Huawei fuc*ers that release 10000 phones and never update them, even if they are flagships. :)

If the Mate8 and Honor 8 are getting Oreo together with EMUI 8, then the P9 likely will

Really good news. Good job Samsung.
I would say expect this update around spring time.

Bet we'll never see it on AT&T

I chatted Tmo and Samsung and neither will confirm it!

I'm confused as to how the s6 is 3yrs old and getn updated but in the past a phone 2-3yrs old wouldn't.....smh I don't get this....I have the Note 8 btw and reason begin is cuz my NOTE 4 wasn't getn updated anymore n my NOTE 5 wasn't either UNTIL NOW RITE....!

Well that's a pleasant surprise! Let's hope that another version of Android isn't out before they actually update the Galaxy Note 5!

T-Mobile is the king of updates of all carriers. My V30 is on the January 2018 Security update too. They updates is one of many reasons I stay with them.

What about the S7 and S7 Edge?

My Galaxy S8 still doesn't have Android 8

I'm still on S6 and I approve this message.

My mom is still using her Note 5. I'm looking forward to see how it performs.

Great news unfortunately both my S6's motherboards have died...

Nice to see that the S6 series will be getting Android 8.0 Oreo but the slow speed of their updates and heavy skin on top of Android make me love the Pixel line formerly Nexus.

Will the Samsung galaxy note fan edition also get Oreo 8.0?

But still t-mobile has failed to update their LG G4 to Nougat even though the V10 got it? T-mobile is even slow on the V20 I have as well to get things moving for it.

I bet you it is a mistake.
Android Central Newsletter
Get the best of Android Central in in your inbox, every day!
Thank you for signing up to Android Central. You will receive a verification email shortly.
There was a problem. Please refresh the page and try again.