Android Central's back to school guide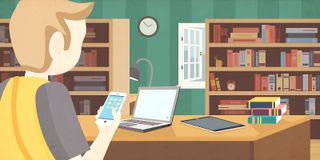 For many students, it's time to hit the books again. Whether you're loading up for your first day at high school, finding your stride in college, or you're making the long haul in university graduate programs, we've got the best tech for back to school season right here.
Best Android tablets for students
Some kind of tablet is a must-have for the school year. It's perfect for taking notes in the middle of a lecture, reading up on the latest research, and even working on your assignments thanks to a wealth of productivity tools. When moving around all day from class to class, you'll be happy to have something so light and portable as your workhorse.
NVIDIA Shield Tablet
Though the NVIDIA Shield Tablet is very much built for gaming, it remains one of the most respectable, well-rounded 8-inch tablets out there. Plus, when you need a break, the dedicated gaming controller, TV-out functions, and PC remote play make for a good time. Solid build quality, a built-in stylus, and bang for buck make the NVIDIA Shield Tablet a great pick for students.
Nexus 9
The Nexus 9 is pure Googly goodnesss. Enjoy stock Android and good processing power on a big, sharp screen. The Nexus 9 tablet is powered by a 2.3 GHz Tegra K1 processor, 2 GB of RAM, and an 8.9-inch 2048 x 1536 display. Grab this one if you want a future-proof tablet.
Dell Venue 10 7000
The Dell Venue 10 7000 is a slim, powerful 10-inch tablet with a great keyboard dock accessory. The Intel RealSense depth-measuring camera on the back may have some niche uses for your studies, but overall, this is the way to go if you want a tablet that can do double-duty as a light laptop.
Best Android phones for students
Of course you can't use the tablet all the time. A good phone will make sure you never miss an assignment reminder or a party invite. Here are some solid Android phones that will serve your needs and leave enough cash for your ramen budget.
Moto G 2015
Motorola has managed to provide a surprising amount of value in their latest handsets, and their G lineup continues to impress. The Moto G 2015 provides the essentials in a well-built phone with plenty of hardware customization options. We dare you to find a better deal on a phone.
ASUS ZenFone 2
The ZenFone 2 manages to offer a big 5.5-inch 1080p display and dual SIM card slots will still keeping the pricetag reasonable. A nifty cover accessory lets you see what's up without having to unlock your phone. Grab this one off-contract if you suspect you'll be hopping between carriers with any regularity.
LG G4
If you've got the budget to buy one outright, or you're going to be signing up for a contract anyway, the LG G4 is the phone to to beat right now. The premium backing give the G4 a classy feel, and is one of the few phones out there that still offers removeable battery and SD memory card. The LG G4 has earned top marks in camera quality, and performs well in every area.
Best Chromebooks for students
For serious work, you'll need to hunker down at a laptop. We're picking Chromebooks that offer horsepower while also being mindful of the student budget. Chromebooks are particularly affordable in the grand scheme of laptops. Get ready to spend a few all-nighters with these machines, and read more on them in our dedicated round-up.
ASUS Chromebook C201
The ASUS Chromebook C201 is an 11.6-inch laptop with enough juice to last 13 hours of usage. It only weighs a bit over two pounds, which makes the C201 practical for carrying from class to class. Models with 2 GB and 4 GB of RAM are available, though you'll be running on a 1.8 GHz processor either way.
Acer C740 Chromebook
The Acer C740 is built tough enough to handle bouncing around all day, every day. It's got an 11.6-inch TFT screen, a dual-core 1.4 GHz processor, and can be upgraded for more RAM and a touchscreen. The 9-hour battery life and keyboard/touchpad combo are ample for cranking out assignments and doing research. Nab one of these if you expect to go rough on your laptop.
Acer Chromebook 15
The Acer Chromebook 15 is a great option for those that intend on spending a lot of time in front of the computer. The 15-inch 1080p display will give you plenty of room to work and enjoy video. The reduced portability and battery life make the Acer Chromebook 15 a better choice for those that sit down close to a power supply for paper-writing marathons.
Best Android phone cases for students
At some point this year you're going to be fumbling between your phone and an armload of books at school. A drop is pretty much inevitable. Make sure you aren't one of the poor saps that has to use a phone with a cracked screen until graduation by picking up one of these popular cases.
OtterBox Symmetry series
The OtterBox Symmetry Series strikes a great balance between slimness and protection. A rubber inner layer absorbs impact, while a removable hard plastic shell wraps around the back for a bit of rigidity. You'll find models available for the most Samsung and LG phones, and a wide range of color options. Check out our hands-on impressions of the Symmetry series case here.
Tech21 Evo Check
Tech21 makes some affordable slim cases that use a special impact-absorbing gel called D3O. You can see how well it works here, which should be enough to convince anybody that a snap-on case can provide real drop protection. Tech21 cases are readily available for Samsung, LG, HTC, and Sony handsets.
Spigen Tough Armor
Spigen makes a lot of different styles of cases, but one of their most popular ones is Tough Armor. The smart design deflects impacts along the corners, and the rear has raised divots to keep the back scratch-free when flat on a table. The Tough Armor series is pretty much only available for the latest Samsung devices, but Spigen makes lots of other equally high-quality cases for HTC and LG phones too.
Best note-taking apps for students
There's going to be a lot of writing to do, be it in the lecture hall, library, or your dorm room. These apps can make sure you've got all of your notes well-organized, shareable, and searchable. These are available for free, but premium subscriptions are available for additional functionality. You'll be happy to have these apps installed when term paper time rolls around.
Evernote
Evernote is one of the original cloud-based note apps. It handles all types of media in its notes, including typed, drawn, audio, photos, tables, and checklists. Notes are organized into themed books, though notes also have tags which can help you keep tabs on content across notebooks. Upgrade to either premium tiers for features such as offline viewing and increased cloud storage allowance.
Google Docs
Google Docs is a faithful standby, and highly accessible since just about everybody has a Google account. Collaboration options allow users to easily suggest edits, leave comments, and use live chat to work together. Users can go back in time to detailed previous revisions to backtrack on changes. You get 15 GB of storage for free which should be plenty for documents, but additional space is available for cheap.
OneNote
Microsoft has managed to make a pretty snazzy note-taking app for Android. OneNote ties in very tightly with your Windows PC via the Office suite. It does particularly well at handling handwritten notes. Android Wear integration even lets you add notes directly from your smartwatch. It's possible to get by with OneNote for free, though you'll probably want an Office 365 subscription for the full suite of apps.
Best desktop chargers for students
You'll be putting in some long hours at a desk this school year, so let's make sure it's at least comfortable. The right desk accessories for your phone and tablet can keep you connected and cut the edge off mild inconveniences.
Incipio Ghost Wireless Charging Base
Incipio has a simple, stylish charging base for your phone. You'll want to make sure your Android device supports wireless charging before grabbing one of these. If it does, you'll find being able to keep your phone topped up without having to plug it in while at your desk is really handy, especially if you have to get up and go in a hurry.
Hale Dreamer Alarm Dock
The Hale Dreamer speaker dock not only offers a way to enjoy music while your phone is charging, but a variety of alarm options too. The dedicated hardware button can intelligently mute incoming notifications, and with the help of the Android companion app, exceptions can be made so important calls still come through. The amount of customizability in the Hale Dreamer is quite impressive.
Random Order Charging Station
If you've got a ton of gadgets that need to stay powered up, Random Order has a station that can keep seven devices charging at once. The small footprint and generic slots make it a sensible spot to keep all of your gear taken care of. Every slot offers 2.4 A and a smart sensing technology that can deliver a charge as fast as possible for any given device.
Best stylus for students
Whether you're pursuing artistic studies or you just prefer taking notes freehand, the right stylus is imperative if you're going to be spending a lot of time with your tablet. Precision and comfort make or break the stylus experience. If you're shopping for a new phone or tablet, keep an eye out for those that come with a pen. For everything else, check out some of our top picks.
Bamboo Stylus Duo
On top of a nice Android app, the guys from Wacom have a sharp little stylus that also has a traditional ink pen. The carbon fiber nub can be used on your tablet or phone, while you scribble notes on paper with the other end. If you're especially concerned with style, a variety of color options are available.
Adonit Jot Pro
The Adonit Jot Pro allows extra precision thanks to a clear disc that floats near the tip of the stylus. This way you can see where the tip lands on the screen exactly, and can make sure your strokes go where you want them to. A handy built-in clip ensures the Jot Pro doesn't get away from you in transit.
Griffin Stylus
Griffin makes a simple and elegant stylus that works with anything with a capacitive touchscreen. It has a built-in clip to keep it in your pocket, while the rubber tip ensures you can write notes and draw sketches without leaving smudges on the screen.
Best bags for students
Load up all of your gear for a busy day with these excellent bags and backpacks. Dedicated pouches for your tablet, phone, and laptop are obviously helpful, plus plenty of room for books, a water bottle, and any other personal effects. These bags are built for the long haul and should survive this year and those beyond.
Timbuk2 Dashboard Laptop Messenger
Timbuk2 has a wide range of gadget-friendly bags, and one of their best is the Dashboard Laptop Messenger bag. It has an easy-to-reach pocket right on the top flap where your phone can stay nice and cozy. Inside is a dedicated removable sleeve that hosts your laptop and tablet. Additional weatherproofing makes this a good pick for rainy climates.
ful Powerbag
If you're using a lot of gadgets while on the go, the Powerbag is built to make sure everything can charge while stowed. The built-in 6,000 mAh battery can charge up to four devices at once, including phones and tablets. Of course, the backpack has plenty of storage space for any of your non-electronics too.
Tylt Energi+ Backpack
Tylt has a backpack that cranks things up a notch with a bigger 10,400 mAh battery, four universal USB plugs, and a pocket with a hard case to store your phone without it getting crushed. There are a few travel-friendly features for those that intend to be flying home from school. To top things off, the shoulder strap has a built-in NFC tag, handy tapping away frequent phone tasks.
Best backup batteries for students
Your phone won't do you much good without any juice. A dead battery can be a huge hassle if you're out partying with friends and trying to coordinate. These battery packs should provide you (or a buddy) enough power to make it through a busy night of selfie-taking.
Tylt 10K
The Tylt 10K is a heavy-duty backup battery that is built for the long haul. It has three full-sized USB plugs that are able to keep your phone, tablet, and other gear going with minimal hassle. The 10K can pump out 4.2 A after detecting which devices are plugged into it and offering the best charge.
Goal Zero Venture 30
The Goal Zero Venture 30 is perfect for those that intend on getting outdoors between classes. This extra-tough 7,800 mAh battery pack can take a beating day-to-day, and has a built-in microUSB cable so you don't have to worry about carrying another around. On weekends, don't be shy about bringing it to the pool, as it's totally waterproof.
Anker Astro E7
For sheer bang for buck, the Anker Astro E7 is hard to beat. You get a whooping 25,600 mAh battery and three USB slots built for quick charging. With that much juice, you could charge a Samsung Galaxy S6 at least six times. On the whole, this is a no-nonsense, all-business backup battery.
Best Bluetooth speakers for students
If you're taking a break with some friends in the quad, it's nice to have a bit of music. Even around the home, a wireless speaker beaming tunes from your phone can be handy. Take a look at these portable Bluetooth speakers that fit in your student budget.
UE Roll
The UE Roll is a sporty, waterproof Bluetooth speaker with a built-in strap. This makes it perfect for mounting on just about anything while enjoying whatever adventures you can squeeze out of vacations. If you already have an Ultimate Ears speaker, the dedicated app can pair them up for stereo sound.
Jawbone Big Jambox
If you're on the hunt for a sharp-looking speaker, the Big Jambox will do the trick. The style factor can not be understated; there are a ton of color and pattern options to make sure it fits in with your dorm room. A polished Android app allows a ton of customization and updates, including a battery indicator on your phone. As for sound, you'll likely appreciate how deep and loud the Big Jambox can get.
Bose SoundLink Mini II
The Bose Soundlink Mini 2 is an incredibly well-rounded wireless speaker, offering top-notch audio quality and portability. A charging base keeps it going at home, while a big battery provides up to 10 hours of tunes while you're away. Pair two devices simultaneously to bring in your calls and music from anywhere.
Best Bluetooth headphones for students
The right music can help you find your groove when churning out an assignment. Pop on a pair of these excellent wireless headphones as you're about to go head-down on a paper in the library or at your desk at home. They're light, comfortable, and should have enough power for a long stretch of writing.
Jaybird X2
The Jaybird X2 sweat-proof wireless headphones are perfect for the sporty types out there. They're super light, and offer snug in-ear buds with a variety of fitting gels. Battery life lasts an impressive 8 hours, with the help of a backup battery pack. The sound quality is nothing to sneeze at, either.
Plantronics BackBeat Sense
If you're going to be staying put for awhile, the Plantronics BackBeat Sense will suit you well. They're light and comfortable, with 18 hours of playback time. MicroUSB charging means you can plug this one in next to your phone and tablet. A 3.5mm input is also available if you need to listen to something without Bluetooth input.
Moto Pulse
For those on a tight budget, the Moto Pulse delivers good quality wireless audio for what you pay. They're comfortable with a sharp design, and offer a whooping 18 hours of playback on a single charge. A smart Android app helps you keep tabs on battery life and find the headphones buried in that mess you call a room.
Back To The Grind!
Hopefully some of these fine pieces of kit will prepare you for the onslaught of the school year. With the right apps and gear, the fiddly logistics of school life are made easier, leaving you to focus on hitting the books. We tried to be as comprehensive as possible here, but what phone, tablet, and general tech would you suggest for students?
Get the Android Central Newsletter
Instant access to breaking news, the hottest reviews, great deals and helpful tips.
Simon has been covering mobile since before the first iPhone came out. After producing news articles, podcasts, review videos, and everything in between, he's now helping industry partners get the word about their latest products. Get in touch with him at simon@futurenet.com.