Hands-on with the Satechi 200W USB-C GaN charger in all of its hexa-ported glory
Embrace USB-C thoroughly with Satechi's mad powerful six-port charging station.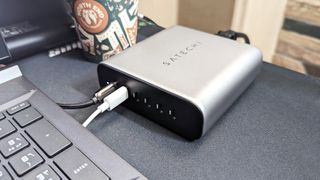 (Image credit: Namerah Saud Fatmi / Android Central)
High-quality chargers and power solutions usually come from brands like Anker, UGREEN, and Baseus. While these companies rule this kingdom, that doesn't take away from the greatness of the competition much. If you're in the market for a reliable USB-C charger, Satechi is a trustworthy name.
Chargers come in all shapes and sizes. What's most important about them is how much power they can push out and how many ports they've got. Satechi's latest USB Type-C charger is a six-ported goliath with attractive curves. UGREEN also offers a GaN charging station with six ports in the form of the UGREEN Nexode 200W. What's different about that, of course, is that the Nexode 200W charger has four USB-C and two USB-A ports.
That's right, the Satechi 200W USB-C GaN charger has six Type-C ports which is pretty unusual. I tested this mighty charger for a couple of months and I have some thoughts. They're positive for the most part, with a few minor qualms.
For starters, anyone would feel afraid when they heard the words "two hundred watts" associated with a multi-device charging hub.
If you're feeling afraid of that much power, you'll be happy to know that the 200W brick is made of gallium nitride, or GaN for short. What is GaN you ask? It's the magical material used to make the next generation of chargers. GaN offers many advantages over your old-school silicone chargers.
Gallium nitride chargers are smaller, more lightweight, and can withstand more heat than silicon chargers. This is why all the best and highest-rated adapters that are also compact are made of GaN.
You can put your fears to rest because Satechi's 200W USB-C power solution is made of GaN too, so it is super safe to use. Even when all six USB-C ports are engaged simultaneously, this brick does not heat up any more than your regular old USB-C phone charger.
In the looks department, Satechi did a great job as always. I love the brand's signature gunmetal gray finish and clean, minimalist design. The 200W GaN charger is pretty heavy, so you won't be moving it around much. It weighs 622 grams, which is almost three times as heavy as the Samsung Galaxy S23 Ultra.
You can lay the Satechi 200W 6-port USB-C GaN charger flat on its side if you like or use it in an upright position. There's a handy plastic stand included in the box for that. The package also comes with an AC power cord with the plug of your choice. You've got American, British, European, and Australian plug options to choose from.
Satechi's charger delivers a total of 200W power output, but that's not the sum of the total power delivered by every USB-C port. Confused? Don't worry, you don't have to guess what power output each port or combination of ports gives you.
Thankfully, Satechi has this extremely handy guide that breaks down this info and presents it in a clear-cut and precise way. Just look at the images below and you'll know how much power you'll get when plugged into which port on the efficient GaN charger from Satechi.
This chart made my life so easy while testing out the Satechi 200W USB-C GaN charger. The hexa-ported adapter juiced up all my phones, my Chromebook, my Pixel Watch, and several tablets at the same time without any problem. It's a great desktop accessory especially if you're a tech enthusiast.
Image 1 of 2
As someone who makes a living by writing about tech, I have a million gadgets, phones, and other devices lying around and I usually use multiple things at once. While it's a lot of fun playing around with and testing the latest tech, recharging all of it is a massive headache.
Things get worse when everything runs out of juice at the same time and you need to test something or verify a fact in the middle of work. For such scenarios, the six USB-C ports of Satechi's mammoth charger are a godsend. You get Power Delivery from every single Type-C port, with two of them touting PD 3.1 and four of them rocking PD 3.0.
Satechi's 200W USB-C GaN charger is pretty expensive, but you'll have to pay the same amount for any other decent 200W charging station with six ports, such as the $150 UGREEN Nexode 200W. Whether you need a 20W, 60W, or even 65W power output, the Satechi charger can do the job without sacrificing other ports or power.
Six might be one too many USB-C ports for some, including myself. This is a personal preference but I think the Satechi 200W GaN charger should've had at least a single USB-A port for older accessories or maybe when friends come over and want to use their own (outdated) cable. It's good for emergencies or unforeseen circumstances.
Also, bear in mind that you need to have an e-marked 5A USB-C cable if you want to get anything over 60W. Satechi doesn't include one in the box, though I wish there was at least a single one in there.
Overall, this is an excellent solution for those who have a lot of devices lying around, especially if all those things have USB-C charging. Since modern Android phones, earbuds, tablets, smartwatches, and even iPhones charge with USB-C cables — USB-C-to-Lightning in an iOS device's case — it makes perfect sense to invest in heavy-duty charging equipment such as the Satechi 200W 6-port USB-C GaN charger.
Satechi 200W 6-port USB-C GaN charger
Charge everything, all at once
Satechi 's 200W USB-C GaN charging station has six powerful USB-C ports. This unique charger comes with a stand and an AC power cord. If you're a heavy user of tech and gadgets, this is a smart and efficient charging solution.
Get the Android Central Newsletter
Instant access to breaking news, the hottest reviews, great deals and helpful tips.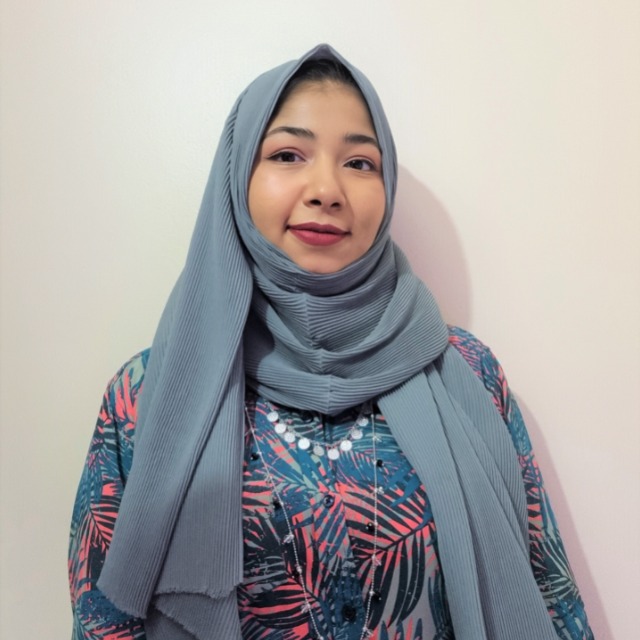 Editor — Accessories, speakers, and tablets
Namerah enjoys geeking out over accessories, gadgets, and all sorts of smart tech. She spends her time guzzling coffee, writing, casual gaming, and cuddling with her furry best friends. Find her on Twitter @NamerahS.