Get 25 years of Mint Mobile service for $2,500, one day only, on Bobby Bonilla Day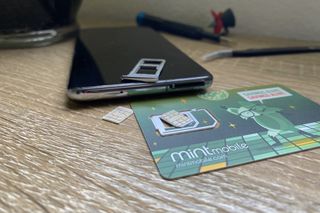 (Image credit: Android Central / Samuel Contreras)
What you need to know
Mint Mobile is offering 25 years of wireless service for $2,500 ($100 per year).
This Bobby Bonilla Plan celebrates the former pro baseball player who is paid over $1 million by the New York Mets annually until 2035.
This deal is live for one day only, July 1, 2021.
Mint Mobile's newest plan is only available for one day and comes with an unprecedented 25 years of service. July 1, 2021, Mint Mobile is offering the Bobby Bonilla Plan with 25 years of Mint Mobile service for just $2,500. The price breaks down to $100 per year or $8.33 per month.
This plan celebrates baseball star Bobby Bonilla's deal with the New York Mets to settle a $5.9 million contract buyout with a 25-year deal. Starting in 2011, every July 1, Bonilla collects over $1 million from the New York Mets and will continue to do so until 2035. Mint Mobile has partnered with the former pro baseball player to give customers a 25-year wireless deal to celebrate his big payday.
The Bobby Bonilla plan comes with 4GB of high-speed data with unlimited talk and text. You get free hotspot access, and calls to Mexico and Canada are included. Your account will be credited for the amount of one year of service within 48 hours of your purchase and will repeat every year for 24 years. The plan is officially available from 12:01 A.M PST to 11:59 P.M. PST on July 1, 2021.
Mint Mobile currently offers service on T-Mobile's LTE and 5G network and has made a name for itself by offering customers deep discounts on wireless service if they're willing to buy a few months upfront. Thanks to its three, six, and 12-month plans, Mint Mobile has some of the best cell phone plans you can buy. While it's impossible to know exactly what cell phone networks and plans will look like 25 years from now, it's clear that Mint Mobile and owner Ryan Reynolds mean business.
Mint Mobile offers data using T-Mobile's LTE and 5G network and will work with just about any unlocked phone. For the best results, make sure your phone supports T-Mobile's band 71 for LTE and bands n71 and n41 for 5G.
Home Run
Mint Mobile Bobby Bonilla Plan
That's $100 per year or $8.33 per month
Mint Mobile saves customers money by selling phone service in chunks up to 25 years at a time on the T-Mobile network.
When Samuel is not writing about networking or 5G at Android Central, he spends most of his time researching computer components and obsessing over what CPU goes into the ultimate Windows 98 computer. It's the Pentium 3.
I almost went for this until I realized they wanted the 2500 up front and they have all the outs in the terms. So don't get me wrong, Mint Mobile is great and I love how they offer good pricing for customers, but this seems like a cash grab and I'd be afraid Mint won't be around in 5 years much less 25 years.

Here's the big got you. They can terminate you for any reason without penalty. Mint just needs to provide a 30 day notice. To be honest, this makes sense from Mints side. If Mint goes belly up they have an out. This is more of a pr stunt and I don't expect many to actually go through with it. This is a quick money grab. "Term. As described throughout these Terms and any and all promotional materials with respect to this limited-time promotional offer (the "Promotion"), "Mint" or "Mint Mobile" means Mint Mobile, LLC, and each of its affiliates, agents, successors and assigns. Mint Mobile reserves the right, in its sole discretion, to terminate Mint Mobile's service, and purchase the remainder of the The Bobby Bonilla Plan from you, your assigns, or your heirs, on a pro-rata basis, at any time and for any reason (including but not limited to fraudulent activity by customer), upon 30-day advanced written notice. Mint Mobile will make all reasonable efforts to purchase the remainder of the The Bobby Bonilla Plan from you (and/or your assigns and heirs); a refusal to sell and/or accept payment by you, your assigns, or your heirs, shall not limit the right of Mint Mobile to terminate Mint Mobile's service. Mint Mobile (including any of its affiliates, agents, successors, or assigns) reserves the right, at any time, and in its sole discretion, to modify these Terms and/or Mint Mobile's Terms & Conditions, including without limitation the right to modify terms respecting "Unlimited Data" or any related or equivalent terms respecting coverage, usage, data, and/or plans." https://www.androidcentral.com/e?link=https2F%2Fmint-mobile.58dp.net...

Seems like a phenomenally bad idea.

This would be far more tempting with more data. 4GB just won't cut it.

wonder if they got any takers.

According to Twitter they got 124.
Android Central Newsletter
Thank you for signing up to Android Central. You will receive a verification email shortly.
There was a problem. Please refresh the page and try again.