Is your Galaxy Note 8 showing any signs of slow down?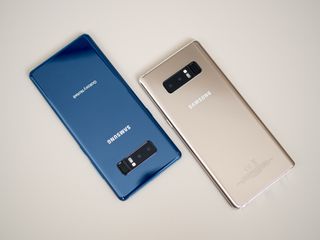 The Galaxy S9 may be the hottest new flagship around, but that doesn't necessarily mean it's the absolute best Samsung has to offer. The Galaxy Note 8 continues to be one of the most powerful Android phones you can buy, and even with it being a few months old and no longer being Samsung's latest, current owners are still plenty happy with the phone.
Samsung devices have become infamous over the years for slowing down and showing signs of lag after a few months of regular use, and when you spend nearly $1000 on a smartphone, that's not something you want to encounter.
A few Galaxy Note 8 owners recently got together to talk about whether or not they've experienced any slowness on the phone so far, and this is what they had to say.
Now, we want to hear from you – If you've got a Galaxy Note 8, is the phone still just as fast as the first day you got it?
Android Central Newsletter
Get instant access to breaking news, the hottest reviews, great deals and helpful tips
Joe Maring was a Senior Editor for Android Central between 2017 and 2021. You can reach him on Twitter at @JoeMaring1.
Nope had a bit of a glitch yesterday (wasn't responding to touch on the rare occasion) did a cache wipe works perfect again

Been great. Have am insurance every now and then where the keyboard can't keep up with my typing. I think it has more to do with Samsung's crappy keyboard app.

Try BlackBerry keyboard, works perfectly with my Note 8.

The best thing about Samsung slowdown is that a) it's not that fast to begin with so that when it does start slowing down it b) does so gradually so that you don't notice it. It's like when you become noseblind to your house smelling like your dogs.

If you don't notice it, who gives a f? Don't most phones slow down over time without you noticing? The Note has top specs with 6gb of RAM, which seems to be a sweet spot for Sammy devices

It's really noticeable when it slows down. You can't deny a lag when you see it.

Are you talking about the Note 8? Doubt it

Good to hear. My S8+ gets pretty laggy at times.

I have been using the s8+ for a year now. No slowdown or lag whatsoever. Especially after the Oreo update!

My Note 8 flies...no issue...using it since oct...at times i get a itch to upgrade to s9+ after exchange from samsung i have to put in 15k which is not bad....3 things is s9+ i like camera stereo speakers and bigget battery...but i wonder if i can trade s pen for all this or just quietly wait for Note 9

Fast as ever. So much for the "Samsung phones slow down over time" myth.

Had the S6 and S7 and both got very stuttery after a few months. Heard reports of the S8 doing the same. But seems like the extra RAM makes a difference as Note 8 doesn't seem to suffer?
Having said that my 8GB 5T can freeze occasionally and it's running a lighter skin.

I had the s6 edge plus and 7. The Note8 I own feels The same as day one.

Try to do some phone "cleaning" from time to time. Doesn't matter the phone brand. This means clean the cache. Then you will see the phone is running like day one after throwing away the garbage.

I had an S6 and an S7 and both slowed down noticeably after less than 6 months. It's not a myth; the Note 8 just has 6GB of ram and perhaps better software optimization.

My Note 8 is still an absolute beast just like the 1st day I bought it. My only issue is some pretty serious screen burn-in. I will be taking it to a Samsung certified shop tomorrow to see can they help me.

I do a factory reset on my phone every 4 months to keep everything tip top. No issues and it flies.

We shouldn't have to restart, reset, or delete memory to keep the phone lag-free.

I agree. And I haven't had to do any of those things. I don't even restart it when the phone suggests that I do. And it still runs as fast as the day I got it.

Thank you. All these people saying their performance is fine because they factory reset regularly are out of their minds. iPhone and Pixel users don't have to do this; why is it acceptable for Samsung?

My S8 reminds me every day, that Lagdoid is still a thing........ I manage it too, but it stutters all the time. The only way to stop it, is to restart the phone every couple days, maybe it refreshes the cache or something. I've had it for a year now, will prob update to the Note9 when it comes out.

Agreed. I recently hard reset and restored to fix that and it did. However, it's already showing some signs of it again. Still going to wait for the Note 9, though.

I wonder if the people saying the Note 8 flies and is like butter have ever used a Pixel to have a good basis of comparison? I've only used the Note 8 in various stores and they were very laggy and janky. Sure that's a device that's left on all day so maybe you'd expect it, but the display models of the Pixels don't have that issue.

The pixel is as bare bones and bland as you can get. Nothing exciting so I expect the display model not to lag. With that said my Note is just as fast as the day I brought it.

Haha, well that's the best part of the Pixel, for me at least. Nothing extra that I won't use to bog it down.

The Pixel may be "bland and boring" to you but to me, I'd much rather have and clean, fast and smooth Android experience with no bloat and slow down in a few months like on the Note 8 which is a shame as I like the Note 8 design and display wise, the same with the S9 but Samsung's software just isn't for me and I'm a Google and stock Android lover which to me is what Android phones should be with as few gimmicks as possible with only the truly useful features which only Google's features interest me.

We know, we know Stop trying to justify your purchase in every Samsung thread

I'm only stating the fact and advantages of a Pixel, and the Pixel 2 XL won't slow down after a few months or years like the Note 8 for obvious reasons which I've already explained lol I will defend the Pixel and will continue to defend it from the Pixel haters and people like you who are Samsung fanboys.

Yes! Exactly!! Tell these Samsung fanboys what's up!!

Shut up Google butt licker

Had a Pixel 2. Not all that. Couldn't even consistently connect to WiFi, subpar screen, bland design...please. You sound worse than a fanboy, you sound like Google ass licker #1, bitter because your precious Pixel will (as usual) get BURIED underneath the latest Samsung device. Enjoy! lmao

I use my note 8 daily and I have used a pixel on and off. What I have noticed is that barring the default shorter animation times on pixel interface swiping. There is no actual difference in speed. If I change animation speed in the note 8 I can slow it or speed it up. If I use nova, I can remove it all together making it even faster(looking). Neither phone actually does anything any faster but perception wins in marketing. The applications do not run any faster on either phone unless you are worried about how quickly you can scroll between your recent files window. No matter which phone you buy as a flagship you cannot go wrong unless you want to buy a second-hand phone and are worried about the software version 3 years from now. I change phones every 1 to 2 years so software updates are lost on me but perhaps for my son who cannot afford to switch phones so quickly or may want an older phone this may be a good selling point.

I agree with all your points, both phones are great and I really like the Note 8's design but it's Samsung's software that keeps me from buying it as I care about having a clean, smooth Android experience and while the Note 8 will be fast at first, it will stutter after a few months while the Pixel will not, and fast updates and consistent monthly security patches are important to me so the Pixel 2 XL is the only choice for me and having used a Nexus 6 and enjoyed being first in line for updates, and being a former iPhone user updates are still important but I wanted freedom, flexibility and customisation and a bug free experience (iOS 11 is a buggy mess and too restrictive) and those are the reasons I will forever be an Android user.

Samsungs software is a major reason I like their phones. Samsung Pay is of the utmost diggity. Also, what Android users should really be sweating is the ratchet ass situation with video MMS. iOS crushes in the department.

If the Pixel had wireless charging + expandable storage ... then maybe I might be convinced to give up my stylus and Samsung Pay ('cause Google Pay in the US seems to be available most anywhere I shop).

Pro-tip: don't download a bunch of apps that you will never use. And revisit this often - every few months I go through my list and prune, I've not had one issue with lag. Now battery life, that's a different story.

My note 8 is the best phone I have ever had. Amazing device. I had the One Plus 3t before which is excellent too, yes maybe even smoother but you can see where the extra $$$ went on the Note 8. It's on another league.

no. my note 8 is still as fast as the day I brought it home.
best phone I have ever used. will buy Note 9
Android Central Newsletter
Get instant access to breaking news, the hottest reviews, great deals and helpful tips
Thank you for signing up to Android Central. You will receive a verification email shortly.
There was a problem. Please refresh the page and try again.