You can now pre-order Motorola's foldable RAZR on Verizon for $1,500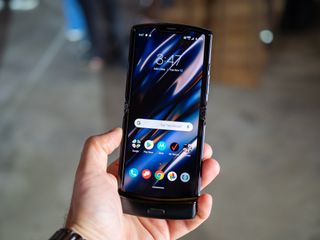 (Image credit: Daniel Bader / Android Central)
What you need to know
Motorola's $1,500 foldable RAZR is now available for pre-order in the U.S.
Pre-orders can be placed from Verizon's online store for $1,500, or $62.49 per month for two years.
The foldable phone is expected to begin shipping on February 14.
Motorola's foldable RAZR, which was unveiled by the Lenovo-owned company in November last year, is finally available for pre-order in the U.S. The foldable phone can now be pre-ordered from Verizon's online store for $1,500. You can also choose to pay $62.49 in monthly installments over 24 months.
While Motorola had said last week that the foldable phone would be available in stores from February 6, Verizon's website suggests it will begin shipping only by February 14. Apart from the U.S., the foldable RAZR is currently available for pre-order in the UK as well.
As with Samsung's Galaxy Fold, Motorola has released multiple RAZR videos (via The Verge) with useful information for potential buyers, including precautions to ensure the phone's screen doesn't get damaged. Since the RAZR's screen has been designed to bend, the Lenovo-owned company says "bumps and lumps are normal."
Motorola RAZR owners will need to ensure that they don't get the phone's display "too wet" and keep all sharp objects away from it. In case the screen gets wet, users must wipe it with a dry cloth. The company also points out that users must close the phone before putting it inside a pocket and that a screen protector shouldn't be applied.
Motorola RAZR
Motorola's RAZR reboot is a highly desirable foldable phone that is a lot more compact than Samsung's Galaxy Fold and Huawei's Mate X. The phone comes with a 6.2-inch main display and a 2.7-inch outer display. While the RAZR's hardware specs may not be very impressive, its unique design sets it apart from anything else that is available on the market currently.
They are out of their minds.

Agreed. Insane. You can buy a really, really good laptop for that amount of dough.

You could buy two or three really really good laptops for that price!!

Someone in the crowd of the Grammys last night had one and was using the camera because you could see that smiley face animation in the front panel.

Said no thanks when Motorola issued a statement saying to please take extra cautions while using the phone. 1500$ for a fragile phone. I think not.

I see AC's shoddy reporting is still in full effect. They don't even question the validity of the test, they just mindlessly parrot the results of this highly unscientific test, performed and designed by folks who clearly have no background or any understanding of even the most basic principles of engineering. I stopped coming to the site 4 months ago because of their flat out erroneous reporting of another issue, only to come back to see more of the same lazy work. AC don't even include/examine Motorola's response to it. I was an active reader for many years and am so disappointed to see the quality of this site continue to deteriorate.
Android Central Newsletter
Get the best of Android Central in in your inbox, every day!
Thank you for signing up to Android Central. You will receive a verification email shortly.
There was a problem. Please refresh the page and try again.