Will my Fitbit Versa or Versa 2 band work with my Versa 3?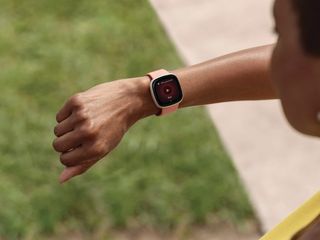 (Image credit: Fitbit)
Best answer: No. The previous Fitbit Versa bands will not work on the Versa 3. The latest model introduces the new infinity bands, which are interchangeable with a quick-release system. These are not the same bands used on the Versa 2, Versa, or Versa Lite.
Will Fitbit Versa bands work on Versa 3? Out with the old, in with the new
While an improved Fitbit Versa band system has been sorely needed for quite some time, it doesn't come without its disadvantages. The only issue that long-time users might have is that all of their previous Versa bands will not be compatible with the new Fitbit Versa 3. If you've been a loyal Versa user since the start, you've probably racked up quite a few bands by now. If you're considering purchasing the Versa 3, you'll have to start a new collection.
Even upon reviewing the Fitbit Versa 2 last year, the proprietary bands were still a major disappointment. It was a hassle to swap out your bands, which should be a relatively simple process. It's good to see that Fitbit may have gotten it right this time. There are already plenty of Fitbit Versa 3 bands to choose from. Whether you're a fan of leather, silicone, or woven bands, there are some solid options that are already available for pre-order.
It might seem annoying to have to start over and buy new bands but look on the bright side. Fitbit says these new bands are designed for maximum comfort and flexibility. Not to mention that the quick-release attachment system makes it easier than ever for users to change their band. You'll no longer have to waste your time attempting to get the finicky pin in the hole. What a relief!
The new Versa 3 bands are one of many improvements you can look forward to with this release. We're confident that this will quickly become one of the best smartwatches on the market. The watch itself can be purchased for pre-order with items expecting to ship on Sept. 25. The same goes for official Fitbit bands while other third-party options are available for purchase now.
Moving on up
Time for a change
Just like that, we have a brand-new fitness smartwatch with tons of great improvements. The Versa 3 has built-in GPS, improved heart-rate monitoring, Active Zone Minutes, and a better quick-release band system.
A comfortable option
FITA Fitbit Versa 3 Soft TPU Band
Affordable comfort
The Versa 3 bands are still brand new, so we're still waiting for more third-party options to come out. In the meantime, this waterproof TPU band from FITA is reasonably priced and will fit nicely on your wrist without irritating your skin. It comes in over 10 different color options.
Softness for days
Fitbit Versa 3 Woven Band
Make your wrist happy
If you want an official Fitbit band that's designed to stand out, you'll love this unique camo woven band. It's directly inspired by the textile industry's space-dyed yarn. The cozy material is made of recycled plastic fibers, which makes it that much more unique!
Sign up for Black Friday email alerts!
Get the hottest deals available in your inbox plus news, reviews, opinion, analysis and more from the Android Central team.
Courtney Lynch is a freelance writer at Android Central. She's obsessed with all things health, fitness, and music. At any given time, she can be found checking out the latest and greatest gadgets while simultaneously petting her dog and sipping iced coffee.