Will a leftover Galaxy Note 8 screen protector work on the Galaxy Note 9?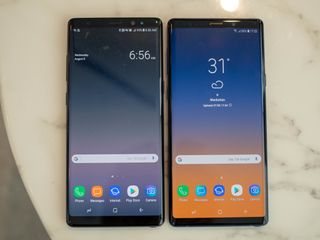 Although the Galaxy Note 8 from last year is a more than powerful Android phone in 2018, the all-new Note 9 is still worth the upgrade thanks to its Bluetooth-equipped S Pen, AI camera features, and ginormous battery.
The Note 9 should feel like a very familiar phone for Note 8 owners, and while a radical new design would have been fun to have, the similarities between the two devices might actually work out in your favor — specifically when it comes to screen protectors.
If you bought a screen protector for your Note 8, chances are you still have one lying around somewhere as they usually come in packs of two or three. While a protector designed specifically for the Note 9 will work the best, a Note 8 one should still be just fine on your new phone.
The Note 9 has a slightly larger display than the Note 8 at 6.4-inches compared to 6.3, and while that means your Note 8 screen protector won't fit the Note 9 like a glove, it'll still cover the vast majority of your display and offer considerably more protection as opposed to using the phone totally naked.
So, while a Note 9 screen protector is ideal if you're using a Note 9, one that's made for the Note 8 will work just fine in a pinch.
Joe Maring was a Senior Editor for Android Central between 2017 and 2021. You can reach him on Twitter at @JoeMaring1.
Finally, they understand the note is for powerhouse users. The only problem is that the battery isn't user-removable, and with the glass back and waterproofing, it's gonna be hard as hell to pry it off just to replace the battery in a year or so. Otherwise, looks like a fine phone but not worth the $1000 since its value drops so quickly. https://review-plus.com/galaxy-note9-specifications-price-features/

Removable batteries are a thing of the past at least on flagships, to Samsung's credit they've keeping the headphone jack and expandable memory, I'm looking at you Google. So yeah get over it, if you want a removable battery you're looking in the wrong segment, you might want to check the mid range and lower end handsets. The last Note that offered removable battery was the plasticky 4. In order for manufacturers to ask crazy prices, the less plastic they use the better and more expensive they can charge. Remember flagships are cash cows.
Android Central Newsletter
Thank you for signing up to Android Central. You will receive a verification email shortly.
There was a problem. Please refresh the page and try again.