Will Google Pixel and Pixel XL cases fit on the Pixel 2 and 2 XL?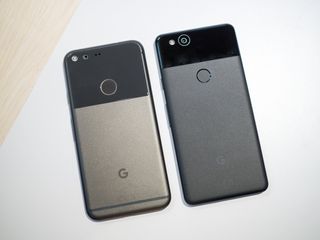 There are some striking similarities in design between last year's Pixel and Pixel XL and the new Pixel 2 and Pixel 2 XL. With the names as they are, you wouldn't expect the hardware dimensions or quality to change much — and in general, they haven't. That immediately leads to questions of whether or not they're actually close enough to use the same cases.
The answer, in short, is "no" you can't use your old Pixel or Pixel XL cases on the Pixel 2 or Pixel 2 XL. Even though their dimensions are very similar — we're talking about fractions of millimeters in some cases — and in the case of the Pixel 2 even the aspect ratio of the screen is the same, there are big enough differences to require full new cases for the latest pixels.
Best Google Pixel 2 Accessories
Unfortunately we didn't luck out the same way that iPhone 7 and 7 Plus owners did with some of their cases working just fine on the iPhone 8 and 8 Plus. A tough break, for sure, but this also gives you a chance to start fresh with a new case for your new phone if you choose to upgrade!
Andrew was an Executive Editor, U.S. at Android Central between 2012 and 2020.
This article would be better if device dimensions were listed for comparison.

Pixel: 143.84 x 69.54 x 8.58 (top) 7.31 mm (bottom) (5.66 x 2.74 x 0.34 Top (.29 bottom) in) Pixel XL: 154.72 x 75.74 x 8.58 (top) 7.31 mm (bottom) (6.09 x 2.98 x 0.34 Top (.29 bottom) in) Pixel 2: 145.7 x 69.7 x 7.8 mm (5.7 x 2.7 x 0.3 in) Pixel 2 XL: 157.9 x 76.7 x 7.9 mm (6.2 x 3.0 x 0.3 in)

If I have just spent a small fortune on a new phone am I going to put it in a used case, I don't think so.

Also, 8 Plus owners don't get that lucky either. Any case for the 7 Plus that has the Apple logo cutout in the back won't work. Well, it'll fit the phone, but the logo is lower on the 8 Plus, so only about half the Apple shows through the opening.

That is a great win for case makers and accessory makers. Apple has always been very very good that squeezing uses for accessories whether it is their own or third party but it is nice to have a but it is nice to have a fresh case, in any case!

New phone, new case Would not want it any other way.

Yep. Most amazing leather backed titanium bolt head bolted ceramic inlaid $300 case what difference does it make. Grab a new case for a new phone as much as the 7 and 8 look exactly the same.

Who cares, cases arew so cheap.
Android Central Newsletter
Get the best of Android Central in in your inbox, every day!
Thank you for signing up to Android Central. You will receive a verification email shortly.
There was a problem. Please refresh the page and try again.