Google Pixel 2 and Pixel 2 XL specs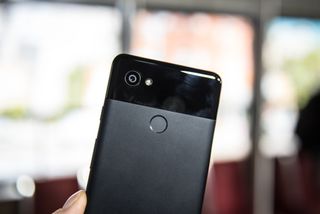 The Pixels are back, and they're better than last year's models in every way. Manufactured by two companies this time, HTC and LG, there are substantial differences in the way the two phones look, but on the inside they're almost identical.
While Google hasn't overhauled the aesthetics of the smaller Pixel 2, it gains dual front-facing speakers (and loses a headphone jack), benefits from IP67 water and dust resistance, has an improved 1080p OLED display and an upgraded Snapdragon 835 processor, along with a 2700mAh battery.
The larger, tall-but-narrow Pixel 2 XL has a 6-inch 2880x1440 pOLED display with diminutive bezels that keep the overall chassis size to a minimum. Think LG V30 but slightly taller. Inside, there's a 3520mAh battery — bigger than the Pixel XL — along with the same CPU and RAM specs.
What could be the most interesting change from last year is the addition of optical image stabilization (OIS) to augment the existing electronic stabilization from last year. There's still a 12.2MP rear camera sensor, with 1.4μm pixels, laser and phase-detection autofocus, all with an f/1.8 aperture.
Finally, a built-in eSIM is interesting because it opens up the possibility of Google offering Project Fi to any customer who wants it, even without a carrier SIM card installed.
Swipe to scroll horizontally
Category
Google Pixel 2
Google Pixel 2 XL
Operating System
Android 8.0 with Google UI
Android 8.0 with Google UI
Processor
Qualcomm Snapdragon 835
Qualcomm Snapdragon 835
RAM
4GB
4GB
Display
5-inch 1920x1080
AMOLED
Gorilla Glass 5
2.5D glass, 441ppi
95% DCI-P3 color space
6-inch 2880x1440
pOLED
Gorilla Glass 5
3D glass, 538ppi
100% DCI-P3 color space
Rear Camera
12.2MP f/1.8
1.4μm pixels
OIS, EIS
PDAF, LDAF
12.2MP f/1.8
1.4μm pixels
OIS, EIS
PDAF, LDAF
Front camera
8MP, 1.4μm pixels
f/2.4, fixed focus
8MP, 1.4μm pixels
f/2.4, fixed focus
Video capture
4K @30fps, 1080p @120fps, 720p @240fps
4K @30fps, 1080p @120fps, 720p @240fps
Battery
2700 mAh
Non-removable
3520 mAh
Non-removable
Charging
USB-PD, 18W rapid Charging
USB-PD, 18W rapid Charging
Connectivity
USB Type-C, Bluetooth 5.0
USB Type-C, Bluetooth 5.0
Fingerprint sensor
Yes, on rear
Yes, on rear
Additional features
Active Edge sides, eSIM
Active Edge sides, eSIM
Storage
64 / 128GB
64 / 128GB
Water resistance
Yes, IP67
Yes, IP67
Colors
Kinda Blue, Just Black, Clearly White
Black & White, Just Black
Security updates
3 years
3 years
Platform updates
3 years
3 years
Dimensions
145.7 x 69.7 x 7.8 mm
157.9 x 76.7 x 7.9 mm
Weight
143 g
175 g
Daniel Bader was a former Android Central Editor-in-Chief and Executive Editor for iMore and Windows Central.
Yip, that's probably the best news out of the whole article. Long support of a device is awesome :)

With the price of phones these days that is a nice statement to make someone trust a vendor. Kudos to Google for that!

No wireless charging I see...

Surprised to see OIS, though it seems the sensor was shrunken to compensate as OIS requires some wiggle room. Curious to see how it performs both with HDR+ and the EIS.

Did anyone else get excited for a headphone jack when the guy said "And continue using your analogue headphones.... with an adapter."

As soon as I heard adapter, I was like. welp

The XL battery is about the same as the s8+ and that thing has great battery life.

eSIM? No, no, no...bad news...I don't deal with carriers or carrier contracts. I have a legacy unlimited data plan and want to maintain it for the foreseeable future. If this forces me to go through the carrier to activate, the new Pixel is a no go for me.

I didn't realize eSIM was even supported by all the carriers yet. Unless you can use both with the Pixel?

Yeah I saw that and don't like it but the side of the phone has a slot for you to put a Sim in so maybe it's both?

Project Fi uses physical SIMs, so I'm going to guess that it supports both...

The eSIM is ONLY for Fi at this time. Just use your current SIM in the phone. If eSIM is really your reason to not buy it, then let your fears be assuaged.

The esim only works on Fi, right now if you use any other carrier, the phone still includes a nano SIM card slot that u can use normally

Notification light or is that yet another feature they removed?

Don't think they have had a notification light on a google device in a while. Also I hate them so no prob for me.

Current Pixel and XL have notification LED right in the ear piece grill. So I expect they did the same for the Pixel 2.

Current Nexuses ('Nexi'?) and Pixels all have notification LEDs. The one on my Nexus 6P is an RGB LED, but I'm not sure about the others.

Ho hum hardware....my takeaway...our software and camera is so great, we don't need wireless charging or IP68 for parity (until we add it next cycle haha) and you'd better like Verizon or buy it unlocked...the best thing is the 3 years of software updates, though I doubt most people will have it for a third year of ownership. Presentation Just seemed so self congratulatory....now i remember why I never watch any product launch presentations haha

3 years of updates? That is great news!

Definitely still getting the regular Pixel 2 in white. The only thing I'm changing is going with the 128Gb of storage instead of the 64Gb that I originally leaned towards. Now, trade in with Google or just pick one up through Verizon? P.S./ I wanted Google to bring back the carpet cases, but I don't think I can do Shagg carpet cases. 😂

So, a year ago, Google trolled Apple for removing 3.5mm jack. Now... this is hilarious

No headphone jack = no buy
We should all boycott this phone to send a message

They didn't sell that many Pixels. About as many Windows Phones sold in the past year. This is definitely not going to help.

I don't know, Verizon says otherwise...

Didn't see anything about the speakers

Very nice phones you got there Google. Especially the battery on the 2 XL. 3 years of updates on top of that too? Delightful.
But I think I'll keep my Note 8, thank you very much. These phones are nice but they are lacking in the hardware department. What the Note 8 has over the Pixel 2 XL (The phone most are interested in) is IP68 rating, an extra 2 GB of Ram, wireless charging, a likely better camera (because of the second sensor), a superior Samsung Pay, an Iris Scanner, a better screen, and s-pen functionality and all the features that entails. What Pixel 2 XL has over the Note 8 is an extra 220 maH Battery, squeezable sides, an extra year of updates, likely better speakers, and for the moment, a more advanced OS. When I weigh the two - considering the Note 8 will get Android 8.1, I think the Note 8 is the best deal.

Once again priced too high.

Yeah, I can afford it, but I hate it in principle. Crazy that for the same price, iPhone 8 Plus has double memory. At least with Apple, you rationalize it as "the apple tax" and the good support and whatnot you get with that. What's google's excuse? 128GB Pixel 2 XL - $949
256GB iPhone 8 Plus - $949

3yr support is great but I would imagine the battery would need replacing before then due to shorter held charges. And 4gb of ram will slow down by then too. Just something to keep in mind.

When you want a phone the size of the Pixel (not XL) without the large bezels but it's just not happening.

The Galaxy S8 and the LG G6 are both about the same size as the Pixel 2 just slightly taller. ~148 mm tall vs ~145.

I assume no 600mHz band 71 support? Where are the network specs????

Check complete details over here http://gsmtechhub.com/google/pixel-2 http://gsmtechhub.com/google/pixel-2-xl

Check complete details over here http://gsmtechhub.com/google/pixel-2

Just get a galaxy s8/s8+ since they're more affordable now. Basically the same phone. And you get a headphone jack, for those who whine about such things.

By far the best deal right now is the HTC U11. $100 off retail price on the HTC website. And now that they have released the 128GB/6GB ram version in the states it's a no brainer. If you haven't heard this device has the camera to beat right now.

Shocked by the lack of SD card support. That's my deal breaker, I guess it's going to be a V30 for me.

Why should it be a shocker? Google phones have never had an SD card slot for a long time

i was hoping for an SD card slot too. but now they remove another thing i use on a daily basis, my headphone jack.
maybe its time to stop thinking about joining google fi.
the v30 is the other the current phone im thing of too. the dual DAC, a sd card slot and a headphone jack. all common sence things to me (i shouldnt have to call a headphone hjack a feature... thanks apple)
as long as i can unlock the bootloader, access fastboot, and (eventually) root, it will be my next device. im still using my lg g4.

Does it support new T-Mob8le LTE Band 71?

I would seriously consider a Google phone as my last two Samsung products (S6 edge+ and Galaxy Tab S2) were disappointing. Have the LG V20, love the sound, but not the battery life or the LG Android overlay. But there are three potential deal breakers for me: 1) No Micro SD card; 2) no wireless charging in 2017; and 3) no headphone jack. Although I have a high end set of Bluetooth headphones (AT DSR 9BT), an analog out for earbuds, or to allow input into legacy audio equipment is still necessary. Analog sound through a $9 dongle is not going to cut it in the era of MQA. Google seems to be following the Apple playbook, no SD card, no headphone jack, high price, but without the Apple support/retail experience.