Best Google Pixel 2 Accessories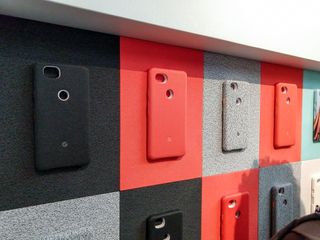 When the Pixel 2 was announced, Google launched a 'Made for Google' certification partnership with a wide range of accessory manufacturers to ensure there's a good selection of accessories for its flagship.
The best place to find certified Pixel 2 accessories is straight from the source — the Google Store (opens in new tab). They offer proprietary accessories along with some third-party products, but there are also deals to be found on Amazon.
Google-designed cases
Why you can trust Android Central Our expert reviewers spend hours testing and comparing products and services so you can choose the best for you. Find out more about how we test.
Google has partnered with a number of different case manufacturers to get accessories certified as 'Made for Google', just another way for Pixel 2 owners to be confident in their accessory purchases.
Right now, there's a limited number of third-party accessories available, but If you're planning to order your phone straight from the source you should check out the cases designed in-house by Google.
Best Cases for the Google Pixel 2
For the Google Live cases (opens in new tab) there are two case types to choose between — a slim one-piece shell or a more rugged dual-layer case. No matter which you go with, you get to customize the back of your Pixel 2 with a stunning shot from your own photo roll, from Google Earth, or sample a work of art.
Each Google Earth case can be paired with a matching live wallpaper for a cohesive look around your device that just looks gorgeous. And if you opt for the dual-layer case, you'll be getting enhanced drop protection when compared to a single-layer case. Find yours starting at $50.
Another compelling option is the Google Fabric Cases (opens in new tab) which brings the look and most importantly the feel of that fabric finish found on other Google products, like the Home Mini and Daydream View. These cases offer a premium microfiber liner and will keep your Pixel 2 looking like a standout device no matter which color combination you decide on. They're also available for $50.
See at Google Store (opens in new tab)
Peel Super thin Pixel 2 Case
If you're looking for a way to protect the finish on your Pixel 2 with no extra bulk and no graphics or branding of any kind, Peel's Super Thin Pixel 2 Case is exactly what you're looking for.
This .35mm thin case is precision cut and formed to fit perfectly on your Pixel 2 and fits more like a glove than a traditional case. Once in place, you'll barely notice it's there while you're using or carrying your phone but will definitely notice that your expensive Pixel 2 isn't getting scratched up from rubbing against other things in your pocket or a table.
Take it from us: the back glass on your Pixel 2 will scratch if you give it a chance. Peel's Super thin Case is the perfect medium between nothing at all and a thick case for people who just aren't into cases.
See at Peel (opens in new tab)
Moment Photo Case & Wide Lens Kit
Photography is a big feature on the Pixel line, and the Pixel 2's camera is positioned to be the best on the market. If you're #teampixel, get ready to take your photos to the next level with the Moment Photo case, which lets you quickly and securely attach peripheral lenses to enhance the Pixel 2's already outstanding camera setup.
Google is selling the Moment Photo case which includes an 18mm wide-angle lens made from premium materials that let the Pixel 2 camera capture more in crystal clarity. The case itself is pretty basic as a phone protector, but the lens is top-notch and accounts for the majority of the $130 price tag you can bet that this case is mostly a vessel for the high-quality camera lenses that Moment makes for mobile.
Check out Moment for more fancy camera lenses for your fancy new phone — Macro, Telephoto, and Super Fisheye. Quite the investment, but might be worth it if you want to add some uniqueness to your 'Gram game.
See at Google Store (opens in new tab)
Libratone Q Adapt USB-C Earphones
With the Pixel 2 ditching the headphone jack many of us are looking for a new set of headphones or earbuds. There are plenty of choices when it comes to wireless headphones, but if you'd rather go with USB-C connectivity, Libratone has a great pair in the Google Store.
The Libratone Q Adapt USB-C Earphones were built to work perfectly with the Pixel 2 and deliver clear, clean sound without the hassle of pairing or recharging. With a braided cable and multiple tips, these earbuds will fit almost everyone and are built to last. They also include Libratone's four-stage CityMix active noise cancellation that you can control through the four-button inline remote or through the Libratone Android app.
You can also trigger Google Assistant through the remote if you need some help picking out a song.
See at Google Store (opens in new tab)
USB-C Digital to 3.5mm headphone adapter
You may notice that a number of these accessory recommendations are centralized around coping with the loss of the headphone jack, a feature which many still consider an essential smartphone feature. Google will be including a headphone adapter with the new phones but look at that thing — assuming you're not going to keep it plugged in all the time, there's a good chance of this thing getting lost.
If that happens, you may need to bite the bullet and get a new one — for $20. Might be a good idea to buy a spare from the get-go and keep it in a safe place.
See at Google Store (opens in new tab)
dB MAGIX Mini Hi-Res Headphone Amplifier
Maybe you already have a good pair of headphones and aren't ready to ditch them for a wireless option. You're not alone and this little jewel of a headphone adapter can make those headphones sound better than ever.
The dB magix Mini Hi-Res Headphone Amplifier is the size of a regular USB-C to 3.5mm adapter but it packs a punch with a premium DAC and amp inside that outputs 2 volts worth of audio with a total harmonic distortion of just 0.0003%. That means it will drive almost any pair of cans and sound great while doing it.
It's plug-and-play with any device using a USB-C port and best of all will bring premium audio support to your Pixel 2 for just $60.
See at Amazon (opens in new tab)
18W USB-C Power Adapter
It's always a good idea to stick with the charging accessories that came with your phone, and especially so with the claims Google has made regarding the Pixel 2 — seven hours of battery life after just 15 minutes on the juice.
Since you're probably gonna need some extra charging accessories anyways, you can't go wrong doubling up on the 18W USB-C Power Adapter. Of course, we'll be keeping an eye out for any certified 27W chargers that might offer even quicker charging speeds.
See at Google Store (opens in new tab)
Anker PowerLine USB-C cables [3-pack]
So you're at a party and your phone is dying, and you ask around to see if anyone has a charging cable. If you're lucky, someone may have a USB-C cable, but it's not a guarantee.
That's why you ought to grab this three pack of USB-A to USB-C cables from Anker. Beyond the cables that came with your phone, Anker is one third-party accessory maker that you can trust. The pack includes three 3-foot cables that offer transfer speeds of up to 5 Gbps, and they're also backed by Anker's worry-free lifetime warranty.
Available for just $14, it breaks down to under $5 per cable. Keep one at work, one in your car, and one in your laptop bag so you'll always have a spare charging cable nearby wherever you are!
See at Amazon (opens in new tab)
Belkin USB-C Car Charger
Keeping your phone charged while you're on the go is important. Everyone hates when you realize you forgot to charge your phone and it's time to go.
The Belkin USB-C Car Charger is a great option for the Pixel 2 that's been promoted on the Google Store. It plugs right into the 12V port your car and offers two charging ports — a hardwired USB-C cable and a USB-A port for charging a second device.
You'll be able to maximize your charging speeds thanks to Belkin's 15W universal charging system that automatically detects and delivers the optimal charging speed for your Pixel 2. Get yours from Amazon for just $17 — a great price compared to what Google is selling this accessory for.
See at Amazon (opens in new tab)
What sorts of accessories are you looking for?
Did you get a Pixel 2? What are the go-to accessories you buy alongside a new phone? Let us know in the comments!
Updated June 2018: We've updated our list to ensure you have the best Pixel 2 accessories, including the Libratone Q Adapt USB-C earphones and the Peel 2 case!
Android Central Newsletter
Get instant access to breaking news, the hottest reviews, great deals and helpful tips
Marc Lagace was an Apps and Games Editor at Android Central between 2016 and 2020. You can reach out to him on Twitter [@spacelagace.
As soon as the speck cases go on sale I'll be buying those. I love the grip and protection speck has.

@rebretz000, Check out the Verizon website, they still had the black one in stock yesterday when I ordered mine from them, and although I am a Verizon customer, they also feature a check out as guest option.

You're welcome, have a good one.

How do you know how they protect, were they drop tests by Specs? Tech21 for example, are drop testing their cases from 10 feet, and it's specified on the case package, so I wonder if Specks do the same.

Google sure loves those premium prices... Wow! 50 bucks for a case!

The fabric cases are $40, got one in Midnight for my 2 XL. Bad thing is my phone is expected to arrive on the 19th or 20th, case wont arrive until the 26th or 27th. A week of being naked with a new $1000 phone, come on google.

Order the cheopo LK tpu case from Amazon for $8 bucks and have it well before you get your phone, until the case from Google arrives.

Who cares. If you were so worried then you should've gone to the store and bought the case itself.

Am I the only one that thinks the pixel 2 and the oem cases for it are ugly? Hahah

So, are these the "best" Google Pixel 2 accessories, or is this just a list of all the things Google is selling for it in their store?

I think just a list of things sold on the Google Store but put in a article to make it seem like they're the best. But seriously, you can't call them the best, especially if nobody has really tested them out on the Pixel 2/Pixel 2 XL, this "article" was released way too early

Yep. This is simply search engine hit fodder.

Best, only, ya almost same difference. :) I found a Spigen case for my 2 xl on Amazon, but looking through all the listings it is sparse. Most seem to have "Google Pixel 2 XL / Pixel XL 2" as their title. Confusing at best. Edit: added "almost"

So, questions here on what I should do. I don't mind the loss of the headphone jack at all, as I use BT headphones. HOWEVER.....I drive an older car that has no native Bluetooth and I want to play my music in the car. So, I use a 3.5 cable going from the phone to the AUX IN jack on the car and get my music that way, along with a 12V charger to the USB port on the phone. Now, I need a new solution. I reckon I have two paths. I've seen little BT devices that can plug into the 3.5 AUX IN and do it that way I think; just connect the phone over BT and send the signal directly to the car; or, I can use the dongle and continue plugging in the cable to that. But, if I did need to charge my phone, I'd have to unplug the cable and have no music while charging. Do I have that right? What's the best way to go?

You'd need the Moshi adapter to play music and charge at the same time.

I totally missed that it could do both, so that's awesome. $45 though, yikes. Might just do one of the other options I mentioned and deal. Thanks!

There's cheaper ones on Amazon that do the same thing than the Moshi here

I don't plan on buying one, but I did read somewhere that the cheap alternatives don't work very well.

I have used this in a car that has BT but only for calling for just over a year. It does have an aux input though.
https://www.amazon.com/gp/product/B0168GBMCY/?tag=hawk-future-20&ascsubt...
Charge as you would, but sync your BT to this device and plug it into the car's aux. works great, and if you have a decent phone (iPhone 5 and up have worked with this, and S4, Nexus 5-6 have all worked with this).
It has a call button etc, and I guess you could mount it to your dash and use it for calls too. I have it in the console, and only use it for audio. I never touch it other than to move it out of the way if I need something in the console.
It is more expensive now than when I bought it though. It was $18 a year ago.

So I went around this by accepting slower charging speeds but I use a Belkin double ported USB car outlet. One for Bluetooth receiver and one for charging

I like a desktop/bedside charging dock. Also, a slipcase style case - oh, and a belt pouch! Can you tell I'm an (about to be ex) BB fan?

So this article is titled, "Best Google Pixel 2 Accessories", yet all you did was list the accessories available in the Google Store. GREAT JOB! Here I was thinking it would match the title instead of just telling me something I already found out by going to the store myself. Maybe you could change the title to actually reflect the article written.

I really like the Ringke Fusion case here https://forums.androidcentral.com/google-pixel-2-pixel-2-xl/837478-best-...

With all the problems I keep reading about, seems like a RMA form might be the best choice, no? :)

"What are the best accessories for the Google Pixel 2?" A screen that doesn't burn-in would be a good start.

I ended up getting the "concrete" fabric case when I bought the Pixel 2. I really like the feel of the case. It grips well, isn't very bulky, and really easy to put on and off. The only gripe I have is I use a magnet on the back to mount my phone in the car and it weakens the strength a little if it's between the phone and the case. Other than that it's a really good buy.

The Amazon link for the Belkin USB-C Car Charger redirects to an Aukey charger. How does the Aukey compare to the Belkin for a Pixel 2 XL?

How can I charge and listen to music at the same time on my 2XL? The Moshi adapter is no longer available on from the Google store. Other adapter's do not seem to work with the 2XL.

About a year ago, I bought a "TaoTronics Portable Wireless Audio Adapter" (via Amazon). It let me use Bluetooth from the phone via the Aux-in to my non-Bluetooth car radio. It works very nicely. Using this, one does not need a headphone port on the phone. My last phone had a headphone jack, but the TaoTronics let me avoid a long Aux cable from the radio yo the left side of my windshield where I mount my phone holder. FWIW, I love the "iOttie Easy One Touch 2 Car Mount Holder" (also via Amazon). Best phone holder I've ever found. TaoTronics: https://www.amazon.com/gp/product/B0728GP9XH?tag=hawk-future-20&ascsubta...
iOttie: https://www.amazon.com/gp/product/B00JRGOKQ8?tag=hawk-future-20&ascsubta...

As rciknewworleansla pointed out, the link to the Belkin USB-C Car Charger is being redirected elsewhere. Hopefully someone from Android Central can update this article. Just yesterday, I switched from a Motorola Droid Turbo to the Google Pixel 2 XL. So far I'm loving it. But I'm dealing with the change from MicroUSB to USB-C. My most consistant complaint with my previous several smart phones was that my battery is always draining when I'm driving with Waze or Google Maps running, even using a car charger. I need a USB-C car charger that will let my phone continue to charge even when I'm running a navigation app. Being able to charge an additional USB powered device would be a big plus.
Android Central Newsletter
Get instant access to breaking news, the hottest reviews, great deals and helpful tips
Thank you for signing up to Android Central. You will receive a verification email shortly.
There was a problem. Please refresh the page and try again.