Why I'm buying the Fossil Gen 6 over the Samsung Galaxy Watch 4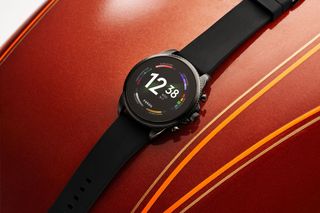 (Image credit: Fossil)
The Galaxy Watch 4 is out, and with it comes a ton of Wear OS 3 goodness. Given that Samsung is such a big player in the space, it's great to see Galaxy and Google's Wear OS playing together on the same device.
However, we mustn't forget about the other players in this space, especially Fossil, which has just launched its new Gen 6 smartwatch. While this and other Wear OS 3 smartwatches aren't expected to receive the OS upgrade until mid-2022, the Fossil Gen 6 is still definitely worth a look. In fact, it will likely end up my choice for my next smartwatch over the Galaxy Watch 4.
Subtlety is key
For me, design is everything, and I have always been a fan of Fossil's smartwatch lineup. That's not to say the Galaxy Watch 4 has a bad design; on the contrary, the Galaxy Watch 4 looks fantastic. But there's something about it that just screams, "I'M A SMARTWATCH!"
For most people, that's perfectly fine. Juhani Lehtimäki, the chief technology officer at Snapp Mobile, recently explained to Android Central how the Apple Watch is seen as a status symbol for iPhone users. "Even if it's out of battery, people wear it because it's something that shows you're an Apple user."
The Galaxy Watch 4 could end up being the Android-equivalent status symbol, especially with Samsung being a large Android OEM that pays serious attention to design — and made sure its smartwatch is the ideal companion for the best Android phones.
However, I prefer a more "subtle" design, something that at least looks more like a traditional watch at first glance. With its Gen 6 smartwatch, Fossil achieved that with its two shortcut buttons flanking the middle rotating crown. Obviously this is subjective, but it somehow has a more classic design than even the Galaxy Watch 4 Classic and also comes in many different colorways and sizes, so anyone can find a watch to match their style. After all, Fossil is a fashion brand.
Last year's chip still holds up this year
There's also the matter of performance. While it can be argued that the Galaxy Watch 4 may be more powerful and efficient than the Fossil Gen 6 with its 5nm Exynos chip, it may not matter all that much.
Fossil is the first smartwatch OEM to bring the 12nm Qualcomm Snapdragon Wear 4100+ to the market, and while it's already a year-old chip, there's no doubt it will perform very well, and Fossil claims a 30% performance increase over the previous Gen 5 smartwatch.
I've owned the Fossil Gen 5 for some time, which I've always found to perform decently well with the even older Snapdragon Wear 3100. However, my experience with the Mobvoi TicWatch E3 shows me just how much of an improvement the Snapdragon Wear 4100 is, and Wear OS 2.x runs like butter.
The Plus variant of the Wear 4100 should perform just as well, if not better, especially with the added efficiency of the co-processor to run background health features, so performance is the least of my concerns.
Fashionably late to the Wear OS 3 party
Yes, Wear OS 3 won't come to the Fossil Gen 6 until later next year, but I can wait. Samsung's version of the OS running One UI Watch is very Samsung-focused, lacking features like Google Assistant (although it may come eventually) and pretty much forcing Samsung Health for much of the health tracking features. Even though I own a Samsung Galaxy Note 20 Ultra, I'm much more engrained in Google's ecosystem than in Samsung's, and I would rather not change that by buying a Galaxy Watch 4.
Fossil smartwatches work equally among Android smartphones (and even work with iPhones), and the company has been great about bringing its own software to Wear OS like its Wellness app that automatically tracks workouts and sleep. That's something I imagine Fossil will keep up with the Gen 6, especially with Wear OS 3 down the line.
The company has already teased that it's planning on bringing the "software benefits that Google's talking about and launching with the unified platform," including Fitbit integration (which we haven't yet seen).
For years, Fossil was more or less the de-facto Wear OS smartwatch OEM, having a huge presence in Google's wearable platform alongside its other brands, Skagen and Diesel, and the company seemed to keep the platform at least somewhat relevant over the years. Short of an official Google Pixel Watch, Fossil to me has always been the Wear OS OEM where users can expect a "stock" experience, with a few extra Fossil-exclusive features thrown in like cool watch faces additional battery modes.
Samsung vs. everyone
Sure, the Galaxy Watch 4 has a few things going for it that I would like to see on the Fossil Gen 6, like the new BIA sensor, LTE options, and, of course, early access to Wear OS 3. But none of these are exactly must-haves for me. Fossil and other Wear OS OEMs are still receiving updated experiences from apps like Google Messages and Spotify, which will be enough to hold me over while I wait for Wear OS 3.
There's no doubt that the Galaxy Watch 4 is one of the best Android smartwatches on the market now. However, it feels like Google's approach to Wear OS 3 puts the future of the platform on Samsung's shoulders — when it's the other OEMs that have kept the platform going before now. We shouldn't forget that they're just as important to the ecosystem as Samsung is.
That said, it'll be exciting to see what Wear OS 3 is like on other smartwatches, especially those made by smartphone OEMs.
A "Way Faster" Wear OS watch
(opens in new tab)
Preorder now!
The Fossil Gen 6 represents a generational leap from Fossil's previous smartwatch thanks to the new Snapdragon 4100+ chipset which will ensure that Wear OS runs as smooth as butter. Gen 6 also comes in many styles, sizes, and has a host of health features accessible right from your wrist.
Get the Android Central Newsletter
Instant access to breaking news, the hottest reviews, great deals and helpful tips.
Derrek is a long-time Nokia and LG fanboy who loves astronomy, videography, and sci-fi movies. When he's not working, he's most likely working out or smoldering at the camera.
I have a Gen 5 now and, for me, it has one fatal design flaw. The center button is constantly "clicked" any time I bend my wrist up. Working in the yard, lifting weights, whatever. The button sticks out past the guard on either side and I've yet to find a way to keep it from getting clicked accidentally. I wont buy another watch like this, very annoying.

I had a Fossil watch, and I was always clicking that side button every time I bent my wrist. I'm sorry, but the Galaxy watch 4 is superior in every way. It's the best smartwatch I have owned.

That's odd, never clicked the button unless doing a pushup, and even then not all the time. Fossil knows fashion and style for sure. The GW4 Classic and GW4 not so much. Sorry. And the GW4 might be superior if you have a Samsung phone.

Agreed. I had gen 1-5 and never buying another one. I moved to samsung Galaxy watch 3 and plan to stick to it until samsung has another tizan upgrade

No disrespect to the author; beauty is in the eye of the beholder. BUT the idea that fossil watch pictured is more minimalist than the galaxy watch 4 is...inexplicable to me.

It's apparent Galaxy Watch owners don't like criticism. Agree with the author, Fossil knows Style. GW4 is has no style at all. The GW 3 looked a bit better than the GW 4. But you're right, there is no right or wrong answer here.

This article is my thoughts exactly! Galaxy watch 4 is great and all, but there's just something about the Fossil gen5/6 watches that make it look like a more classic/traditional timepiece (IMO)! So I couldn't agree more with the author!
With that said, I'll hold on to my gen5 for a little longer. Let's see how Wear OS 3 will look/function on a Fossil watch first.

The Gen 6 is a bad choice in my opinion, why buy something that's already obsolete at launch? Stick with the Gen 5 until next year if you don't want Samsung and already have one.

I'm not one to replace my phone every time a new CPU comes out, same for my watch, if it works, it works, and I do take care of my things. I'm holding on to my Gen 5, which still looks brand new, and I'll wait to get another Fossil when it ships with WearOS 3.0. I learned many years ago not to buy promises, but I will stick with Fossil, at least my watch has had 0 problems.

What I'm interested in is if the iOS compatibility for Fossil will be carried into WearOS3. Those iPhone users that don't want an Apple watch could do with an alternative. My OH uses my OG Galaxy Watch with her iPhone and loves it. I've got a Ticwatch Pro 3 and can echo the sentiments on the SD4100, it does everything more than fast enough and I may or may not upgrade to WearOS3 when it comes as I can imagine I may lose some functionality with the second screen. I can understand Samsung cutting off iPhone users but Fossil don't have a hardware business to protect in the same way.

Shouldn't the headline read something like, "why I'm posting clickbait on a Friday"?
You explain that the Fossil watch is everything no one wants in a smartwatch, from design to components to software. Yet, you're somehow telling yourself that this is why you, as a tech writer, prefers it? I think, you're either joking or you're just showing how easy you are to gaslight by those who wants you, as a Android tech writer, to talk negatively about Android tech.

It's articles like this that make me think more and more, that I too could be a tech writer.....

Not sure if this is a troll article. In every tangible way, the Galaxy Watch 4 is superior to the Fossil Gen 6 (author admits to it) and it will be superior to almost any Wear OS watch for the foreseeable future. The Gen6 and other Wear OS watches will already be obsolete at launch because of that obsolete chip they'll be using.

You're a troll if you look at the wider market passed Samsung? Odd comment. The Galaxy Watch 4 is superior to my Huewai GT2 but it's also inferior. The battery is 1-2 days vs 14 days. I'll stick with my Huewai GT2 thanks.

I am still waiting for the Pixel watch. Let's see if we will get it this year.

I sold my OG Galaxy Watch for the Huewai GT2 and I'm not disappointed. A smartwatch doesn't need to do everything, because even though the GW4 supports Google Maps it'll suck at it compared to your phone. It does need to last though. The OG Galaxy Watch is 3-4 days but Samsung in their infinite wisdom reduced this to 1-2 days on the GW3 and GW4. My Huewai GT2? 14 days no sweat. I used to turn off all the features on my Galaxy Watch to eek out battery. Pointless paying the expensive price then. Speaking of price the Appe Watch and Galaxy Watch 4 are a ripoff. 300 for a watch. A smartwatch is worth about 150-200. The screen size makes them to limiting to pay more.

"chief technology officer at Snapp Mobile, recently explained to Android Central how the Apple Watch is seen as a status symbol for iPhone users. "Even if it's out of battery, people wear it because it's something that shows you're an Apple user."" You know you're an Apple fan when you're happy to wear butt ugly devices just to be part of the crowd. When I see the Apple Watch and Airpods I think **** they're ugly. A square watch urgh. Not commenting on how good they are but Apple couldn't have produced a better design than a pointless stem on their earbuds? Everyone else managed it.

You mean everyone managed it much later? A lot of earbuds copy the Powerbeats Pro and the Airpods. Also as long as they work who cares what they look like? What's better? So instead of what look like more traditionally earbuds, you can stick the good ol' "Samsung Beans" in your ear, or some lovely looking earplugs? Do you complain about headphone design not changing for eons too? Also arguing about the "ugly" Apple Watch is funny because Garmin makes a square watch now (the AW is really a rectangle, but w/e). It also sets it apart. It's almost like they thought that rectangles allow for more information, kind of like smart phones do. Can you imagine using a circular smart phone? Me either... The only watch I would bother getting that isn't an Apple Watch is a Garmin or a Coros. I wouldn't bother with the Galaxy Watch. A) it still works best with a Samsung Phone, B) Still doesn't have all kinds of Android things, like the Google Assistant. You have Bixby, which is like having useless Siri, but maybe worse. C) Samsung. It looked amazing, until I saw hands on with it about all the ways Samsung Samsunged it up with random decisions to make it less what it should have been, and the random things like the BIA sensor that will probably not really work well.

No phone and no watch are status symbols. Everyone has a smartphone, and some people need a watch. Watch notifications flash messages for a milli second and then you'd have to press buttons and dig for them when it is simply easier to check your phone. The only killer smartwatch app is turn by turn directions in conjunction with Google maps on your phone talking out directions. The price anyone is willing to pay for a phone depends on how much you can afford and how much you use your smartphone. I use my smart phone for almost everything I do online, so I have a big Samsung galaxy note 20 Ultra. Great photos for hikes and a huge screen for content. I've ordered the galaxy watch 4 for "free" by redeeming it for airmiles in Canada. I'll give my Galaxy watch 3 to my dad. Made of metal... The galaxy watch 3/4 are durable, quality watches. The writer of this article can't be serious, being a martyr for an inferior, outdated watch.

Had a fossil gen 5. Worst battery life I've ever had with a smartwatch! Then dropped it once and it broke. Don't miss it. And never again.

My wife enthusiastically bought me a Fossil Gen 5e last Christmas. I immediately charged it up, then loaded up all the stuff I thought I would need. It was dead in 4 hours. Turned off WiFi. It lasted maybe 6 hours. Turned off everything except bluetooth for notifications and heart rate checking every 2 minutes. Uninstalled practically every app except the essentials. It lasted a day...sometimes. I would finish work and put it on the charger then forget it when heading out to date night, gym, hangouts, or errands. If I wore it to bed to track my sleep, It would be dead by 10am the next morning. Put it on charger. Forget it when I went to lunch. I found myself without it an aggravating amount of the time. What good are all the available apps if using them makes the device frustratingly unusable?
Basically that thing spent more time on the charger than on my wrist. And I couldn't use 3/4 of the functionality if I wanted the battery to last any reasonable amount of time. Sold it and went back to Fitbit. I get at least 5 days battery life, constant heart rate, work out tracking, notifications, and everything else I need. I don't get why Fitbit can last 5 days while Google wear can't even last one single awoke day. I won't be going back to Google Wear, even if they claim to have fixed all these things.

Not sure why everyone is complaining about Wear battery life when the GW4s are terrible too. My gen 5 gets a day and a half. That's about it for a full featured smartwatch.

Yep- I had a Gen 5 for a short period of time trying to replace my Galaxy Active that was starting to get fussy when I changed phones to non Samsung. Thought it a decent watch with reasonable battery life too but my notifications were not reliable and I had to start resetting it constantly etc so tried the full smartwatch deal in the Gen5 and it literally immediately dropped a percent the first time I took it off the charger and I was like oh- not a fabulous sign. It did that every time and while I liked the features- it would need a charge barely at the end of my work day and I did not want to have to be charging in the car etc. I decided to get a Fossil hybrid without color but giving me just enough of what I am after-notifications, sleep and fitness tracking, heart rate, but also alarms, weather if I want etc; plus I like having real hands and being able to see it in the sunlight and it gets days upon days of battery life- never have to worry about if I forgot to charge it a day etc. But for sure- if people want the full features of a smartwatch- battery life is obviously a factor so it comes down to individual preferences on what's more important and worth the extra hassle etc.

Poor battery life made me switch to samsung. Bought gen 4 samsung and couldn't be happier

Doesnt look very minimalistic

I've been using a Huawei Watch GT 2 for some time and other than lacking Google Pay, it has everything I need. And the 11 days batter life is just awesome.
Google Pay is really the only reason why I got myself a Samsung Watch 4 Classic.

Weird, I just put a Ringke bezel and their Rubber One Prime Band on my Active 2. Looks like a traditional watch without sacrificing anything. When I eventually replace it, I'll most likely do the same thing with the then current Samsung watch. The band is gapless and 20mm so the current one may even fit. Can't see buying an inferior product for looks.

Pretty sure the AW 2 uses 22mm. Might need a bit of trimming to fit.

Active 2 is 20mm. I've bought tons of straps for it.

I did try the Fitbit Sense... It literally would not charge right out of the box on the first attempt. I returned it immediately. I then went to online forums and the same problem was wide spread. Avoid the Fitbit Sense.

Counterpoint: all fossil watches break within a year due to the awful design of the charging rings. Fossil also has notoriously poor software support. The s4100+ is an archaic architecture that's bad for battery life (although it's ironic that wearOS as a watch OS needs more resources than a mid 2000s desktop PC had). It is also a bad time to buy any wearOS device as it's still not clear how good the support on WearOS3 will be (don't belive promises and don't preorder anything).

And don't forget that the mere existence of wear os 3 means that as the meager android wear app ecosystem gets updated many apps will lose compatibility with the 2.x platform. People who buy this watch may see their apps dissappear while waiting for the 3.x update that may never arrive

I could barely afford my 400 Euro smartphone. If tell my wife I want a 300 Euro wearable phone accessory, she'd probably smack me with a bag of oranges.