Qualcomm's new Snapdragon Wear 4100 platform promises 85% faster Wear OS smartwatches with 25% longer battery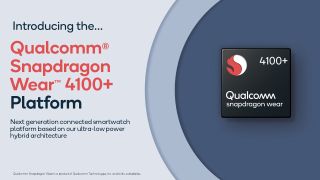 (Image credit: Qualcomm)
Wear OS smartwatches have been (rightly) criticized for having subpar performance, battery life and case sizes compared to competitors using other operating systems. But the reality is, the blame for those limitations generally lands on Qualcomm, which has been the SoC (system-on-chip) provider for Wear OS for years. Its Snapdragon Wear chipsets have just been behind the times in terms of their size, power, efficiency and capabilities.
But now that changes with the new Snapdragon Wear 4100 and 4100+, which completely revamp the platform and bring Qualcomm's wearable chipsets into the modern era. The new chipsets are built on a dramatically smaller process, now 12nm, with modern Cortex-A53 processor cores, and in the case of the 4100+ there's a new low-power coprocessor that can take even more load off of the main processor. The result is 85% increased performance, 85% faster memory, 2.5x graphics performance and, most importantly, 25% longer battery life compared to Wear 3100.
The Wear 4100 and 4100+ should provide Wear OS watches with dramatically better app launch times, interface smoothness and multitasking capabilities, all while lasting longer than 3100 models. There are also other bonuses and improvements, like Bluetooth 5.0, a new 4G modem with eSIM, a new GPS engine, specific power optimizations for music playback and voice assistants, and enhanced "watch only" capabilities that provide more information while saving power in an ambient mode.
How does the Wear 4100 compare to Wear 3100?
The best way to describe the advancement in the Wear 4100 over 3100 is that it's dramatically more modern in its design and components. The Wear 3100 was built on a relatively massive 28nm process, with really old Cortex-A7 processor cores, that were together just poorly suited for the job of running a small and battery-constrained smartwatch.
The Wear 4100 is finally built on what I'd consider a "modern" architecture, using a 12nm process and four Cortex-A53 cores. (For comparison, Qualcomm only just stepped under 12nm with its last flagship Snapdragon 835 platform.) A smaller nanometer process leads to better battery life and thermal efficiency, which are two things Wear 3100 struggled mightily with.
Most recently, Qualcomm's used a very similar size and set of cores in the Snapdragon 429 and 439 smartphone platforms that launched in late 2018 and used in phones throughout 2019. For anything but low-end smartphones, A53 cores (or their Kryo derivatives) are commonly used as the "little" power-efficient cores in octa-core processors. Looking at the specs, the Wear 4100 is effectively a Snapdragon 429 with some tweaks to adapt it to its use in smartwatches — that's not a bad thing.
The QCC1110 coprocessor on the Wear 4100+ is technically the same architecture as the 3100's coprocessor, but it is "enhanced" this time around with better memory and DSPs. The coprocessor is able to handle more tasks, and handle them more of the time — and Qualcomm says there's a new controller that more intelligently sends tasks between the main processor and coprocessor.
The numbers clearly reflect the size of this improvement: 85% better performance, 85% faster memory, and 2.5X graphics capability, all while still using 25% less power overall than the Wear 3100. That can all be directly translated to addressing the pain points Wear OS users have experienced in the past few years.
What's the difference between Wear 4100 and 4100+?
The only muddy part is the introduction of both the Wear 4100 and Wear 4100+ at the same time. But really, it's not that complicated. The core functionality and features of the chipsets are the same; the only difference is that the 4100+ has a coprocessor added to it to provide even more features and efficiency.
That coprocessor is a refreshed and improved QCC1110 from the Wear 3100 platform; and its job is to handle all of the low-power and ambient computing needs in order to let the main processor sit inactive, ultimately saving power overall. The coprocessor works with a new management system to better handle shifting tasks between the main and coprocessor, and overall the coprocessor is able to handle more tasks in the daily use of a smartwatch.
The Wear 4100+'s coprocessor can handle sleep tracking, continuous heart rate monitoring, GPS, step counting, always-on watch faces, watch position sensing, alarms, haptics, and much more. That means for all of these low-level features that we want running regularly, if not constantly, the main processor doesn't have to work at all.
The main functional benefit of the coprocessor is in how much the watch can do in ambient mode (aka always-on watch face) or a dedicated watch-only or sports mode. Now when in a mode that doesn't fully engage the operating system, the watch can do a whole lot more.
In "ambient" mode, as your watch spends most of its time, you get 64K (16 bit) colors and number kerning for better-looking watch faces, sleep tracking, continuous heart rate monitoring, live watch face complications and adaptive brightness. In a "sports" mode you get all of the same benefits, but now the coprocessor can also handle rendering of maps in addition to location. In a "watch only" mode, you get all of the above but also step counting, alarms and reminders, battery monitoring, haptic feedback, tilt-to-wake. Basically, these restricted modes don't feel as restricted anymore.
For most Wear OS watches, we'll get the Wear 4100+ because it's the logical full-generation upgrade from the 3100. You're most likely to see the standard Wear 4100 in less-expensive watches, of course. What isn't yet knowable is how the standard 4100 compares to the 3100 in terms of low-power ambient computing, considering the 3100 has a coprocessor and the 4100 doesn't. The overall improvement in efficiency of the 4100 platform could be better than the 3100 with a coprocessor, and the 4100 will certainly have better performance.
What smartwatches will use Snapdragon Wear 4100?
Qualcomm has announced a partnership with two companies to launch the first smartwatches with Snapdragon Wear 4100. The first in the world will be the Mobvoi TicWatch Pro Next Gen, using a Wear 4100+ and running Wear OS. The next will be the BBK Z6 Ultimate, which is a kid-focused smartwatch, using the Wear 4100 and running custom Android software, for the Chinese market.
Both watches will come out this year, though we don't yet have a more defined timeline. Qualcomm says the 4100 and 4100+ are available to companies now, so there's a real possibility we could see more models by the end of the year. 2021, though, will be the year where we see just about every Wear OS player refresh their lineup with the new platforms.
The Wear 4100 platforms aren't exclusively available for use with Wear OS — they also support AOSP Android builds, if that's what a company desires. So we'll likely see these new 4100 chipsets used in smartwatches running custom non-Google Android builds, likely in markets like China that aren't supported by Google services.
Be an expert in 5 minutes
Get the latest news from Android Central, your trusted companion in the world of Android
Andrew was an Executive Editor, U.S. at Android Central between 2012 and 2020.