Qualcomm's new Snapdragon 632, 439 and 429 are coming to mid-range phones this year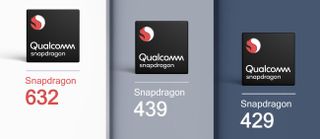 Qualcomm's Snapdragon 800-series platforms get most of the headlines, but it's the mid-range 600 and 400-series that power more devices and are critical to the performance of less expensive phones. With that in mind, Qualcomm has announced the new Snapdragon 632, 439 and 429 — upgrades from the current 626, 430 and 425, respectively.
Further pushing the envelope in the mid-range, the Snapdragon 632 brings some nice features. The base architecture is 8 Kryo 250 CPU cores, split into 4 performance cores and 4 efficiency-focused cores each at 1.8GHz. There's a new Adreno 506 GPU, support for FHD+ displays and support for up to dual 13MP cameras or a single 24MP camera with real-time portrait mode processing and wide-angle lenses. The new 632 is likely to power phones up to the $400 MSRP range — and if the current devices using the 626 are any indication, this will be a great chip for getting enough power while having great battery efficiency.
On the lower end, things aren't as exciting. The Snapdragon 439 is an octa-core chip with Cortex A53 cores arranged in a set of 4 at 1.95GHz for performance and another 4 at 1.45GHz for efficiency. The 429 is a basic quad-core unit, with just the performance set of 1.95GHz cores. The 439 supports FHD+ displays and 12MP single or 8+8MP dual cameras, while the 429 maxes out at HD+ and 16MP or 8+8MP cameras. You'll find the 439 and 429 in thousands of varieties of mid-range phones over the next couple years, from the $300 range all the way down toward $100 MSRP.
Outside of those differences, there are some consistencies. All of the new chips use the same supporting chips for functions like RF and audio, all support dual SIM with dual VoLTE connections, and each has some level of native artificial intelligence processing built in. A sneaky important announcement is that all three chips are using FinFET 3D transistor technology, which is used in high-end chips and lets them be more powerful while also using less power. So even though the 600 and 400-series are still not high-end chips, they're sharing some core technology with the 700 and 800 series.
A notable talking point from Qualcomm is the cross-compatibility with these new chips and existing ones. The 632 is pin compatible with the existing 626, 625 and 450 chips, and the 439 and 429 are pin compatible between each other — that all means that manufacturers can pick and choose which one they want without making further architectural changes on their boards, and in the case of the 632 they could more easily choose to move from an older chip to the newer one in the middle of a development cycle.
Qualcomm's partners are expected to release phones with the new platforms in the second half of 2018, so we won't have to wait long to see what these processors can do in the real world.
Press release:
Qualcomm Announces Three New Snapdragon Mobile Platforms for Expanding High- and Mid-Tiers
—New Platforms Designed to Deliver Performance and Power Efficiency Improvements to Mass Market Smartphone Segment—
SAN DIEGO — June 26, 2018 — Qualcomm Technologies, Inc., a subsidiary of Qualcomm Incorporated (NASDAQ: QCOM), announced three new additions to the Qualcomm® Snapdragon™ 600 and 400 tiers – the Snapdragon 632, 439 and 429 Mobile Platforms. These platforms are engineered to bring higher performance, better battery life, more efficient designs, impressive graphics and artificial intelligence (AI) capabilities into the highest-selling Snapdragon tiers. Qualcomm Technologies continues to bring more premium technology advancements to lower Snapdragon tiers, which is helping to transform the mass-market consumer experience.
"The introduction of Snapdragon 632, 439 and 429 builds off Qualcomm Technologies' highestselling mobile platforms and provides users with increased performance and power efficiency, superior graphics, AI capabilities and enhanced connectivity features," said Kedar Kondap, vice president, product management, Qualcomm Technologies, Inc. "We're excited to offer these new platforms with enhanced features to our OEMs and consumers."
More than 1,350 commercial devices based on Snapdragon 600-tier mobile platforms and more than 2,300 commercial devices based on Snapdragon 400-tier mobile platforms have been announced by global OEMs. This new generation of platforms brings big improvements to already successful and feature-rich platforms.
Snapdragon 632: The new Snapdragon 632 brings some of the most sought-after mobile experiences, including mainstream gaming, 4K video capture, artificial intelligence, and fast LTE speeds—all for an affordable price. Built on advanced FinFET process technology, the Snapdragon 632 is designed to achieve 40% higher performance thanks to the combination of the Qualcomm® Kryo™ 250 CPU and Qualcomm® Adreno™ 506 GPU. Camera aficionados can benefit from either a single 24MP single-camera or dual cameras at 13MP each, while display resolutions can scale up to FHD+. For fast cellular speeds, the Snapdragon 632 also includes the X9 LTE modem, which supports LTE Advanced technologies like carrier aggregation.
Snapdragon 439 and 429: The new Snapdragon 439 and 429 Mobile Platforms were created to help deliver popular mobile experiences for mass market, price-sensitive consumers. Both platforms are equipped with artificial intelligence capabilities that enhance the camera, voice, and security experience. Built with FinFET process technology advancements, the Snapdragon 439 and 429 Mobile Platforms are designed to improve CPU performance and power efficiency by 25%3. They both feature the established X6 LTE modem for fast downloads, smooth video streams, and near seamless web browsing. Snapdragon 439 is equipped with an octa-core CPU and includes the Adreno 505 GPU designed with 20% faster graphics rendering. The Snapdragon 429 scales to an Adreno 504 GPU, designed for a whopping 50% improvement in graphics rendering. Snapdragon 439 features 21MP single-camera and 8+8MP dual-cameras along with support for FHD+ display, while the Snapdragon 429 includes 16MP single-camera and 8+8MP dual-cameras with HD+ display. Snapdragon 632, 439 and 429 are software compatible, as well as with Snapdragon 626, 625 and 450. The Snapdragon 439 and 429 are pin- and software-compatible. Commercial devices based on Snapdragon 632, 439 and 429 are expected to launch in the second half of this year.
Get the Android Central Newsletter
Instant access to breaking news, the hottest reviews, great deals and helpful tips.
Andrew was an Executive Editor, U.S. at Android Central between 2012 and 2020.