I'm worried the new Wear OS will soon be associated with Samsung, not Google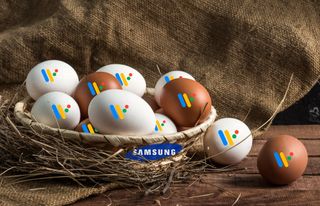 (Image credit: Chris Wedel/Android Central)
2021 is shaping up to be an exciting year for Android fans with big changes to the operating system in Android 12, foldable phones maturing, and a new Wear OS! Google and Samsung are working closely to revitalize the wearable platform, and in doing so, introducing new hardware as well. Google is making its first Pixel Watch, and Samsung is getting back into the Wear OS game with its own device. But up until now, all of the hullabaloo has been about Samsung, even from Google, and it has me a little worried Google is pinning too much of Wear OS's future on Samsung's success.
Yes, Samsung has indeed been making some of the best Android smartwatches for years now, but it doesn't mean that the company should be given the reins to Google's wearable platform. While Wear OS is being co-developed between Samsung and Google and will be open to other manufacturers, it feels like Google is largely letting Samsung run the show.
The most recent smartwatches from Samsung, the Galaxy Watch 3 and Galaxy Watch Active 2, are fantastic pieces of hardware that have excellent performance running Samsung's Tizen OS. Though Tizen has its pros, it also has its cons, even with all of Samsung's design mastery to marketing finesse, its smartwatches were still unable to have the success that the Apple Watch does.
It's no secret that Google's Wear OS platform has struggled far more than what Tizen has, but that blame can fall on many heads. The reliance on Qualcomm as the sole maker of the processors for smartwatches to years of Google seemingly letting the software slowly die has contributed to Wear OS being in the state it is in now. Some companies are still making great Wear OS watches today, like the TicWatch Pro 3 and the Fossil Gen 5E, but even those have their faults.
There's a bit of a chicken and egg situation with Wear OS watches because, while there is little marketing done for the devices, it's a bit difficult to really push a product that can't perform to the levels of more popular smartwatches. Google has partnered with many of the brands in the past to help boost the development of their smartwatches but done little to help advertise the devices.
Google's approach to Wear OS was different from that of Android, where brands could change the operating system as they wanted. With Wear OS, Google controlled everything with the platform and didn't allow companies to change anything — well, almost nothing. Aside from watch faces and a few battery modes, every Wear OS watch looked and operated the same from a software standpoint. When Google is the one in charge of the software for all Wear OS watches, it should want the platform to succeed even more — but it never showed.
With the new Wear OS on the horizon, Google appears to be taking a back seat to Samsung to this point in time. While we expect a Pixel watch to come in the fall, Google has been keeping many of its current Wear OS partners in the dark about future plans. This has been shown by the confusion on whether the TicWatch Pro 3 will be updated and even the possibility of any of Qualcomm's chips can run the new OS.
Don't get me wrong, I'm excited as anyone for a Samsung Wear OS watch, but I don't want Samsung to run the show. I don't think that in the future, Samsung will be the puppet master behind the scenes. I hope not anyway. Because if that were to happen, I'm afraid for what may become of the current Wear OS smartwatch companies. The close partnerships between Google and Mobvoi have helped the brand be one of the few companies to continue making high-quality smartwatches — and I want that to grow with Mobvoi and other brands.
Samsung has brand awareness in many areas of its business, especially in the consumer electronics arena — and it has earned that awareness. Samsung makes excellent products, and it markets the bejeezus out of them, and I expect it to continue doing so. However, Google needs to make sure that it doesn't let its current partners fall behind because it gives too much to Samsung. We love Android for many reasons, from the variety of hardware to the variations in software between brands. I would love for Wear OS smartwatches to be similar in that vein, but if Google puts too many eggs into Samsung's Wear OS basket, it could spell trouble for my hopes.
Get the Android Central Newsletter
Instant access to breaking news, the hottest reviews, great deals and helpful tips.
Chris Wedel is a fan of all things tech and gadgets. Living in rural Kansas with his wife and two young boys makes finding ways to get and stay online tricky. By utilizing his years of experience with the tech and mobile communications industries — success is assured. When not conquering connectivity challenges and testing new gadgets, he enjoys cruising a gravel road in his UTV with some good tunes.
And this is why I'm waiting for a Pixel watch, because the new Wear OS platform is more One UI than Wear OS and not to mention the inevitable fragmentation with updates for new Smartwatches running the new platform.

Wrong. Samsung's WearOS is more OneUI just like their phones are. Fragmentation is better than crap watches, which is what we have today. Although I also think you're wrong. Watches aren't Phones major software versions are a lot less important.

I'd rather have a good watch and less fragmentation and like it or not, the Apple Watch is the benchmark for every Wear OS Watch reach including Samsung's Galaxy Watches and I hate saying that about Apple but it's true.

What you want here isn't going to happen, if it could then the 'old' Wear OS would have worked. Manufacturers need to be able to tailor the watch platform to their brands, or else there is no incentive for them to be involved. Samsung can make the best Galaxy Watch they can, Fitbit can make the best Fitbit, and presumably there will be a Pixel watch somewhere in there. As long as the unified app platform is there fragmentation doesn't matter, just like it doesn't matter on phones. You may really like the Pixel phones, and I may really like the Samsung. Some less technical version of ourselves may not even know that under the hood they are the same, all they should care about is they get a familiar UI and all of the apps and features they need. If Wear OS can be saved this fragmentation is the only way to go.

Google not wanting to commit is the main reason explaining the lack of success. Over the years there's been a lot of big words and far less action. Now, regarding letting Samsung run the show, at least it's better that someone does run it rather than abdicate or fall asleep at the helm, which has been Google's attitude. If I were a wearables manufacturer I'm not sure I would trust Google to devote their resources to develop Wear, as we have seen in the past. Maintenance doesn't seem to be great career move at Google and the product is limited in terms of revenue streams. Perhaps Fitbit will change that. Mobvoi and Fossil do not have the scale or the reach to accomplish what Samsung has the potential to do.

I agree with you to a point. I think that if Google is going to continue to mismanage Wear OS, then letting Samsung do it is better than nothing — maybe. This new co-development is as much Google wanting/needing help with the OS as it is Samsung needing/wanting better integration with Android (ie. app support). If Samsung is largely left to its own devices to "control" Wear OS, then my worry is that other brands will not get the same level of support for their new Wear OS devices as they should. I guess we'll have to wait and see.

It's not Google's lack of commitment to Wear OS that was the problem, it was Qualcomm's lack of the effort in making a Smartwatch SoC that is comparable to Apple's.

It's true that Qualcomm did its fair share of holding Wear OS back, but Google took its sweet time to make any legitimate effort in fixing the OS.

You can't sleep on the 4100, its a night & day difference from the crappy 2100/3100.

Samsung won't be the only brand but Google needs Samsung to legitimise WearOS.

Google has failed Wear OS. (In my Arrow voice)

Qualcomm is has failed Smartwatches (Arrow voice).

Google could have opened the platform to other silicon platforms ages ago. Google failed as much and as long as Qualcomm

This is as true as android is associated with Samsung. I think Samsung's hand will help push Wear OS, fear not.

To the average consumer Samsung is Android but Android is more than just Samsung and want Wear OS to be more than just Samsung but of course Samsung will definitely propel Wear OS as a Smartwatch platform.

If you want Wear OS to make it, they need Samsung. These other companies can't propel it forward. I started on WearOS but quickly left for Tizen as it's way better as a WatchOS. The only thing it didn't have was Google assistant and apps. Now it's got all that. Honestly, these other companies aren't even needed. It's Samsung vs Apple at this point. Huawei would be included if politics hadn't gotten involved.

Agree with all these points but now Wear OS eventually needs to support Smartwatches that for as long as Apple supports it's watches. That has to be the next step if Samsung and Google really want to compete with Apple.

I don't see the problem. Wear OSc simply hasn't had the kind of success anyone expected. Whatever the reason for that, Samsung is in a pretty good position to help. Tizen on their smartwatches havr been superb. The only downside was the lack of apps. I'm sure they are aware that to grow Wear OS, they also need other smartwatch manufacturers to be on board. This should work to everyone's benefit for some time. At some point, Samsung may start taking off, but much of that is due to other manufacturers not really stepping up to the plate to truly innovate. I recently traded my Classic S3 as the battery was getting worse and there was a killer deal on a Watch 4 with trade in. I still have a Frontier S3, but I may look to upgrade that soon. Battery is starting to show signs of wear and the prospect of more apps is kind of appealing. Outside of the battery issue, I have little to complain about. If the battery were lasting long enough, I probably wouldn't have much reason to upgrade. The Tizen OS and hardware are just superb in function.

The first thing after seeing the title and before reading the article, is coming here, and tell for the writer, don't be worried, don't let tech take over your life. Now I can go ahead and read the article...