In the world of items that drop in price and get covered by people like me, off-color products going on sale are rare. Usually it only happens when the deal also includes the plain black version. So it's nice to see the white version of Razer's DeathAdder Essential gaming mouse go on sale. It's down to $29.99 on Amazon even though the Black version is still $35. This is normally a $40 mouse, so you're saving a solid $10, and today's drop is near the lowest it has ever been.
Feels Good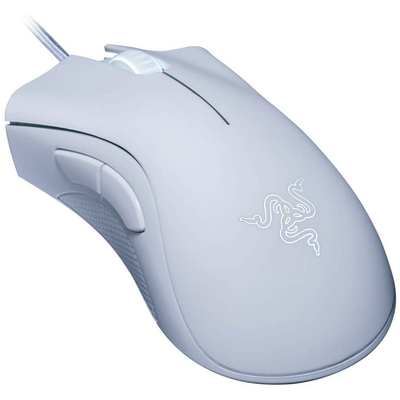 It's nice to see a gaming mouse that isn't the exact same Black color as all the other gear. Uses a high-precision 6,400 DPI optical sensor with on-the-fly sensitivity adjustment. Has 5 fully programmable buttons and rubberized scroll wheel.
$29.99 $40.00 $10 off
The DeathAdder mouse uses a high-precision 6,400 DPI optical sensor. This is an adjustable sensor for you to find the right amount of sensitivity. You can even adjust it on the fly if you find it's too sensitive while playing your favorite game or doing some precision creative work in Photoshop. The mouse has a dedicated button for that.
The rubberized scroll wheel provides maximum accuracy. It has small, tactile bumps that help increase your grip and give you more control while you're using it. The mouse has five fully programmable buttons. You decide what the buttons do, and that also means reprogramming the DPI adjustment button if you want to. Use Razer's software to setup some complicated macros, too.
The durable mechanical switches are engineered to last for up to 10 million clicks. So you'll probably run out steam before this mouse does. And if not, Razer backs it up with a two-year warranty.
We may earn a commission for purchases using our links. Learn more.