Which color Google Pixel 6 or 6 Pro do you want most?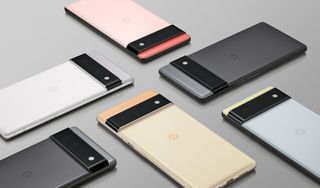 (Image credit: Google)
Earlier this week, Google let the cat out of the bag on the designs for its forthcoming flagships, the Pixel 6 and Pixel 6 Pro. In the "leaks," we got to see the stunning new designs, learned about Google's new custom Tensor SOC, and perhaps most importantly, we got to see the pretty new colors! Okay, I'm joking a bit, but I'd wager that many of you are going to pick which Pixel 6 you want at least in part based on the available colors, right?
True to form for the Pixel line, the 6 series will have some fun colors for us to choose from in addition to more traditional offerings like white/silver and black. In fact, as our own Nicholas Sutrich pointed out, these colors harken back to some of the most beloved Pixel (and Nexus) phones of the past few years, a nice touch indeed!
The "regular" Pixel 6 will be available in a light orange reminiscent of the Pixel 4 lineup, a sage green that looks a lot like that on the Pixel 5, and a matte black color. The Pixel 6 Pro will come in a similar black variant, as well as a stately silver and gorgeous gold, both of which remind us of the glory days of the Nexus 6P.
Personally, I'm leaning towards the sage green Pixel 6. Let us know which color you most covet. Also, leave a comment telling us which trim you prefer — matte or polished.
Jeramy is proud to help *Keep Austin Weird* and loves hiking in the hill country of central Texas with a breakfast taco in each hand. When he's not writing about smart home gadgets and wearables, he's defending his relationship with his smart voice assistants to his family. You can follow him on Twitter at @jeramyutgw.
I want yellow. I'd get black or green.

I want the gold Pixel 6 Pro, it looks so nice and the green one as a second choice.

But, you are not as you are getting the 4a 5G or the 5. You mentioned in recent posts as you don't want to spend a grand on a phone.

How do you know the Pixel 6 will cost a grand? You don't, Google might surprise us. If money was no object I'd get both the 6 Pro and the 4a 5G with the 6 Pro being my daily driver.

I didn't. That's exactly what you said in one of your comments to a recent article lol.

I said I wanted the Pixel 4a 5G because of cost if I had the money to buy one or the other, I'd pick the Pixel 6 Pro obviously.

Lol, Your exact words in that sentence; "I ll be getting the 4a 5G over the Pixel 6 as I don't want to spend a grand on a phone and Googles midrange phones are more than good enough plus I need a bigger screen so I'm opting to get the 4a 5G over the 5 as it's almost the same as the 5 anyway"

Is the pixel 4a as good as the articles make it seem to be? I ask because it might just be my next device once I upgrade. gotta plan for the future.

Silver Pixel 6 Pro for me.

I've grown fond of that white/red (orange? I dunno, I'm colorblind) model just because that one matches the earliest leaks I saw.

I'm getting a 6 Pro and hubby a 6. I think it'll be Silver for me, Sage or Orange for him.

Baby poop/puke pastels. Sorry but these are fugly phones.

Who cares? I'd put a case on it so it makes NO difference.

They do make clear cases, ya know

Black in either model since it looks so well on my pixel 5

The Pixel 6 and 6 Pro are the most anticipated Android phones of the year, Google will finally achieve vertical integration parity with Apple which gives Google a massive advantage over every other OEM, including Samsung who doesn't have that same vertical integration that Apple and now Google (will soon enjoy) will have, because apart from their Smartwatches, Samsung has to rely on someone else's software for their devices, Google for their phones and Microsoft for their laptops. Facts!

Beno and who is Google relying on to make the Tensor chip?? oh yeah Samsung!

Yes, but this will take many product cycles before it really shows.

White so i can see it on the car floor After a year when the price goes down.

Orange because that's obviously the best color.

Silver 6 Pro for me. And hopefully a Pixel Watch to go with it. 😂

Always black for that sleek, professional look.

I really want a midnight blue, but it will be in a case anyway!

I'd have to see them in person to make my mind up but that light orange pixel 6 looks great. Though it looks more like a pink and coral red, probably just my screen's colour settings.

Is glass confirmed for both? I don't want glass, I'm disappointed.
Android Central Newsletter
Thank you for signing up to Android Central. You will receive a verification email shortly.
There was a problem. Please refresh the page and try again.