Where to buy the Google Pixel 3 and Pixel 3 XL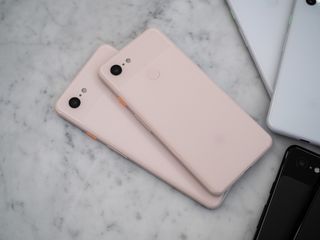 The Google Pixel 3 is now available for purchase across the United States, and if you want the best Android phone money can buy in 2018, it needs to be at the very top of your shopping list.
Both the Pixel 3 and 3 XL are outfitted with vastly improved displays compared to last year's models, refined designs, and damn impressive cameras. If you want to buy one, here's everything you need to know.
Verizon
Once again Verizon is the "exclusive" carrier for the Pixel 3 and Pixel 3 XL in the U.S. That's, of course, a bit of a misnomer because that exclusivity only reaches as far as buying from a carrier goes. Still, that means Verizon is the only one of the big four U.S. carriers to offer the phone directly.
Pricing is set at $799 for the Pixel 3 ($33.33/month for 24 months) and $929 for the Pixel 3 XL ($38.74/month for 24 months). Add $100 to each to jump to 128GB of storage. Available colors include Just Black, Clearly White, and Not Pink.
Right now, Verizon's running a buy one, get one promo where you'll receive a 64GB Pixel 3 for free (or $799.99 off another Pixel 3 or 3 XL model) after buying one Pixel 3 or Pixel 3 XL on a monthy installment plan. You will need to add a new line of service and the credit is applied as a $33.33/month credit for 24 months.
See at Verizon (opens in new tab)
Project Fi
Remember that whole "exclusive carrier" thing? Well, you can buy the Pixel 3 and Pixel 3 XL from Google's own carrier, Project Fi. When you do, you're basically just getting a phone as if it were purchased from the Google Store, but it comes ready to rock with your Project Fi account if you have one already. If you're starting a new Project Fi line, the phone's ridiculously easy to get set up thanks to its eSIM — you just power it up and follow a few prompts.
Pricing is set at $799 for the Pixel 3 and $899 for the Pixel 3 XL. Add $100 to each to jump to 128GB of storage. Once again, colors include Just Black, Clearly White, and Not Pink.
For a limited time, Project Fi is offering a $799 service credit when you buy two Pixel 3 or 3 XL phones and add a new member to an existing group/family plan.
Best Buy
Best Buy is a massive retailer partner to have on board for the Pixel 3 and Pixel 3 XL, but unfortunately, the partnership is only to sell the phones as "Verizon" devices. The phones are actually unlocked and will work on any carrier of your choice, be it one of the big four or a prepaid carrier, but chances are you won't be able to get Best Buy to sell you one unless you have a Verizon account.
Pricing is set at $799 for the Pixel 3 and $899 for the Pixel 3 XL. Add $100 to each to jump to 128GB of storage.
Best Buy's latest offer? You'll receive a free $100 Best Buy gift card with a qualified activation of either the Pixel 3 or Pixel 3 XL.
See at Best Buy (opens in new tab)
Google Store
If you're buying a Google phone, there's a seamless experience to be had buying from the Google Store directly. When you do, you'll be able to take advantage of Google's trade-in offers, which could be as high as $400, as well as its 24-month no-interest financing options that mirror those offered by carriers. Google even offers "Preferred Care" plans (opens in new tab) for an extended warranty and extra support.
Should you choose to buy a Pixel 3 from the Google Store, you'll be able to snag 6 months of YouTube Music Premium for free (a $60 value).
Pricing is set at $799 for the Pixel 3 and $899 for the Pixel 3 XL. Add $100 to each to jump to 128GB of storage.
Andrew was an Executive Editor, U.S. at Android Central between 2012 and 2020.
I didn't see anything about a free Pixel stand when I made my purchase earlier.

Last year with the home mini, you got an email with a promo code a few weeks after pre-ordeing. But except for here, I haven't seen it say anything about a free Pixel Stand.

I confirmed with a Google phone rep that no such promotion exists for United States residents. Only a Canadian thing.

I was going to ask if there was a mention of a freebee for this years order.

The trade in values are really bad ....325 for a pixel XL....335 for the 128gb version

I'm only getting $154 quoted for a 128gb XL.

I assume they were referring to the Pixel 2, not the original.

?
it tells me 130 dollars for the pixel xl. wtf. perfect condition.

Google you almost had me... Almost. No headphone jack and no expandable memory? Really? I will stick with my Moto X4 Android One thank you. Almost.

Google phones never had SD support.

The Nexus One did but yeah....it's been a very long time.

No 3.5m Jack coming back, no SD card still.
Stick with my Honor View 10 which will get Pie soon and cost half the price with specs as good or better.
I don't see anything to draw me to Pixel still.

I ordered through the Verizon app, and it gave me a free pixel stand. just a heads up. But it looks like you have to order through the my Verizon app

You can pre order at Costco as well and take advantage of there deals to

Is Costco offering anything if you preorder with them?

where do you even find the preorder at Costco? Is it only in store? I cant find anything online

Does it come with headphones

Stand offer is only for canandian customers on the Google store

I wish i could scream on here!! NO HEADPHONE JACK or NO EXPANDABLE MEMORY!!! They need to stop trying to copy Apple!!!
Ahhhhhhhhh!!!! *rant over

Verizon charging $929 for the 64gb XL 3, not $899

$1029 for 128 XL as well.

We've definitely reached peak phone. I can't see anything compelling about the Pixel 3 that makes it worth 4 of my beloved Moto G6's.

Yeah, peak Google was years ago...probably the Nexus 5. Peak Samsung is still happening though. Next year if they remove the headphone jack will be the start of their decline. Overall smartphone are getting more expensive, uglier and removing features every year.

Would be nice if you mentioned the deals you can get at each place. Like the free pixel stand at Verizon or the $100 gift card at BB. Not to mention the BOGO at BB and Verizon if you add another line. This would greatly help in people's decision making. Why write an article like this if the reader still has to go out and do a bunch of their own research?

Sonuva #!$!@... still no love for AT&T-ers in terms of a good stock-ish device that'll work with Wifi Calling, HD Voice, etc. My undying devotion (ahem... enslavement) to Samsung continues...

My friend got a promotion e-mailed to her $50 google store credit when you pre-order. I asked a customer rep about it and they said it only went out to select people. I got pissed off and canceled my order.

If you ordered from Verizon using the app on the day it was announced, they were adding a charging stand to the order. I will see when I open my delivery later today!

That's a lot of money for a mid range spec phone with no head phone jack and no memory card slot. Ok its got a good camera, however you can't see the screen in bright sunshine. So that kinda negates the good camera deal. Oh and if you buy it from Verizon it's sim locked to Verizon. I nean we are talking $1029.00 for the 128 gb version. You can get way better spec phones for that sort of money. You can get better phones that are $300.00 or more less than than with a better spec sheet. Don't see what the big deal is here.

It has a notch, Google would have to pay me to take one of these phones

no amazon. sad that google and amazon are still fighting
Android Central Newsletter
Get the best of Android Central in in your inbox, every day!
Thank you for signing up to Android Central. You will receive a verification email shortly.
There was a problem. Please refresh the page and try again.