When cheap phones can do everything, what happens to flagships?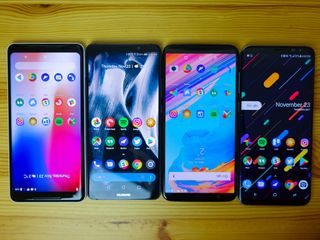 Have you heard? There are no more bad phones. The change happened slowly, almost invisibly, over the past couple of years, but the cycle is now complete.
How did it happen? The replacement of components with clear technological bottlenecks — thermally inefficient processors, terrible cameras, lifeless displays — with ones largely free of issues has catalyzed an industry. The proliferation of good cheap phones is the best thing to happen to the internet ever, in my opinion. We spend a good chunk of our time talking about the expensive and the beautiful, but what about the practical? The reliable? The good?
The problem is that good doesn't garner the interest, and generate the clicks, that we need to run a media business. There is nothing salacious about fine, nor disruptive about usable.
But that belies the true size of the iceberg that lurks underneath, the hundreds of millions and billions of Android phones that will be sold in the years to come, almost all of which will be cheaper and better than we think, be it in the $50 range all the way to what we consider the mid-range, $500 or so. You can quibble over camera quality and app performance, but the reality is that as long as they're running a recent version of Android, with a turnkey set of Qualcomm or MediaTek (or perhaps Samsung or Rockchip or any number of companies producing SoCs based on ARM's architecture) chips, they'll be fine.
Chances are, if you're reading this on a phone — if you visit Android Central regularly — it's not your first device. But there are millions of people across the world that have yet to gain access to the mobile internet, and there's a good probability their first phone will run Android. We take for granted the tasks phones have replaced or made easier — I know I do — from simply browsing the internet to transferring money to keeping in touch. When the experience of such mundane tasks comes with almost no friction, the things that need to get done get done. It's as simple as that. The software gets to do its job, and content gets consumed or created as the owner sees fit.
As phones become more capable of replacing other tools in our lives for mundane tasks, it becomes more difficult to justify spending all that money on the most popular and expensive phones. Those that choose to do so often call themselves "power users," and our frenemy Android Authority has a great summary of what exactly that means in 2017.
But the central thesis assumes that there are devices out there, usually expensive, large, and with a focus on a particular demographic, that can do things other phones can't. The ZTE Axon M, for example, can fold out to reveal two displays; the Razer Phone can fill a room with sound; the LG V30 can intelligently zoom to a subject when shooting video. These are great features, but they're extensions of existing ones, not entirely new paradigms (though one can argue that the Razer Phone's 120Hz display is disruptive in a whole new way).
I'm reminded of a blog post I read by analyst and investor, Ben Evans, about what we do on our phones.
Every Android phone with access to the Play Store has roughly the same access to these billion-plus apps. Some may not work as well on older hardware, and certain games may not run at all, but the true mobile revolution is that most people can perform most important tasks on phones today, be it creating or consuming. There will always be a subset of users that need something more powerful, or larger, or more specialized, but just as fewer and fewer people need dedicated computers to get through a day, soon only a few people will need powerful expensive phones.
I think of a device like the BlackBerry Motion. It costs around $400. It doesn't do anything better than anything else. It's merely a good phone that represents the current ethos of what makes a great Android phone; decent hardware and a commitment to plugging holes in the software. Android is in a place right now where, without major feature updates, most people would be pretty happy with the experience for a few years. With hardware powerful enough to prevent "bit rot," and a commitment to security, the proliferation of good, cheap Android phones is the best thing to happen to mobile in years.
That's why you're going to see us do a better job in the coming months and years covering these products in a way that elevates these devices to a place that, without sensationalizing them, acknowledges their importance in the industry. We already have a full set of rich buyer's guide content in the under-$100 to under-$400 scale, but you'll be seeing a lot more smart, level-headed commentary on why the category is so important.
And now, this:
Black Friday was a big deal around these parts. If you didn't have a chance to check out Thrifter's live blog and overall coverage, Cyber Monday is going to be just as big a deal.
Nice to see some older devices like the Sony Xperia XZ, OnePlus 5 and Nokia 8 getting Oreo.
If you've been holding off getting a password manager because it's too hard to use or doesn't work with your platform of choice, may I ask you to reconsider?
The fight for Net Neutrality is coming down to the wire. Let's win this one.
Remember Android Wear?
I hope you Americans had a wonderful, relaxing Thanksgiving!
See you in a few weeks,
-Daniel
Get the Android Central Newsletter
Instant access to breaking news, the hottest reviews, great deals and helpful tips.
Daniel Bader was a former Android Central Editor-in-Chief and Executive Editor for iMore and Windows Central.