Razer Phone review: Don't go outside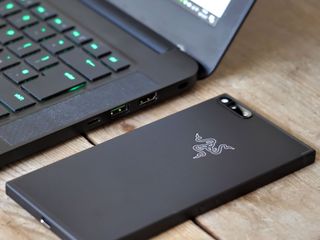 The quick take
The Razer Phone is supposed to be a device for enthusiasts, but for it to make sense at the $699 price point, you need to be the kind of enthusiast who doesn't care about water resistance, a good camera, or display daylight visibility.
The Good
Sharp, bold design
Exceptional performance
120Hz display brings game-changing smoothness
Multi-day battery life
The Bad
Mediocre daylight visibility
Dumpster fire camera
No water resistance
Ships on Nougat
Razer Phone Full Review
For most of us, the term "gaming phone" probably conjures up memories of things like the Nokia N-Gage and Sony Xperia Play. For all the hype and hope that preceded those gadgets, they were spectacular commercial flops, mainly because they prioritized gimmicky gaming features above merely being a good phone.
Now, PC gaming brand Razer is hoping to succeed where Sony, Nokia and others have failed. Its new phone, built with talent acquired from Nextbit last year, aims to be gamer-centric, but not to a fault. The idea was to build a phone not just for playing games, but one with hardware and features that gamers want in a phone, whether they're gaming or not.
And while the premise is promising, the Razer Phone as an overall package is far from the home run many will have been hoping for. For all that's right with this phone, in its current state it's hard to recommend to anyone besides hardcore fans of the brand.
About this review
We're reviewing the Razer Phone after ten days with the device, which was provided by Razer for review. During our testing, we used it on the Three network in the UK, and briefly on Yoigo while roaming in Madrid, Spain. The phone was running on Android 7.1.1 Nougat, with the September 5, 2017 Android security patch.
Razer Phone Video Review
Black slab
Razer Phone Hardware
You could call the Razer Phone's hardware a throwback to the proportions of "phablet" devices of years past, or a deliberate antithesis to current flagship trends. It goes against the grain of super-thin, super-tall, bezelless phones we're seeing from just about everyone else this year. Your eyes are immediately drawn to the giant stereo speakers on the front which, of course, are ludicrously loud and a fairly bold design feature.
Image 1 of 2
The blocky aesthetic of the Nextbit Robin has been transformed into a sheer aluminum unibody, making for a chassis that's simple, angular and which shares plenty of DNA with Razer's gaming laptops. It's a serious piece of hardware, but it's nowhere near the visual aneurysm we usually witness when tech companies try to pander to gamers. (Looking at you, Acer Predator tablet.)
The Razer Phone is big, and it's heavy, and one-handing it is more than a little awkward. But there's no mistaking it for any other device on the planet. The trademark Razer logo around the back is, on the face of it, a giant exercise in branding. However, it's pulled off in a way that's not gaudy.
Like the Robin, the Razer Phone uses a recessed power button on the side, with a built-in fingerprint scanner. I've heard others complain about this, but I've had no problems using it with either my right thumb or left middle finger. Once you get used to it, muscle memory quickly kicks in.
The sheer size of the Razer Phone, and its brushed aluminum chassis, makes it somewhat slippery, but the extremely angular shape goes some way to compensating for this. It is worth zeroing in on the coating of the metal for a second, though: The soft-touch finish feels great, but in my experience has been incredibly scratch-prone — and it's scratched more visibly than many glass phones I've used after just a week or so, which is not great.
The design certainly isn't for everyone, but that's absolutely fine in a niche product like this. Personally, I appreciate the aesthetics of it, and how different it is.
Being a smartphone for gamers, naturally, the Razer Phone includes the most powerful hardware available in any Android phone at launch time. The top-end Snapdragon 835 chip from Qualcomm, 8GB of RAM, 64GB of storage plus microSD expansion, and a huge 4,000mAh battery — the largest we've yet seen in an Android phone, matching the Huawei Mate 10 Pro and BlackBerry Motion.
Image 1 of 2
That's high-end stuff, but nothing out of the ordinary. What makes the Razer Phone unique is its display. The 5.7-inch Quad HD LCD can run at up to 120Hz, pushing more frames than any other Android phone, which means smoother gaming and a more fluid experience in general. Ideally, you'd get double the 60 frames per second at which most Android phones max out. The default refresh rate is 90Hz, but you can crank it all the way up to 120 for maximum smoothness — presumably at a small battery cost. (I briefly ran the phone in 120Hz mode, and didn't notice any huge difference in longevity. YMMV.)
More: Razer Phone specs
Superficially, this looks like a decent panel, with pleasing colors and decent viewing angles. Use it indoors to play a game or watch a movie, and you'll have a great time. But between a highly reflective screen and what seems like lower than average brightness from the backlight, daylight visibility is just flat-out disappointing for a phone this expensive — a couple of years out of step with the competition in this area. It's not quite LG G5 or HTC One M9 bad, but it's far from ideal in bright, outdoor conditions.
I don't need to explain why sub-par daylight visibility is a bad in what's supposed to be both a premium smartphone and a portable gaming device. I think most of us would prefer to play games at 60fps if it meant not having to squint at the display.
For what it's worth, though, the extra smoothness that this higher refresh rate offers actually is kind of revolutionary, and I'm sure it's something we'll see in more phones in the coming year. This isn't one of those placebo effects — you can in fact see the difference even bumping up to 90Hz.
Most Android apps will just look and perform more smoothly on Razer Phone's super-responsive panel. However, there is a big hurdle to be overcome, ironically, in terms of game support. The titles preloaded on the phone by Razer, like Titanfall Assault and Gear Club, work really well at up to 120fps, but there are still big gaps elsewhere, and when you step down to 60 or even 30 in games like Need for Speed: No Limits, it's really noticeable. Razer is working to grow support among Android games, but 120Hz support isn't anywhere near universal just yet.
Razer certainly has the clout to see that developers do update titles to fully support its screen, but that's not going to happen overnight.
Another bump in the road is the lack of a 3.5mm headphone jack. As I mentioned, the built-in speakers excellent — loud, bassy and clear — almost too loud, at times, for things like notification sounds. (There's also an obnoxious lock/unlock ding that you'll quickly want to disable.) But for wired audio, you'll need to keep hold of Razer's proprietary, THX-certified dongle, which, like all dongles, is easy to lose in a bag or a pocket, and annoying to carry separately. (It's basically bad is what I'm saying.)
The hardware of the Razer Phone gives us a taste of the flickers of brilliance that make this device exciting, and the compromises that might ultimately undo it. It's a powerful, good-looking, truly unique phone, but also a device with some unique hardware weaknesses.
Stuff for nerds
Razer Phone Software
Android absolutely flies on the Razer Phone — in part thanks to the top-notch internals, Razer's performance tuning, and the 120Hz display. It's running Android 7.1.1, and it's disappointing to not see 8.0 out of the box — Razer tells us it wouldn't have been possible to ship Android Oreo while also optimizing the OS for this new display. The Oreo update is slated for Q1 2018, so Razer Phone buyers could be waiting a while.
The basic look and feel is that of stock Android, plus a whole bunch of green accents, in keeping with Razer's colorful laptop branding. There's theming support, with a comprehensively stocked Theme store to choose icons and wallpapers from, if that's your thing. And speaking of customization, the stock launcher for this phone is none other than Nova Launcher — specifically, a special version of Nova Launcher Prime created for Razer, with Google Feed support as standard. Nova is fast, a joy to use and extensively customizable. In general, it feels like a great fit for this phone.
More: Nova Launcher: Everything you need to know
Razer's software customization is pretty light, besides the splash of green paint. The Game Booster app is one important addition though, which lets you prioritize battery life or performance, or disable notifications if you don't emails and instant messages getting in the way of your fun.
Besides these few tweaks, there's not a whole lot to say about Razer's user-facing software additions. Most of the work done to optimize the OS for the phone's fancy 120Hz display is invisible, and thanks to the company's light touch, you're mostly just looking at an extremely responsive version of stock Nougat.
That's only going to get better once Oreo lands in the Razer Phone next year.
Juice in the tank
Razer Phone Battery Life
This shouldn't come as any surprise given the enormous 4,000mAh battery lurking within, but the Razer Phone is, in my experience, good for at least a day and a half of use per charge. Sure, if you're gaming constantly you'll be able to knock that down to under a day. In either case, you're looking at really reliable battery life from this phone whatever you're doing, even with that fast 120Hz screen.
Screen-on times, for me, routinely exceeded the six-hour mark. That's a little less than the Huawei Mate 10 Pro, but still a commendable performance.
For fast refills, the Razer Phone is the first (and currently only) device to use the latest Qualcomm QuickCharge 4+ standard. In casual side-by-side tests, I've found that QuickCharge 4+ isn't quite as speedy as OnePlus's Dash Charge, but at the same time, you're also filling a much larger battery. Regardless, Razer should be praised for riding the cutting edge here.
Finally, in a neat bit of design symmetry, the USB C-to-C charging cable that comes with the phone (and the headphone dongle, actually) features the exact same style of braiding used on Razer's laptop chargers. Small design touches like this add polish to the overall package.
They're bad
Razer Phone Cameras
There's no delicate way to say this, so I'll just say it: The Razer Phone's cameras, in their current form, are a hot mess. They're embarrassingly poor for a $700 phone, and while there are almost certainly improvements that can be made in software, right now photography on the Razer Phone is a bad experience.
There are dual 12MP sensors around the back, behind a regular f/1.75 lens and a f/2.6 telephoto lens, respectively. There's no optical stabilization, but that's not necessarily a deal-breaker. What certainly is a deal-breaker though is image quality. Photos are consistently dark, flat and lifeless, quickly becoming noisy in low-light conditions compared to the competition. In ideally lit conditions, the Razer Phone will produce the same good-looking shots as any basic smartphone, but that's about it. I'd call it a "mid-range" camera experience, but to be honest, even that is being generous.
This is not OK in a $700 phone.
Image 1 of 9
What's more, the camera app itself is a joke. There are no shooting modes at all — literally none — besides an HDR toggle, and also no way to quickly zoom into a telephoto view — you need to pinch to zoom, which is awkward on a phone of this size. And you're just SOL completely if you want to take panoramas or manually adjust things like ISO and shutter speed. It's also buggy, slow, constantly fails to focus, and just not what should be shipping on a phone... well, on any phone, frankly, in 2017.
All these criticisms apply to video too, where despite 4K shooting being supported, the Razer Phone's autofocus issues make for a haphazard video experience.
And that really sums up the camera for me: This is about the worst photographic performance I've seen in a $700 phone. (Though admittedly, I haven't used the Essential Phone, which was also panned for launching with an underperforming camera.) In any case, it's disappointing that such a massive area of the modern smartphone experience has been overlooked like this.
The Bottom Line
Should you buy the Razer Phone? Wait and see
At present, the Razer Phone is a very mixed bag. The camera, obviously, is a big miss, and for me, the biggest reason not to buy this phone. It'll probably get better with time, but it's shipping this month, and right now the camera is nowhere near ready.
It's also weird to see an enthusiast-focused phone missing important enthusiast features, like a headphone jack and an up-to-date OS.
That's aside from table-stakes things like water resistance and a screen that looks great outdoors as well as indoors. These are things that just about every other $700 phone worth buying does that the Razer Phone does not.
The Razer Phone, overall, is a great, high-performance portable gaming-slash-entertainment gadget. But it does that at the cost of being a great all-around phone, which right now it is not. The main reason for that is the camera, but it's also not helped by these other feature omissions. Mainstream-focused competitors like the Huawei Mate 10 Pro lack Razer's fancy speakers and display, but are far more balanced overall, with great performance, long battery life, a more up-to-date OS, a phenomenal camera and water resistance.
That said, I don't think the Razer Phone has fallen into the same trap as the N-Gage or the Xperia Play. Those two examples of failed gaming phones were doomed from the outset. With the Razer Phone, the idea isn't fundamentally flawed, but the feature set is incomplete, and the execution — particularly the camera — isn't quite there yet. There's the core of a great product here, if Razer keeps working at it — which I sincerely hope it will.
Until then, the Razer Phone is a quirky little device with probably quite a limited audience. Unless you absolutely must experience Android games on a 120Hz display, I'd recommend you wait and see what the first few rounds of software updates do for the phone's camera before parting with your cash.
Get the Android Central Newsletter
Instant access to breaking news, the hottest reviews, great deals and helpful tips.
Alex was with Android Central for over a decade, producing written and video content for the site, and served as global Executive Editor from 2016 to 2022.
Why do these [smartphone entry] companies release these flagship priced phones with awful cameras? You'd think that would be the first thing they try to get right, considering how important it has become to consumer interests.

Smartphone cameras are one of the hardest to optimize well in a phone and its software compared to the rest of the parts. Why do you think Samsung, Apple, and Google spend billions of dollars improving and boasting about their phone camera abilities.

I get that, but you can't release a $700 phone with a crappy camera anymore. Razor was already looking at an uphill battle trying to compete in that price range. Now they're gonna have to pull an Essential and likely discount it to non-profitable levels to salvage any semblance of success.

I wonder where you get the idea that cameras are so important to Android consumers. Important to iPhone users, that I can believe. I'd like to see a scientific survey on this before I'd believe cameras are that important to Android phone users.

Much too broad of a generalization.

All you have to do is just look at people using smartphones every day around the world. The camera is one of the most-used (and therefore most important) features. It's consistently rated as one of the most important factors in a buying decision in consumer research.

While I 100% know what you are saying is true for most people. I personally and a few others I know NEVER read camera review sections because I do not care at all. I am happy with every phone camera I have ever used. I use the camera MAYBE once a month and usually for things that do not matter.

I'm in the same boat as you, however the rest of MY world seems to think I'm "different" because I don't have selfies on the ready to send them.
that being said, while it's not an important feature, I surely don't want a bad camera when I do eventually need t.

I'm just one person, but I do professional photography on the side (some has been used commercially). On my recent mini vacation with lots of photo ops, I left my Nikon at home by choice, just because I was going to have the U11 with me. Very pleased with the results from taking over two hundred photos. Some people don't care about the camera at all, and that's fine. Some think it's critical. I fall in the middle, and although the camera was not the reason I picked this device, I find myself using it a lot because it is so good.

Right?? I'm so tired of hearing the phone is no good because the camera is mediocre. I've seen other reviews of the Razer phone where they took some pictures and declared the camera perfectly fine, but then RAVED about the speakers saying they were the best speakers they've ever heard on a smart phone.
Everyone is trying to make the phone with the best camera but the fact is no phone can hold a candle to current DSLR's. A camera on a phone just has to take pictures, they don't have to be amazing....
I get the lack of water-proofing, it seems you can either have great speakers OR water proofing but not both. However no headphone jack?? the thing is huge but there's no room for a headphone jack? :(

Wait...what? Cameras are the most important thing about a device. Nobody wants an expensive phone with a 💩 camera.

For you, perhaps. Who are you to arbitrarily pick a single component of a complex device and make it the most important thing about it? I'm going to say RAM I'd the most importing thing in a device... for me.

I'd like to say that thin-ness is the most important factor for a phone. Make it thin! Even if it means it becomes bendable and the battery won't get you through watching "Return of the King" (and I mean the NON-extended one. .....said no cell phone user ever. and ...said all cell phone manufacturers.

So you're okay with spending $700 on a device with a crappy camera? Did you even read what I wrote?

I think the sarcasm tag got missed on that post.

Honestly, I never use my phone camera for anything more than the occasional memory aid. I prefer my DSLR. YMMV.

Razer has limited experience with camera's - not sure why anyone thought they'd be good at it :P

Nextbit made the phone, not Razer.

That's not any better. The Robin's camera was a dumpster fire also.

Interesting that you mentioned the battery life was good. Was reading some other reviews the other day and they said the battery life with the screen on was mediocre, especially GSMArena, of which funnily enough, its onscreen battery performance was worse than a Galaxy S6. Emphasis on on-screen though. With the screen off, battery life is very good.

I don't see how a phone with a much more efficient processor and a 4000mAh battery could have worse battery performance than a Galaxy S6.

I don't get it either but apparently, according to GSMA, their Razer Phone could last only just past 7 hours max in video playback and web browsing, which is worse performance than the Galaxy S6 in that same test (the S6 is also handicapped by an older build of Android and a less efficient processor when they tested it). If that's indicative of other units, I'm not too optimistic, especially since Tom's Guide and others also mentioned that with the screen on, the large battery felt rather petite.

Were they running the screen at the 120 hz refresh rate the whole time? If so, that would have been unnecessary and battery draining. Even the iPad Pro only uses the max refresh when needed, not 100% of the time.

Yeah, the refresh rate would be a factor.

It's adaptive, so even when you set it at 120Hz, it doesn't use it all the time. Even so, that 7 hours was achieved with the maximum refresh rate limited to 60Hz.

I just picked up a LG V20 and it has a better camera, ir blaster, removable battery and HI-FI quad dac. It is a better deal as long as it doesn't boot loop on me.

That caveat at the end doesn't inspire much confidence.

Haha! True! If it does happen i'll at least have saved $300 to use on a different phone.

Fear not. I've had the V20 since launch and the bootloop issue has been almost if not completely nonexistent since the V20 and after.

Where'd you pick it up at and for what price?

The boot loop is as much "recent news" as the exploding battery in Note7! Just saying.
Fear not.
I've owned a V20 for 9 months now. Never a glitch.
Also got a spare battery. Been one of the best decisions taken.

It also has a slower processor, a slower-refreshing display, and a smaller battery.... which is why anyone would be interested in the Razer, a gaming centric phone, to begin with. You obviously weren't even part of the target audience.

Wow, that's disappointing that the Razer Phone is disappointing on the camera front. It is weird to me about the lack of any additions though. It sounds like this phone is a true battery life champ, unlike its acquired predecessor.

Actually, Alex is so far the only one I know who didn't have much bad to say about the battery. Nearly every other review mentioned it as a mixed bag. It's a big battery but it feels small

That is really interesting actually. You're right about that, as I recall GSMArena's disappointment there.

It's strange. I guess the screen or the controller isn't very power efficient?

That may be the case. I don't know if the stock Qualcomm GPU does 120Hz natively, so perhaps it has an outboard GPU...

Two comments: first, given this review, why the hell would you sum up your purchase recommendation as "Wait and see?" Are you just incapable of printing "No" as the answer to that question? Second, would you consider adding a small caption or other indicator to photos and videos identifying the games being played in them? I hardly ever do any gaming on my android phone/tablets, and some of these look really great. I'd love to try them out but have no idea what they're called.

If the camera improves as much as the Essential phone's has through software updates then it'll eliminate the biggest concern with the phone. I totally get a "wait and see".

The racing game is gear club, It's fun at first until you eventually realize it's a truly terrible grind with little enjoyment. You can't customize the cars as much as they imply, It takes ages to load and crashes a lot. I even got a bug that broke the game for my account on their server and prevented me from being able to access my garage, for about 2 weeks before it was fixed. The freemium structure is good and TRULY an example to the industry, but once you've got the thing you're after, you don't really 'enjoy' the car you ground for, I put this down to some unfortunate game design, you can't really get a good look/hands on with your car. You have to trawl through every racing class despite having the funds to buy a higher class car to race with, like what helped kill off Gran Turismo. The bonus event feature is good, so good that I found myself not wanting to miss any and it became an annoying must-do race once in every 6 hours of every day (midnight was right in the middle of one of the 6 hour blocks), so I decided to cut it out of my life.

Gamers don't go outside anyways. Bedroom or basement is the safe space. Razer knows exactly what they are doing.

LOL. True.
Can't really see a hardcore gamer go out to the park, spend all day there playing games under direct sunlight (even under tree shade).
So bad visibility is pure nitpicking for this phone.
Water resistance? Mehhh. I've always said if you're clumsy to drop your phone in the toilet bowl, your soup, swimming pool, then don't get a phone. Period.

Well, I like playing games at the beach, but I'm not a "gamer", per se. If I was, then it would be a triple whammy: Sunlight + water + no place to recharge!

It is still a phone though, not a gameboy... You will want to text on it while you are going somewhere? Maybe use some navigation or look something up online, it is not all about gaming.

400 at best, for the price, ALL components must be high end, poor screen, cameras is not good at all for that price, skip the phone till they'll sort it out

The camera hardware might be okay, why didn't the reviewer try a different camera app? Does it run in the 2.0 API? Maybe just switching to Google Camera would help things...

That's a fair criticism but for $700, I don't know if someone should have to do that unless they want to. I don't have this phone but I was debating this recently and chose not to deal with it, especially since we have cheaper phones with better results.

You shouldn't have to download a different camera app to get good pictures out of your brand new 700 dollar smartphone. That is unacceptable.

Plus only native apps work good with dual camera

Looks like a mini shield tablet. I love the design compared to the 2:1 ratio, round corners and curved displays that seem so popular for whatever reason, Media looks best in flat 16:9. Does wifi calling on t-mobile work? I would buy the phone if it does (after a price drop or two). Why don't reviewers ever test that along with VoLTE?

Remember something, Alex is in Europe so he can't test that. You would need a reviewer in America to do that kind of testing. Or even Daniel at that too.

It looks so much like my XZ premium except it isn't IP68. Guess that is a caveat to having better speakers? The XZ price is down to around $590 now however and already running Oreo so I would still pick this phone over the Razr. Good to see new face in the game though.

"Dumpster fire camera". -> Essential PH-1 Cousin.

Hardly. The Essential holds its own against an iphone 7+ fairly well with the google camera. https://www.reddit.com/r/essential/comments/7d8vdt/guess_which_is_the_es...

Ya know, 10 years ago no one gave a **** about photography but now that everyone has a camera in their pocket everybody's become Ansel Adams all of a sudden.

Bahahahahaha!! I know, right? And it's just phone photography.

Compromised phone at a non-compromised price.

For $700 + tax, it needs a very good camera, period. Drop the price to $500, and it still needs a good camera. With a "dumpster fire camera" this is destined to fail which is too bad...

The camera and OS version can be fixed with updates. The water resistance is not a deal breaker for me either. I'm a little sad to hear about the daylight visibility, but then I was expecting that to likely be one area they had to save dev time on. Still a fantastic first attempt. I'm hoping to get one of the limited ones.

Dumpster fire camera hahahhahahah

"It's not quite LG G5 or HTC One M9 bad, but it's far from ideal in bright, outdoor conditions" Alex, I think you meant to say the HTC 10, which had a decent screen, but was below average in sunlight viewability. The M9 screen was the same panel as the M8, and both were called "Excellent" screens in reviews, with average sunlight viewability.

What an "insane" POS disappointment. Discount immeninent. Battery poor using 120hz. Camera sucks, not water resistant, no wireless charging, no headphone jack. I can forgive if sub $500. Pass.

The biggest negative to me is the lack of a headphone jack.

The dongle « annoying to carry separately » so don't and just jeep it with your headphone!

I like the fact that the Razer Phone has a [Full RGB] 1440P 120Hz Panel. In terms of sub-pixel resolution, it's vastly superior to the other displays out currently which are mostly 1080/1440P Pentile OLED. To top it off, the display is the first 120Hz Panel which is definitely revolutionary. The display is definitely impressive and the main selling point of the phone, outdoor visibility aside. The custom gaming settings are interesting. I've seen Nvidia have those available on the Nvidia Shield Tablet in the past (since removed) and have always thought it should be a more standard feature to be able to control resolution and refresh rate based on application. I still won't be buying it because I value Dash Charge and Dual SIM on my OP5 too much. I'll be selling it and upgrading it to the OP5T. But I'll be sad about not having that display. You just can't have it all with any phone, unfortunately. OP5 is still solid for gaming performance and has excellent thermals. I wonder how the Razer Phone will fare in comparison at the same resolution.

Considering the size of the phone and bezels I think its unacceptable to not have a headphone jack especially when the target market is "gamers". The only phones I give a pass to are the Pixel XL 2, Essential and iphone X. The pixel 2 and iphones 7 and 8 it's a joke. Second, I am curious how the camera fares compared to the Essential using the current Essential software or the Google Camera. My personal phone is an essential and the Essential app is drastically better than at launch, but still has enough quirks that I use the Google Camera normally. It takes good photos in my opinion.

Gamers go outside? Who knew?

Could you please test the camera with other camera apps like the Google Camera HDR+ Port for example, or more simply the Play Store Google Camera app ?

I'll consider picking one up when it drops down to about $400. Even then, the omission of the headphone jack (PARTICULARLY in a phone as big as this, with plenty of space for one) is kinda unforgivable. I actually don't care about the camera that much.

Did i read this whole review and not find one comment on the quality of phone calls?

The 3.5mm headphone jack is dated and soon to be dead. Even Samsung will reportedly be doing away with it on their next Galaxy phones which will likely really get the rest of domino chain rolling with the remaining android manufacturers following within the next 1-2 years. BUT what most people fail to realize is that USB Type-C headphones/buds are an actual thing. I am not even talking about just the dongle with the DAC that Razer is supplying, That is just a convenience so you can use your existing 3.5mm stuff now if you so choose.. But you can actually buy headphones/buds designed for USB-C that look identical to your 3.5mm one only they are made for digital audio signals instead of just analog. In other words you can get potentially better quality and features like noise cancellation and enhanced playback audio control without being as bulky or inconsistent as their 3.5mm ancestors with those features. Of course currently USB-C headphones/buds are hard to find in stores, you can certainly find them online though at places like Amazon (for anywhere from $15 for a cheap set up to super high quality ones loaded with bells and whistles from companies like JBL and Phillips for $150+). However once Samsung. LG, etc go jackless within the next years you'll likely start to see your remaining audio companies like JLabs, Skullcandy, Sennheiser, and Beatz be forced to either decide to get on board with the new growing standards or hope bluetooth completely takes over when no new flagships have that little round hole. I'd wager most will indeed start pumping out USB-C (and Lightning) headphones which you can buy in more and more retail stores next to their 3.5mm ancestors and everyone will realize how stupid their bellyaching about this issue was. So the one and only thing truly lost here is the ability to charge your phone while listening to music...but when you look at the batteries on phones like the Razor and Mate 10 and the speed with which we can charge full phones...that really should not be nearly as big of a deal as it once was even with USB-C headphones/buds drawing slightly more power. (I believe the converter dongles draw about 10% more power, while pure USB-C headphones only about 1-2% more than 3.5mm jack. Possibly less as Intel had stated it should be possible to limit USB-C power draw only to features like the mic only when they are in use.)

I still think it's over priced... $700 is way too much...a Mate 10 is better with same price range,

Gamers don't go outside anyway ;)
I don't get it...$700 bucks for a phone you can't "see" in daylight, sub-par camera.
Oh well, ain't my money.

Hi Alex, I need a quick help can you confirm if the USB DAC can be used for other phones (I have an Xperia XZ) or do the standards vary and hence can't be used?

For me the phone experience has been pretty great. That camera is the one massive, massive flaw that makes me wish I'd got the Oneplus 5T though - and it's a biggie. I took a bunch of shots and every single one was a noisy piece of ****, the likes of which I haven't seen since the first generation of digital cameras. Wholly useless. As I got one of the 1,337 claimed special editions (aka the standard phone with a green sticker) I might just pop it on ebay and forget about it.