Sonos event: What we want, and what we expect to see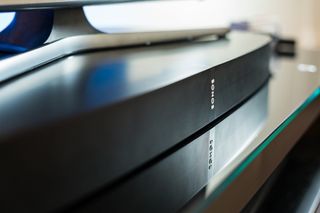 When it comes to wireless music at home, nobody does it better than Sonos. (Don't even try to convince me otherwise. You're wrong. And I love Chromecast, too.) The darn things indeed are addicting. I started with a Play:1 and quickly bought a Play:5. I sneaked a Play:3 into the bedroom before anyone could tell me not to.
And now, we've got new Sonos products on the horizon. OK, at least one, if the leak to a German blogger is to be believed. (And it certainly looks pretty legit. Probably. Or it did before it was taken down.) Maybe more, if we're lucky.
The point is, I don't know exactly what to expect from the Oct. 4 event in New York City. But I and others here at Mobile Nations have a few ideas of what we'd like to see. And here they are, in order of facial hair:
Phil Nickinson
Two things I definitely know I want to see: First is microphones and the inclusion of any and all smart assistant things. Alexa. Google Assistant. Siri. Those are table stakes for any sort of smart speaker these days, and Sonos has very much fallen behind on that front. We've long been rumored to get these things from the upcoming event. And it certainly looks like it's going to happen, thanks to that leak, as well as an FCC filing as spotted by Zatz Not Funny. But now I've made it official — it has to happen.
Another longstanding request (he said in a demanding sort of internal monologue sort of way) is a speaker that can officially live outside. I'm not talking about a waterproof, leave hidden in the garden sort of speaker, but just something that I can leave on a covered porch or deck and not have to take inside every time the party's over.
Now I know plenty of folks who say they've left a Sonos speaker outside without any issues. But these things are expensive — $200 at minimum — and I want something more official from Sonos before I start leaving my precious music maker in the out-of-doors.
Jared DiPane
The main thing that I would love to see from Sonos would be a smaller, much more affordable speaker option. I want to put Sonos speakers in every room of my house, but don't want to spend a minimum of $200 a pop on them. A small, sub-$100 speaker would make an awesome addition to my bathroom, son's room, and more.
I'd also love to be able to talk to my speakers instead of having to launch the app. As a whole, the app experience has got better, but still has a lot of room for improvement. Being able to quickly launch a playlist using my voice would make things easier as I move around the house listening to music.
Adam Zeis
While I love having everyone in my house talk to (scream at) Alexa, I don't necessarily need that functionality on a daily basis. Is it fun to have? Of course. Is it super helpful when you're cooking or just don't feel like opening the app? Absolutely. But for me, personally, I can live without it.
What I really would love to see from Sonos — and have been wanting for years — is an outdoor speaker. And I know I'm not alone in this (hi, Phil!). Not just the ability to add an existing made-for-the-outdoors speaker to the Amp — but rather a speaker, like the Play:1 — that can go outside and stay there come rain, snow, wind, or fire. The one thing I dearly miss on my deck in the summer is my Sonos. I used to move a Play:1 from my kitchen as I needed it, but that got to be annoying after a while. So please, Sonos, give me something that can deal with a bit of weather, will ya?
Daniel Bader
I love my Sonos Play:1 and Play:5, and have a couple of each peppered throughout my house. But since I acquired a couple Google Home units, I've been using my Sonos speakers significantly less often — perhaps only once or twice a week. Sonos is definitely going to release a speaker with built-in voice assistant support, but it needs to maintain a focus on design and sound quality to win me over. Every time I use the Play:1, I am reminded just how well Sonos combines form and function, and there's no reason to think that this upcoming speaker, or speakers, won't maintain that tradition — with some smarts.
Of course, I'd prefer Sonos to hook up with Google's Assistant over Amazon's Alexa, largely because the former does more that's relevant to my life, but either one will be fine. If it goes its own way, though, and develops a first-party voice assistant — well, that would be a terrible plan.
Either way, come Oct. 4, I have no doubt that Sonos will shut up and take my money.
Sign up for Black Friday email alerts!
Get the hottest deals available in your inbox plus news, reviews, opinion, analysis and more from the Android Central team.