What keyboard are you using with your Galaxy S8?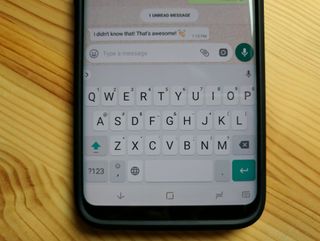 There are so many keyboards available in the Play Store — sometimes it's difficult to keep up with which one to download.
Things get confusing, especially for newer users, with the reality that most companies, from Samsung to LG to HTC, equips their phones with their own keyboards, often of very different quality.
Samsung's built-in keyboard, the autocorrect algorithms of which are reportedly powered by SwiftKey, is a mixed bag. While it's improved considerably over the past few years, it's still not as user-friendly as it could be, especially when, out of the box, some important settings are turned off by default. Given that we love Gboard and SwiftKey over here, we were curious about what keyboards you're using with the Galaxy S8 and S8+, and took to the forums to check it out.
One user used to like the Samsung Keyboard, but found it got worse over time, which is the opposite of what we've found. So his search continues.
Another user enjoyed SwiftKey, but got intrigued by Gboard, switched to it, and then decided to go back. A fairly common scenario, we've found.
BlackBerry's keyboard, which isn't technically available on non-BlackBerry phones, is quite a popular tool for input. It's fairly easy to install with a bit of sideloading, too.
Google's Gboard gets some love, too, especially now that it allows for customizable heights. Given that the Galaxy S8 has an extra-tall screen, it's nice to be able to adjust the size (though SwiftKey supports this, too).
What is your keyboard of choice for the Galaxy S8? Let us know in the forums!
Get the Android Central Newsletter
Instant access to breaking news, the hottest reviews, great deals and helpful tips.
Daniel Bader was a former Android Central Editor-in-Chief and Executive Editor for iMore and Windows Central.
GBoard..! Simply because I can change the backgrounds to whatever I want.

Exact reason I'm using it also

I'm using Gboard. Swiftkey doesn't get my swipes correct as often. I'd be happy to use the Samsung keyboard, I think, if I could shorten the long hold time.

Gboard. I've tried the Samsung keyboard but not for long periods

Gboard has more options, but I've always found the Blackberry keyboard to be far superior when it actually comes to typing. The combination of typing and gestures (and swiping, if that's your thing) makes it so very nice to actually use for text inputs.

By combination do you mean it supports multi touch? So you can tap while swiping? Google Keyboard used to support that a few years back. I miss that.

I like the Samsung stock keyboard alot! It auto populates my email address which I like a lot. But I can't send gif's with it... Same with Samsung messanger, so now I use Gboard and Android messanger, both work well since I was used to sending gifs on my iPhone 7 plus a d lived that feature.

Gboard Emojis, numbers and voice icon on 1 keyboard!

Fleksy Bit of a left field choice, but I like the gestures and built in GIF support.

Not as left field as the one I use, MessagEase. Different.

Gboard. Gif support, voice button, themes, most everything I want. I seem to mistype on it a lot, like i instead of o

Wait...gif support? Where?

Bottom, middle on the emoji screen. If the app in which you are typing does not support it there will be a diagonal line through GIF.

That's hilarious, considering the GIF support was regarded as its best feature.

GBoard here. Been on Google keyboard since the Nexus 5.

I use Swype, tried swiftkey, didn't like it. Swype is perfect. I came from Windows phone. That keyboard in Windows phone 8.1 was very good.

Former wp user here. I used to love the keyboard too.

Same here, came from Windows Phone, tried Swiftkey because it's owned by Microsoft but it seemed overly complicated and kept nagging me about various things like connecting to a Google account. It was pretty good but it was missing a language I needed so I tried Swype seems simpler.

Wow I see a lot of of Gboard. What's wrong with SwiftKey? My favorite in all phones.

Google fanbois/purists is the problem. There's literally nothing special about Gboard because you can add GIFs directly from most apps that support them anyway. Also, nothing beats SwiftKey's predictions.

Gboard made Swiftkey all but irrelevant once it implemented some key features. Also, Gboard adds the GIF directly from the keyboard. Why go on some app when you can do it from the keyboard? Lol

Nothing beats a BlackBerry keyboard. Period.

Swiftkey, I like Gboard. However some apps will not show suggestions with Gboard when they do with SwiftKey.

I miss that about Swiftkey

Currently on stock. Go back and forth with stock and Gboard. Both are frustrating at times for just natural typing and word prediction.
Swiping is great on both for me. Have tried Mcafee Safe keyboard and BlackBerry keyboard as well but keep coming back to these other two.

Swiftkey used to be my first choice of keyboard. MS has done some weird stuff to it since they bought it and it just doesn't feel as accurate or fast as it used to. Going with Gboard for now, but that has some accuracy issues also.

Tried the Samsung keyboard for a couple of days but back to Gboard and super happy with it.

Do keyboards other than stock use more ram and battery?

On my s7 (nougat), the stock Samsung keyboard uses around 90MB ram. The BlackBerry keyboard uses 70MB. This is interesting, since on marshmallow the stock keyboard used around 20MB, and it's not like it got some drastic improvements since the update.

GBoard. Mostly because of the GIF support. I'll reconsider Swiftkey when they add support.

Either the default keyboard, or gboard. I'm going to try the BlackBerry one too

Swiftkey cause word prediction works no matter where you're typing n Gboard doesn't.

Switched from SwiftKey to Gboard. I like the look of Gboard better, and the prediction seems more accurate.

Chrooma keyboard! I love that it changes color to match any app. Combine it with navbar apps to color match the navbar and you are in material design heaven!

SwiftKey been using it for years across all my devices custom themes, voice, super fast, predictability is great.

I'm new to Android I was using stock keyboard. Just recently downloaded Gboard I like it so far. How do I get blackberry keyboard on my S8+?

Google 'cobalts BlackBerry manager'. Download the BlackBerry manager app
You'll see the keyboard app listed within

Chrooma and Swipe keyboards.

SwiftKey Beta. I have been using SwiftKey for a years and love it. Been using the Beta version for the past two. Doing my part in making it even better.

I honestly don't know how people use other keyboards given how good SwiftKey's predictions are.

Swiftkey is good but it's ugly as hell.. IMO anyway. Each template looks very 80's from what I remember. Used to use it and switched to the BlackBerry keyboard. So much better.

There were no keyboards on phones in the 80s.

There are hundreds of themes for it. And they're all free.

SwiftKey Beta over everything.

I can't decide which one I like the most! Stock on my s8 or GBoard. What I really prefer is the IPhone keyboard. Their keyboard just works! For me, anyway.

SwiftKey, hands down (pun intended).

I would actually recommend Chrooma Keyboard. It has two bars above the main keyboard, one dedicated to autocorrect, and the other for a sliding emoji/number/clipboard bar. Also, it changes color based on what app it is being used in. For example, when I open Android Central, the keyboard changes to a cadet blue, to match the app theme. When I open Snapchat, the keyboard is a bright yellow. It may not seem like a big deal, but I think it looks really nice, and the keyboard itself has a clean, material design.

I'm using G board love the themeing ever since they released the last update and fixed the crashing error I'm in love

While i like using Gboard, i found it annoying that every keyboard app takes a while to startup. So when you have an input field, it takes like a second for it to popup and start typing. Haven't found a keyboard app that is instant, but also has at least some decent amount of features. And i don't understand why Google and other keyboard manufacturers won't bring plugins or whatever so you can select what features you do or do not want (or less prominent). Google should really focus on speeding up the keyboards.

gboard and chrooma right now

Facemoji! Love the emoji prediction, customization and gifs!

SwiftKey, always have for years.

Fleksy for the shortcuts (AKA macros)! When I escaped from apple jail I missed the customizable typing shortcut support which Fleksy gave me back. Now, for example, I just type "eml" (without the quotes!) and it automagically replaces it with my e-mail address when I follow it with a space.

I use the note5 and I get hang and lag using gboard . Mostly when I first load the keyboard.. Normally I need to use the back button to make it work. It's annoying so I use SwiftKey

SwiftKey is what I always use. Sometimes I switch to gboard when a new release comes out, but I always go back to SwiftKey. No other keyboard predicts or Autocaps correctly no matter what the input box is.