We're celebrating 400 episodes of the #ACPodcast with an old-school live video broadcast!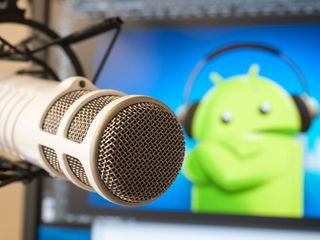 (Image credit: Android Central)
We'll be live on October 18 at 8am PT / 11am ET / 4pm BST
The Android Central Podcast began in March 2010, long before Android was a household name. Back then, the site was run by a ragtag group of bloggers eager to tell the world about this incredible new mobile operating system, in an environment dominated by Motorola, HTC, BlackBerry and Apple. Things have changed a lot since then, and the crew that made up the first couple hundred episodes has long since dispersed. Well, save for a couple.
To celebrate 400 episodes of the best darn Android podcast in the world, we thought we'd go old school one last time — with a live video podcast hosted by the OG himself, Phil Nickinson.
Join us on October 18 at 8am PT / 11am ET / 4pm BST for an hour of classic #ACPodcast hijinks, featuring the original lineup of Phil Nickinson, Alex Dobie, Andrew Martonik, Russell Holly, and Jerry Hildenbrand. Plus a few special guests sprinkled throughout the hour.
Check back this weekend when the actual #ACPodcast400 launches with some more special content and a look back at the last couple of weeks of tech news.
Thanks for all the support over the years — we appreciate you.
-The Android Central Podcast team
Android Central Newsletter
Get instant access to breaking news, the hottest reviews, great deals and helpful tips
Daniel Bader was a former Android Central Editor-in-Chief and Executive Editor for iMore and Windows Central.
And I'm off tomorrow. Can't wait.

Man how time flies. Nothing compares to the Android Central podcast. Congrats guys.

We need Phil's "Heeeeyyy there everybody... " intro for old times sake.

Finally! Should have never gotten rid of the video podcasts. I haven't been part of a podcast since the last video podcast. I'll be sure to be part of this one.

That was awesome everyone, but it makes me miss the video podcasts even more. The videos I used to catch all the time. The audio only... Once in a blue moon I'll listen. By the way, I was watching the video on YouTube, with eleven apps open, Bluetooth keyboard and Ticwatch connected, and taking photos with picture in picture running at the same time. HTC U11, from last year... Baby!

Just watched it too. Really good to see the old crowd back together. I kept wondering who the slim bearded bloke in the glasses was. Then I realised, Russell! Wow! That weight loss is amazing.

Thanks to everyone for the podcast. I like the active debates - yes more RAM would have been better. Android as a whole has built a large, a very very large community. An active community that big and active developer (s), OEMs and chip maker (s) can get a lot of things done - evolve - pretty fast. Just make it user-friendly and secure. Long term - I would like to have my personal assistant, my user data - my profile on my phone or on a dongle and not in the cloud. I'm most excited about the AI and machine learning capabilities in the hardware. Spooky stuff and rightfully so.

Still don't understand why they ditched the video of the podcasts. Was a stupid move IMHO. As someone else said, I don't nearly listen as much as before because of this. If you do one thing next year AC, bring back the video for your podcasts.

I'm fine with the audio-only podcasts. It makes for a less data-intensive download to listen anywhere I want. Not listening to a podcast because there's no video, is like ignoring phone calls for the lack of video. Seems a little stupid, really.

I download podcasts, then listen to them in my car, while I'm working around the house.
A video podcast would be useless for me.
Joe

Awesome as always! Has it been that long ?

I ordered a Mate 20 Pro (blue) to replace my Pixel 2 XL here in the states. It should be fine for Tmo and AT&T in my area right now. Clove's UK site allows you to preorder the black and twilight single sim UK version of the phone (likely same version in Canada) and have it shipped to the states for $972+shipping and it qualifies for the free watch and wireless charger offer from Huawei if ordered before the 26th. If you want the dual sim version, which I need for travel, you can get it from amazon.de. You can get all colors too. Also about a grand USD, but does not qualify for the swag from Huawei. Can't wait to try this out. The flexibility offered by the manual controls and camera setup on this phone for photography buffs looks to be unmatched.

This was so cool! Kind regards Richard U.K
Android Central Newsletter
Get instant access to breaking news, the hottest reviews, great deals and helpful tips
Thank you for signing up to Android Central. You will receive a verification email shortly.
There was a problem. Please refresh the page and try again.